Opponents of big game trophy hunters celebrated on Monday as two major airlines announced a ban on "big-game" shipments like lion, leopard, elephant, rhinoceros and buffalo.
In a brief statement, Delta Airlines said that the worldwide ban was effective immediately — a major shift from just a few months ago, when Delta said it would authorize trophy shipments as long as they were lawful.
A spokesman for United told NBC News on Monday that while the airline hasn't had many big game shipments, it was also prohibiting them.
The announcements come amid mounting shock and outrage over the recent killing of a well-known lion in Zimbabwe by Walter Palmer, an American dentist.
On Sunday, wildlife officials in Zimbabwe alleged that a second lion was illegally hunted earlier this year by Jan Seski, a doctor from Pennsylvania.
Palmer has not responded to interview requests and NBC News has not been able to reach Seski for comment, though his employer, Allegheny Health Network, said in a statement that he "will continue to care for his patients as he attends to personal matters related to his recent hunting expedition in Africa."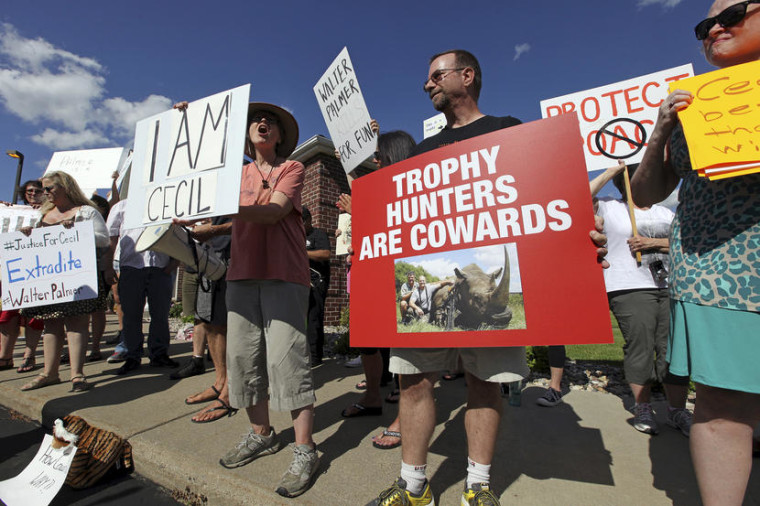 Wayne Pacelle, president of the Humane Society, which has urged other major airlines to prohibit big game shipments, said in a release that Delta "has set a great example."
"No airline should provide a get-away vehicle for the theft of Africa's wildlife by these killers," he said,
"Lions, elephants and the other species that make up the Africa Big Five belong on the savanna, not on the walls and in home museums of wealthy people who spend a fortune to kill the grandest, most majestic animals in the world," Pacelle added.