A Georgia-born former college basketball player has become an Iraqi citizen so he can play for the country's national team.
DeMario Mayfield moved to Baghdad seeking redemption two years ago after his hoop dreams were left in tatters by a run-in with the law.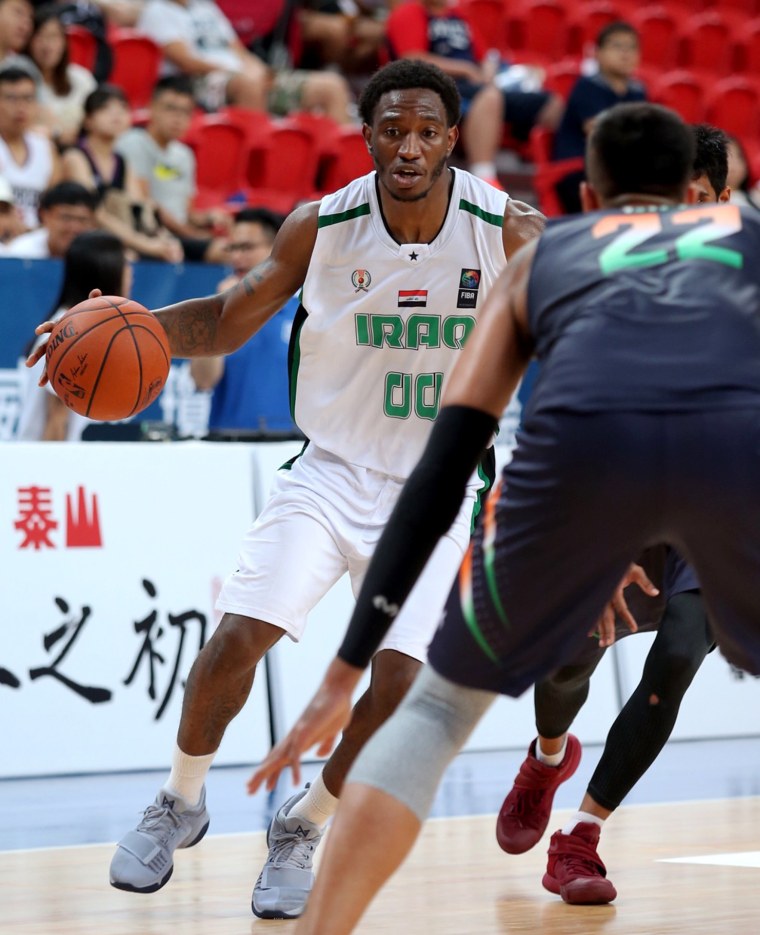 The dual national says he now earns a six-figure salary playing professional basketball in Iraq, admitting it was "mind-boggling" to think how much his life had changed since leaving the U.S.
"Before I came to Baghdad, I didn't know what to expect," he told NBC News. "I had just all bad expectations. Then I got here and I've met some of the most genuine and nicest people that I've ever met."
He added: "It was an eye-opener for me to never judge when you've never experienced anything in their culture."
Husein Al-Amdey, the chairman of the Iraqi Basketball Federation, was thrilled that Mayfield had received Iraqi citizenship. He described the 6-foot-5 forward as "one of the best basketball players in the region."
Al-Amdey said he believes Mayfield "is going to be of a great help for the Iraqi team," which is currently ranked 85 out of 149 teams by FIBA, the International Basketball Federation.
Mayfield, who was not selected in the 2015 NBA draft, says it's a big responsibility to pull on the Iraqi national team's jersey.
"Everyone looks at the American as the hero here," he said. "I definitely have to lead these guys to play their best. And I also must play my best to put us in a position to be successful."
"One mistake doesn't define a person"
Mayfield played for three colleges in the U.S. — the University of North Carolina at Charlotte, the University of Georgia and Angelo State University in Texas.
But in May 2013, he was charged with conspiracy to commit armed robbery in Georgia.
He accepted a plea deal and served 10 and a half months in a diversion center, which he described as like a "jail/work camp." He then served another year on probation.
"That's why I had to come to Iraq," Mayfield said when asked about the charge. "To build my name back up, build my resume back up, because that was a major blow to my career."
Now aged 26, Mayfield said many top agents wouldn't work with him and the incident prevented him for playing professionally in Europe or China.
"I will forever be fighting that, but I have no problem with continuing to prove myself," Mayfield said. "And showing that one mistake doesn't define a person."
Mayfield said the memory of long nights alone in a jail cell continue to motivate him to reach his ultimate goal: to compete at the highest level of basketball possible.
In October 2015, he moved to Baghdad and signed with Oil Club, one of 12 teams in the Iraqi league.
Each team is permitted to have two foreign players as part of the league's strategy to improve the level of competition.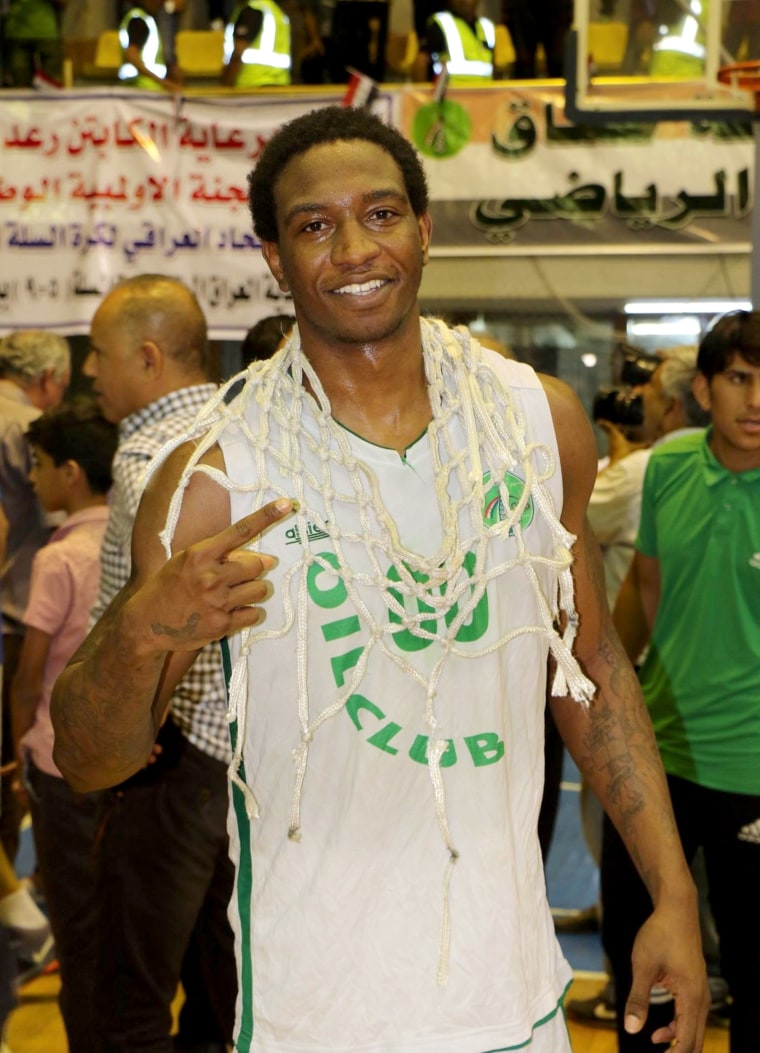 Basketball is still gaining popularity in Iraq and tickets are free to encourage attendance. The crowds can vary from a few hundred to a few thousand, noise-makers and all.
In addition to a salary, Mayfield said Oil Club provides accommodation in a central Baghdad hotel, meals prepared by the hotel's chef and a driver to get around town.
Mayfield averaged around 29 points, eight rebounds and eight assists per game and led Oil Club to its first championship last season.
His strong performances opened the eyes of sports officials and Mayfield was invited to join the national team. However, there was one major condition: He needed to become an Iraqi citizen.
Mayfield said he discussed the idea of adopting dual nationality at length with his wife, who lives in Jacksonville, Florida, with their 6-year-old son. Ultimately, they decided he should go for it.
With the national team's support for his application, Mayfield was granted Iraqi citizenship and received his new passport a few weeks ago.
"He is different from other foreign players in the way of being loved by his teammates and the fans as well"
He is the only Iraqi-American dual citizen to play on the country's national team.
And despite the fact that he misses being away from his wife and son, he's grateful for the second chance he's been given in Baghdad.
"The people here have treated me great," Mayfield said. "I don't have any regrets about coming to Iraq."
He hopes to get to a point in his career where he can move his wife and son closer to him, if not to Iraq, then to Turkey or Dubai.
In the meantime, being a local celebrity helps him get by.
When Mayfield is on the court, he said all he hears is chants of "Dee, Dee, Dee, the entire time."
And when he walks the streets of Baghdad, he said he's often greeted by kids speaking Arabic asking if they can take a picture with him.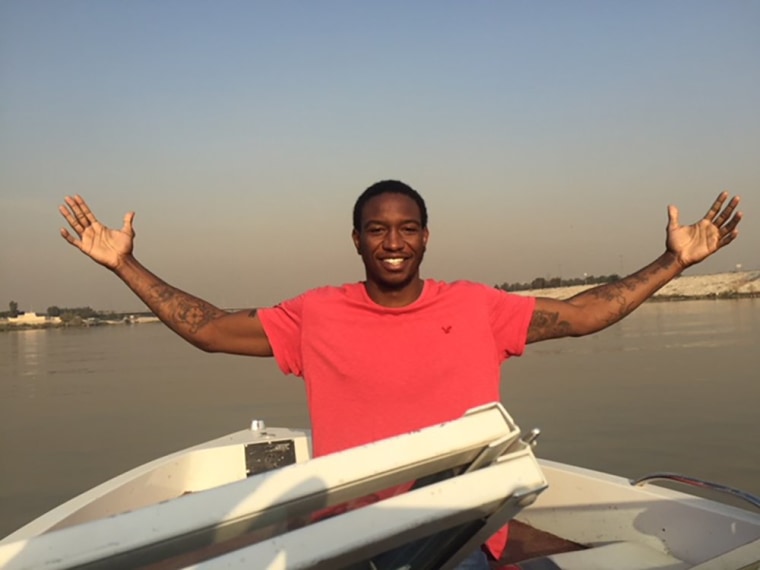 He said Baghdad is "definitely not as bad as everyone thinks it is" and that he feels "totally safe."
Mayfield has also found friends among his Iraqi teammates. Some have welcomed him into their homes for family meals. "I consider some of these guys like my brothers," he said.
Eager to try all of the local delicacies, Mayfield said he "absolutely loves" baklava, the dessert traditionally made of puff pastry and nuts.
He also spends hours hanging out at a famous Iraqi sweet shop near his hotel drinking tea and chatting with the shopkeepers.
Mayfield's on-court colleagues are impressed with how he's assimilated and are thrilled that he's sharing his skills.
Related: Inside Baghdad's Basketball Bubble
"He is different from other foreign players in the way of being loved by his teammates and the fans as well," said Ali Abdullah, 31, who plays with Mayfield on Oil Club and the national team.
Mayfield is expected to don the Iraqi jersey for his first official international game in a World Cup qualifier against Iran on Friday.
Mohammed Dhia, 37, who plays in the Iraqi league for the Electricity team, said Mayfield is a great addition to the national squad.
"Our team is badly in need of player like him," Dhia added. "The Iraqi team needs someone to lead the team, and the leader is DeMario."