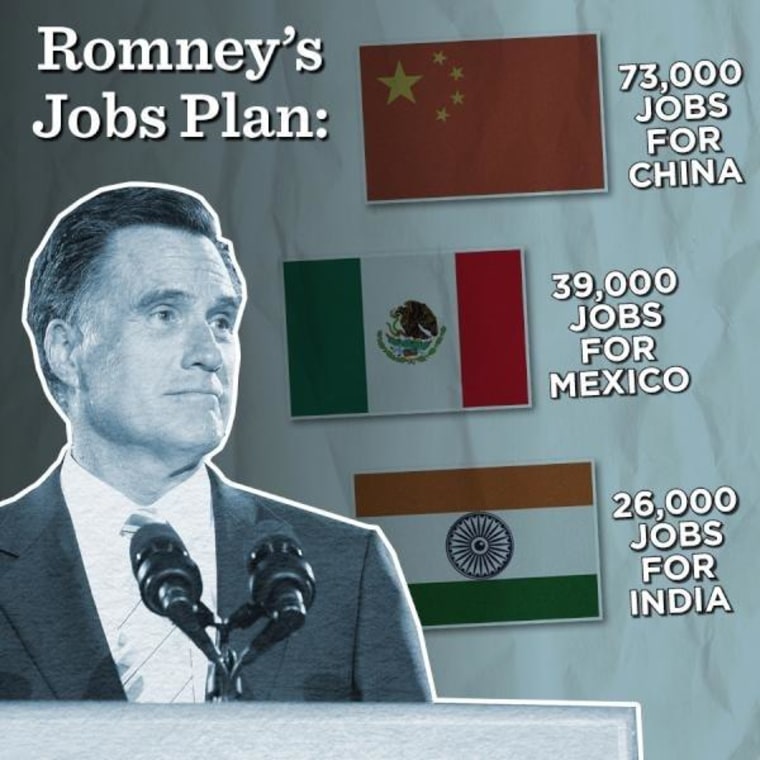 While attendees to the Republicans' annual convention will receive a healthy dose of party pride and unity building as the big speeches kick off Tuesday evening, Democrats are working to ensure their party message comes through loud and clear as well.
Convention-goers were treated to a digital billboard facing the Tampa convention hall that continued the Obama campaign's attack on Romney's record on jobs and outsourcing (left). That theme continued at the Democratic National Committee's war room in Tampa where Democrats set up a "Romney Economics - Wrong - for the Middle Class" press conference Tuesday.
A Monday ad in the Tampa Tribune carried that same tagline, "Romney Economics," and asked "Where in the world did Mitt Romney send our jobs?"
Appearing on Daily Rundown Tuesday, Robert Gibbs, a senior adviser for the Obama campaign, said they would continue to "talk about what Mitt Romney means for middle class families" while in Florida and would bring in some "former workers" who were laid off at Bain-supported companies. 
A DNC ad appearing in the Tampa Tribune Tuesday (below) hit the Romney-Ryan ticket on the candidates' handling of women's issues, particularly abortion. It tied Romney and running mate Paul Ryan to the recent controversial Rep. Todd Akin comments on rape and pregnancy as well. It read: "Romney, Ryan, Akin. Taking away a woman's decision—any way they 'kin."
The Obama campaign also released a "Convention Reinvention" anti-Romney video the Saturday prior to the Republican Florida meeting. It was designed as a movie trailer spoof and deposited that the Romney campaign would try to use the convention to reinvigorate the campaign but then gave it an "N" rating for "Not gonna work."
Meanwhile, the president kicks off a college campus tour this week, visiting Iowa State, Colorado State University, and an off-campus event in Charlottesville, Va., where he will talk about college affordability in part, Gibbs said. Obama made a similar college tour in April. He continues to lead Romney in the polls with younger voters.