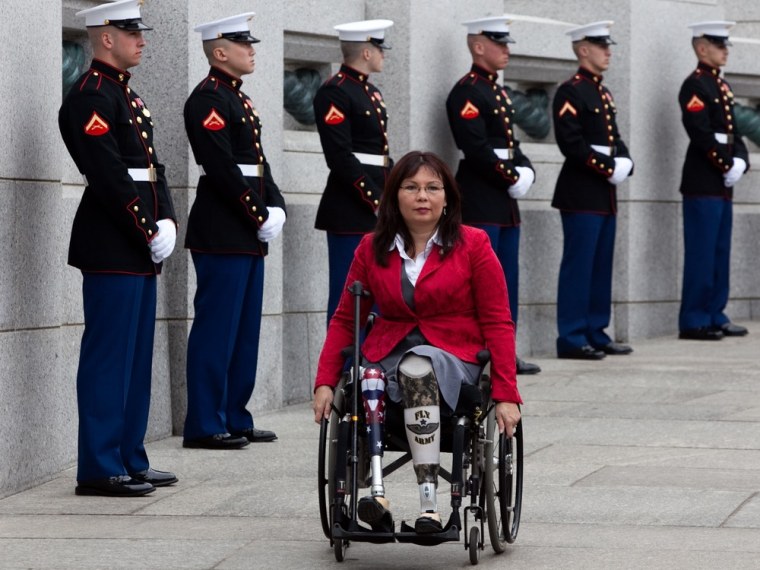 There's a proud tradition of service members and veterans of the military serving in Congress, but a new generation of political leaders, forged by tours of duty in Iraq and Afghanistan, are poised to possibly join their ranks next year.
The 2012 elections could send as many as 20 veterans of those two wars to Washington. While they would join many other lawmakers in having a background in military service, these veterans are of a different class – both younger in age, and experienced in a new era of warfare. Two of those veterans, one soldier and one Marine, spoke to NBCPolitics.com about their journeys to the campaign trail.
"We think that citizens are looking for a new generation of leadership to take our country in a much better direction," said Josh Mandel, a 30-year-old former Marine who was elected as Ohio's state Treasurer in 2010.
Mandel, who served two tours in Iraq, is running for Senate against incumbent Democratic Sen. Sherrod Brown, and he's viewed as one of the GOP's rising stars. This is his first bid for national office, and has said his campaign's main focus is on economic and job-related issues.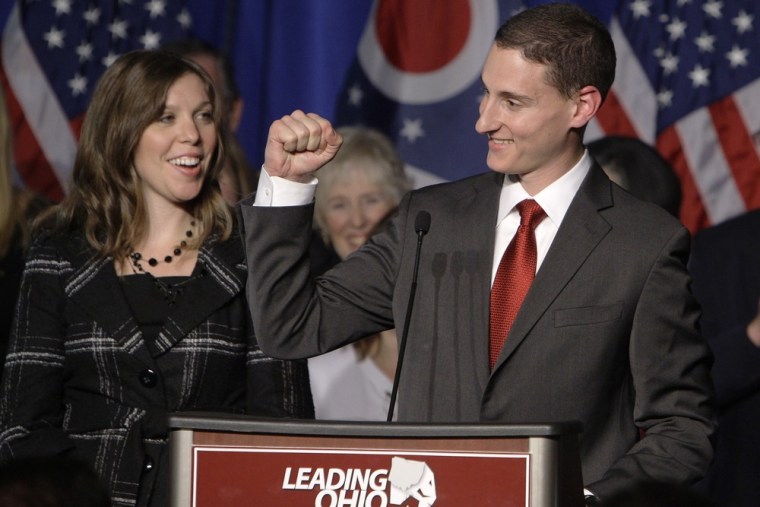 But his campaign has taken every opportunity to remind voters of his two combat tours in Iraq. The campaign's first TV ad, titled "Boots," features multiple references to military service and includes a photograph of Mandel on duty in Iraq. At the end of the ad, Mandel is lacing a pair of combat boots while a narrator says "Washington is broken and needs new leaders. And this Marine is ready to answer the call."
Military service is just as much a part of Democrat Tammy Duckworth's bid for a seat in Congress from Illinois.
A former combat aviator for the Army, Duckworth is a double amputee who lost both her legs and severely injured her right arm in 2004 when her helicopter was shot down by a rocket-propelled grenade fired by Iraqi insurgents. She ran for Congress in 2006, but lost by less than three points to Republican Peter Roskam. Following that electoral defeat, Duckworth spent five years working for the Department of Veterans Affairs – first as director of the Illinois office, then as an assistant secretary of public and intergovernmental affairs in Washington. In 2011, she resigned to launch her campaign for the 8th congressional district in Illinois, which had been redrawn following the 2010 census.
"I would not have sought public office if I had not been wounded," Duckworth said. She recounted meeting Illinois Sens. Dick Durbin and Barack Obama while she was recovering at Walter Reed Army Hospital. She said Obama, who at the time was serving on the Veterans Affairs Committee, "would come through and visit people in the hospital." She added, "he would come through without a lot of fanfare because he was just a junior senator." As a result of these meetings, she was urged to consider a career in politics. "It was Sen. Durbin who called and said 'Barack and I have been talking and we really think you should consider running for office." She said prior to being injured, she " would not have had the bravery to do it."
Both Mandel and Duckworth have enjoyed the support of influential figures in their respective parties. Senate Minority Leader Mitch McConnell, Arizona Sen. John McCain, New Jersey Gov. Chris Christie, and Florida Sen. Marco Rubio have either endorsed or campaigned for Mandel.
Recommended: GOP infighting gives Democrats hope of picking up Indiana Senate seat
Duckworth has attracted national attention since her entrance into politics and time spent at the Department of Veterans Affairs. The Obama political organization strongly supported her during her primary battle this spring.
Combat veterans who exit the military and seek to enter the world of public service are afforded the unique opportunity to highlight their experience not only with other veterans, but also with other voters who might look toward candidates with a proven ability to lead under fire. It's a quality of great political value as voters become hungry for leaders to help break through the partisan gridlock in Congress.
Both Mandel and Duckworth spoke about the maturity instilled by their experiences.
Mandel describes his deployments as a "maturing and eye-opening experience," and added that they gave him a "renewed confidence in the next generation" of citizens. "By serving with so many young people with intelligence and talents far beyond my own I came home with a great optimism about where our country is going," he said.
And Duckworth contends that her background primes her to work with other veterans in Congress, regardless of their party affiliation. "We've got to find something to reach out to one another, and if I can do it through BS-ing with someone about what a jerk my drill sergeant was, then that's what I'm gonna do," Duckworth said. "Or talking about not showering for weeks or what our favorite MREs [meals ready to eat] were and then talk about what we can do together and maybe co-author a bill." 
She added, "It's probably sacrilegious of me to say that I want some Republicans to win, but I want some Republican Iraq and Afghanistan veterans to win. I'd like to win and I want to see them in Washington, and I want for us to work together just as that post-World War II [generation] worked together to try and do something."
Both of them said they feel especially motivated to tackle issues like veterans' health, but Duckworth and Mandel each acknowledged that the top issue for them – and most other campaigns this fall – is the economy.
Their experience allows them to speak with a degree of credibility on issues of importance to the military community, and also provides them with some political insulation, too.
Duckworth's Republican opponent in November, Rep. Joe Walsh, faced a serious backlash after questioning her military service. "What else has she done? Female, wounded veteran … ehhh, she is nothing more than a handpicked Washington bureaucrat," Walsh was quoted as saying by POLITICO.
She said the comments are more than simply a personal attack. "I think he's really dismissed the service of the 24 million veterans in this nation, and that's a really disturbing thing for a sitting congressman to say. Anybody who has served their country in uniform, whether or not they gave their legs, has done a whole hell of a lot for their country."
Mandel's time as a Marine has also helped him fend off Democratic attacks about his relative inexperience in political office. "We think the code and the experience and integrity of veterans is something that Americans want in their leaders," he said.
Duckworth echoed that sentiment, "Our men and women in uniform have guaranteed the quality of their work with their lives … . When my crew chief looked at me and said 'Tammy I did the maintenance on this helicopter, and I did everything I was supposed to do' and he handed me the keys … he guaranteed the quality of his work with his life."