Democrats have scored several high-profile victories in Virginia in the past decade – from Mark Warner and Tim Kaine winning the governorship (and then later Senate seats) to Barack Obama winning the state (twice) at the presidential level, something that no Democrat had done since Lyndon Johnson in 1964.
Now, polls are showing Terry McAuliffe (D) leading state Attorney General Ken Cuccinelli (R) in the race for governor. So what explains all this Democratic success in what was traditionally a conservative stronghold?
One answer: Demographics.
And given how closely Virginia has reflected national presidential campaigns, this demography should be yet another eye-opener for the Republican Party whose electoral strategy has been to mobilize white voters.
The shortcoming with that strategy: in Virginia, there has been a steady decline in the percentage of the white population over the past 20 years, according to U.S. Census data. In 1990, more than three-in-four people in the state (76%) were white. By 2000, non-Hispanic whites had dropped to 70%. And in 2012, they were just 64%.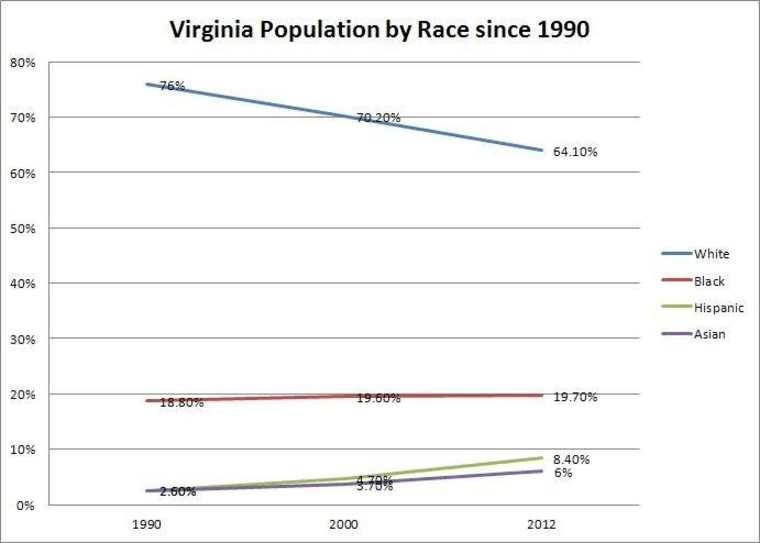 The Census projects that the share of the white population – nationally – will see a 10% drop by 2060, and minority groups will continue to increase. Hispanics, for example, are expected to more than double in the next 50 years.
It's not necessarily that whites have fled Virginia. They have actually grown by more than half-a-million people (543,000), or 12%, since 1990, and 280,000, or 6%, since 2000. But that has not kept pace with Virginia's overall population growth of 32% since 1990 and 16% since 2000 – fueled by Hispanics and Asians.
In fact, the share of Hispanics in the state has quadrupled since 1990 (from 160,288 to 687,496 – 329% growth), and doubled since 2000 (329,540 – 109% growth). Asians have tripled since 1990 (from 159,053 to 487,505 – 207% growth) and nearly doubled since 2000 (261,025 – 87% growth).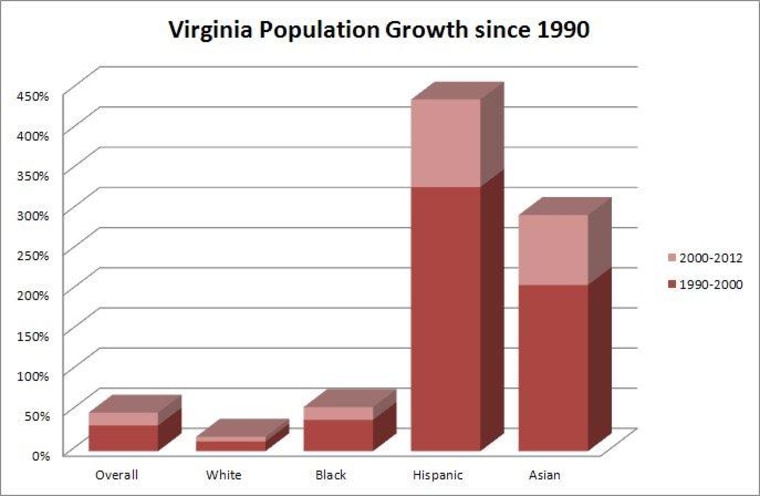 In 1990, both Hispanics and Asians made up just 2.6% of the state. By 2012, Hispanics made up 8% and Asians 6%.
On top of that, though African Americans' share of the population has only increased from 18.8% to 19.7% since 1990, they have also outpaced whites, increasing by about 39%, or 450,000 more people.
1990 Census
Total population: 6,187,358
76% white alone, non-Hispanic (4,702,392)
18.8% black (1,162,994)
2.6% Hispanic (160,288)
2.6% Asian (159,053)
2000 Census
Total population: 7,078,515
70.2% white alone, non-Hispanic (4,965,637)
19.6% black (1,390,293)
4.7% Hispanic (329,540)
3.7% Asian (261,025)
2010 Census
Total population: 8,001,024
64.8% white alone, non-Hispanic (5,186,450)
19.4% black (1,551,399)
7.9% Hispanic (631,825)
5.5% Asian (439,890)
2012 Census estimate
Total population estimate: 8,185,867
64.1% white alone, non-Hispanic (5,245,511)
19.7% black (1,612,713)
8.4% Hispanic (687,496)
6% Asian (487,505)
Source: U.S. Census