LONDON — A Congolese gynecologist and an Iraqi Yazidi woman who spoke out about her abuse at the hands of Islamic State militants were awarded the Nobel Peace Prize on Friday, commending their work highlighting sexual violence as a weapon of war.
Denis Mukwege has spent much of his life helping victims of sexual violence in the Democratic Republic of Congo, many of them in the country's long-running civil war. He has become a leading voice pressuring his own government and others for not doing enough to stop such abuses.
Nadia Murad was one of an estimated 3,000 Iraqi Yazidi women and girls who were kidnapped and raped or sexually abused at the hands of ISIS in 2014. After her escape she used her trauma as a platform to seek justice for the crimes against her community, becoming a United Nations goodwill ambassador in 2016.
Murad said she was honoured and humbled to be named a Nobel Peace Prize laureate.
"I share this award with all Yazidis, with all the Iraqis, Kurds and all the minorities and all survivors of sexual violence around the world," she said in a statement to Reuters.
Mukwege dedicated his award to all women affected by rape and sexual violence.
"This violence committed on their bodies happens not only in our country, the Democratic Republic of Congo, but also in many other countries," he said at a news conference.
The committee's statement called Mukwege "the helper who has devoted his life to defending victims of wartime sexual violence." The committee said Murad "is the witness who tells of the abuses perpetrated against herself and others."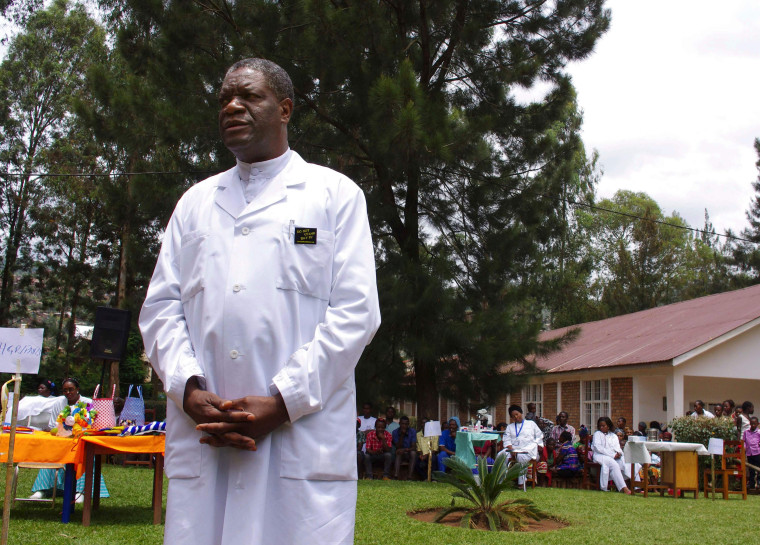 "We want to send out a message of awareness that women, who constitute half of the population in most communities, are used as a weapon of war," Norwegian Nobel Committee chair Berit Reiss-Andersen said after announcing the winners in Oslo, Norway.
"They need protection and the perpetrators need to be prosecuted for their actions," she said.
Their award comes a decade after the U.N. Security Council adopted Resolution 1820, classifying the use of sexual violence as a weapon of war. The committee received nominations for 216 individuals and 115 organizations for this year's prize.
"It is important to see the suffering of women, to see the abuses, and to achieve that, it's also important that women leave the concept of shame and speak up."
Mukwege founded the Panzi Hospital in eastern Democratic Republic of Congo, an region devastated by a war that has claimed an estimated six million lives. This area has been plagued by an "epidemic of sexualized violence for twenty years," according to the Panzi Foundation, which Mukwege set up to support the hospital.
The Nobel Committee said that Mukwege's work has made him "the foremost, most unifying symbol, both nationally and internationally, of the struggle to end sexual violence in war and armed conflicts."
"He has repeatedly condemned impunity for mass rape and criticized the Congolese government and other countries for not doing enough to stop the use of sexual violence against women as a strategy and weapon of war," the committee said.
In 2014, Murad's village was captured by ISIS as it swept through Iraq and Syria. Militants massacred some 300 people as part of a brutal assault through the Sinjar region.
A U.N. panel would later class this as a genocide that "sought to erase the Yazidis through killings, sexual slavery, enslavement, torture and inhuman and degrading treatment."
Murad was captured, repeatedly raped and subjected to other forms of sexual abuse. She escaped and decided to take the rare step of speaking out about her trauma. In 2016 at the age of 23, became the U.N.'s first Goodwill Ambassador for the Dignity of Survivors of Human Trafficking.
It was her campaigning that persuaded human rights lawyer Amal Clooney to take up the cause of the Yazidis. In 2016, NBC News' Cynthia McFadden sat down for an interview with Murad and Clooney, with the lawyer saying that "I met her and I just thought I can't walk away from this."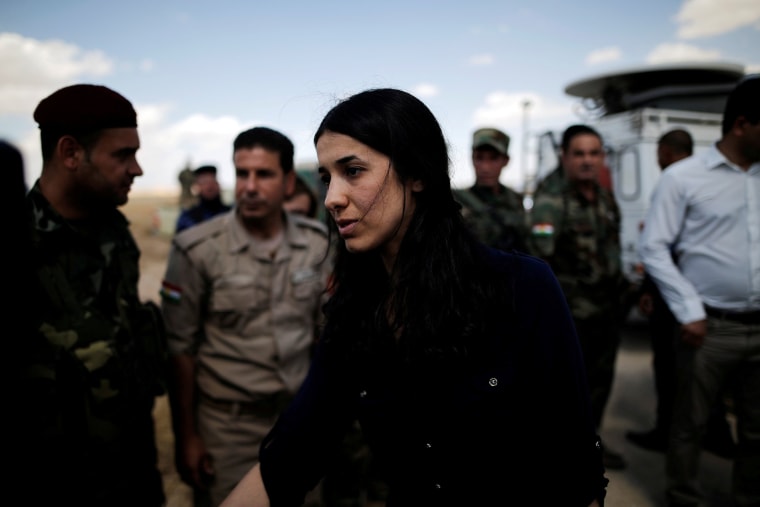 The Nobel Committee said that Murad had "refused to accept the social codes that require women to remain silent and ashamed of the abuses to which they have been subjected. She has shown uncommon courage in recounting her own sufferings and speaking up on behalf of other victims."
Sa'ib Kheder, a Yazidi member of Iraq's parliament, told NBC News that Murad's award was "a great achievement for Yazidis and Iraqis in general" and hoped it would help his community achieve justice.
"What Yazidis went through is considered as a genocide, so we hope that this is going to put some pressure on the government to deal with the Yazidis' issues," he said. "We hope the winning of Nadia Murad will help to push the government to help in finding those missing Yazidis and to rebuild their towns."
The government of Iraq also congratulated Murad on becoming a Nobel laureate.
Some commentators interpreted the prize as a nod to the #MeToo movement. Reiss-Andersen, the committee chair, said that while "Me Too and war crimes are not quite the same thing," she did draw some comparison.
"It is important to see the suffering of women, to see the abuses," she said. "To achieve that it is also important that women leave the concept of shame and speak up."
Nobel laureates do not know they've won before the prize is announced. Reiss-Andersen said the committee had tried to contact the winners but "we haven't managed to get through on the phone. If they are watching this, my heartfelt congratulations."
Soon after, previous Nobel Peace Prize laureates offered their congratulations.
Malala Yousafzai, the Pakistani women's education campaigner, who became the youngest ever winner in 2014, wrote on Twitter that Mukwege and Murad's "work saves lives and helps women speak out about sexual violence."
Last year's winner, the International Campaign to Abolish Nuclear Weapons, said in a statement that the pair "thoroughly deserve this honor through their incredible work."
Before the winner was announced, the group, known as ICAN, offered some advice.
"This is going to be a wild ride," it said in a Facebook post. "Don't worry if the website crashes (it happens to best of us…), if reporters are banging down your door, if you had other commitments that day. Just Breathe."