Cash-strapped, arson-prone Detroit could let fires in vacant buildings and homes burn themselves out to save the city Fire Department money.
The fiery notion from Detroit's Executive Fire Commissioner Donald Austin surfaced as the documentary "Burn," chronicling a year of Motor City firefighters' camaraderie in the face of declining budgets and increasing fire calls, made its world premiere at the Tribeca Film Festival in New York.
"We are in no way looking to 'let the city' burn, this is about saving lives and money," Austin said, according to a report Tuesday by NBC station WDIV in Detroit. "My department is strapped, the budget is strapped, and it's time to look at a new way of doing things."
Detroit Mayor Dave Bing is looking to trim $250 million and cut more than 2,500 jobs from the city's 2012-13 budget. The cuts would lower the fire department budget below this fiscal year's $183 million.
Austin's proposal would allow vacant buildings to burn if they're more than 50 percent ablaze — as long as they're not a risk to inhabited structures and the weather is favorable.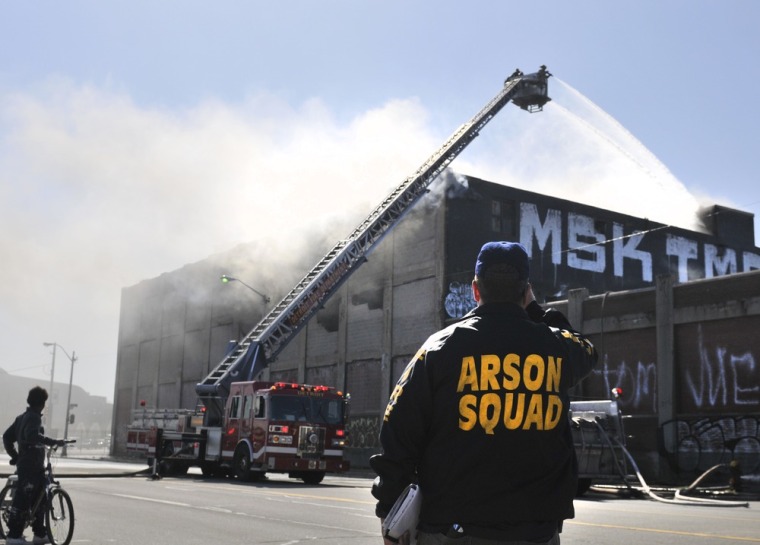 Bing's office is not taking any position on Austin's idea until he makes a formal proposal of his annual budget request, the mayor's spokeswoman, Naomi Patton, told msnbc.com.
Detroit Fire Fighters Association President Daniel McNamara said he opposes Austin's idea of letting vacant homes burn, unless they're on a predetermined demolition list, WDIV reported.
"This is a long overdue idea, really," Jo Robins Davis, a Detroit-area lawyer specializing in fire insurance claims, told msnbc.com. As long as they can keep the burns controlled, the idea would work for her, she said.
"They're going to be torn down anyway," she said of the vacant structures.
Austin has other ideas to save money, WDIV reported: Ask the U.S. Navy's construction division, the Seabees, to level 10,000 vacant and dilapidated homes; or create a demolition unit in the Fire Department to use heavy equipment to level the remnants of newly burned buildings.
Detroit has 80,000 abandoned structures, "Burn" filmmakers Tom Putnam and Brenna Sanchez say.
Austin said 40 to 60 percent of the fires in Detroit are in vacant structures. Last year alone, the Fire Department fielded 30,000 fire calls. The city of 714,000 sees 30 structure fires a day. In contrast, Los Angeles, a city of nearly 4 million, faces just 11 structure fires a day.
Watch US News crime videos on msnbc.com
To illuminate the obstacles that Detroit firefighters face, filmmakers Putnam and Sanchez documented a year in the life of the men and women tasked with saving their beloved city. The film features video shot by the firefighters with cameras attached to their helmets.
 "On our first two nights filming, we went to 21 structure fires with one engine company," recalled Putnam, who said that he and Sanchez were inspired by the 2008 death of Detroit firefighter Walter Harris.
Burned on purpose
Arson in Detroit rose in 2010 to 1,082 incidents, up from 636 the year earlier, according to FBI crime statistics. Insurance companies paid $237.8 million for damage caused by arsons or suspicious blazes in 2010, the Detroit News reported.
Why is arson so frequent?
"I think Detroit's a place where people feel disenfranchised and there aren't a lot of ways to express themselves," Putnam told NBC News. The filmmaker broke the reasons down into categories: arson for profit, homeowners who are upside down on their mortgages, and arson for revenge. Other times it's just arson for kicks. "Like one of the firefighters says, 'a gallon of gasoline is cheaper than a movie ticket,'" Putnam said.
Scrappers, who strip vacant buildings of valuable materials, are also a problem. After stripping away all metal piping, they can leave an exposed gas line to catch fire, which is what happened April 10, when fire destroyed two abandoned buildings and damaged the occupied family home of Tiffanie Alston, 31.  
She grabbed her children — 9, 10 and 11 years old — and then headed to the basement to help her 61-year-old father.
"People go in there and scrap all the time, and it was just a matter of time till it got set on fire," she told The Detroit News.
In the 1980s, Detroit was known for Devil's Night fires, which peaked in 1984 with more than 800 fires over Halloween. In 1985, an Angel's Night campaign began to counter the arsons. Firefighters responded to only 94 calls Oct. 29-31, 2011, according to the mayor's office.
'Katrina without the hurricane'
Wide swaths of Detroit consist of scattered occupied homes surrounded by boarded-up structures, burned-out buildings and weed-covered vacant lots, WDIV reported.
The city's population, which peaked when the post-World War II auto industry boomed in the 1950s at nearly 2 million people, has dwindled. Now Detroit's population has plummeted to 714,000, the Census reported last year.
As one firefighter in the film put it, "This has been Katrina without the hurricane."
Now Bing's planned budget cuts could make firefighters' jobs even tougher. With starting salaries at approximately $30,000 a year, most firefighters already have second jobs.
From their extensive time with the Fire Department, Putnam and Sanchez saw firsthand the real impact the city's budget problems had on the firefighters. Many of their boots were secured with duct tape, some were missing gloves, and they were still cutting holes in roofs with axes, the filmmakers said.
"I think we think that's all being taken care of, and it's not being taken care of," said Sanchez. "We need to be there for them because they're always there for us."
Funding for the film came from corporate sponsors like General Motors and an outpouring of donations from supporters who saw preview clips online. To do their part, Putnam and Sanchez  are donating portion of any proceeds from the film to the Leary Firefighters Foundation to help supply firefighters with equipment.
For Putnam, the story of this one city's firefighters is symbolic of what the rest of the country's fire departments may soon be facing, as budget are slashed in almost every state. And Putnam and Sanchez want people to remember that, as heroic as their work may be, firefighters are human after all.
"People tend to think of firefighters as being indestructible," Putnam said. "They're not indestructible. If you don't give them the equipment they need and you send them into situations they shouldn't be going into, they can get hurt and they can get killed. And it's easy to forget that."
Follow the film on Facebook here, or on its website, here.
Follow Jim Gold on Facebook here. Follow Yardena Schwartz here.
More content from msnbc.com and NBC News: