New documents released by the conservative watchdog group, Judicial Watch, seem to suggest that in the weeks following the Osama bin Laden raid, the White House offered classified information to filmmakers Kathryn Bigelow and Mark Boal, who are working on a movie about the mission. Buzzfeed correspondent and Rolling Stone contributor Michael Hastings started off the our "Now" panel discussion with a nod to two of Kathryn Bigelow's other well-known films, "The Hurt Locker" and "Point Break," but then turned seriously to what he called a "selective leaking campaign" by the Obama administration.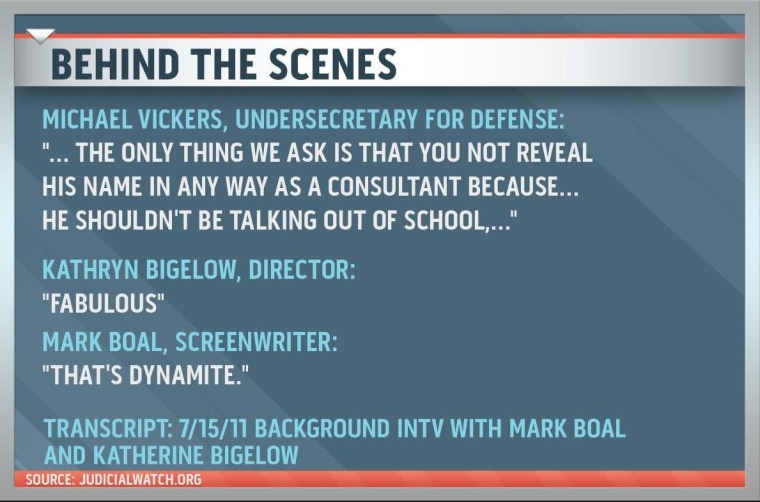 Judicial Watch reportedly  obtained the documents using the Freedom of Information Act, and released 153 pages of Pentagon records and 113 pages of CIA records. These include emails and transcripts of meetings between the filmmakers and top officials at the Department of Defense and the CIA.
A transcript of a July 15, 2011 "background interview" with Bigelow and Boal reveals how Defense Undersecretary Michael Vickers offered up a SEAL Team 6 Operator and Commander involved from the beginning as a planner. But Vickers requests the filmmakers not reveal the man's name because, "he shouldn't be talking out of school." Pentagon Press Secretary George Little told the Associated Press no meeting between the Team 6 planner and the filmmakers ever took place and, "We have never reviewed a script of the movie."
Undersecretary Vickers is also seen promising full cooperation to the filmmakers by the CIA, but with a caveat. In an email dated June 13, 2011, he wrote, "At the direction of Director Panetta, CIA is cooperating fully (not obviously giving away anything they shouldn't...) They would like to shape the story to prevent any gross inaccuracies, but do not want to make it look like the commanders think it's okay to talk to the media...."
Much fuss is being made  about Bigelow and Boal being granted access to "the Vault," which in a July 13, 2011 email is described as a room "in the [redacted] building that was used for some of the tactical planning in the Bin Ladin [sic] Raid."  
Rep. Peter King (R-NY), who chairs the House Committee on Homeland Security, issued a statement questioning the access given to the filmmakers. It reads, in part, "After reviewing these emails, I am even more concerned about the possible exposure of classified information to these filmmakers, who as far as I know, do not possess security clearances." 
 CIA spokesman Preston Golson's response was, "Virtually every office and conference room in our headquarters is called a `vault' in agency lingo. The`vault' in question, that had been used for planning the raid, was empty at the time of the filmmakers' visit."
The "Now" panel pivoted from the documents to a discussion about the White House's ties with Hollywood. Actress Sarah Jessica Parker and Vogue Editor Anna Wintour will be co-hosting "A New York Night" fundraiser for the president's re-election campaign. On May 10, George Clooney hosted one that raised $15 million for the campaign. Nicholas Confessore, political reporter at The New York Times quipped, "Democrats and Hollywood, it's always... it's like oil and Republicans. It's a reliable source of campaign money. It will always exist, it will always be."