RIO DE JANEIRO — Close to a million demonstrators marched in cities and towns across Brazil Sunday to protest a sluggish economy, rising prices and corruption - and to call for the impeachment of leftist President Dilma Rousseff.
The marches across the continent-sized country come as Brazil struggles to overcome economic and political malaise and pick up the pieces of a boom that crumbled once Rousseff took office in 2011.
Now in the third month of her second four-year term, Rousseff is unlikely to resign or face the impeachment proceedings called for by many opponents angry about a fifth year of economic stagnation and a multibillion dollar corruption scandal at state-run energy company Petroleo Brasileiro SA, or Petrobras.
For a president who was narrowly re-elected just five months ago, the protests are a sign of a polarized country increasingly unhappy with its leadership. Rousseff has recently been jeered at public appearances and Brazilians in some cities banged pots during a televised speech she made earlier this month.
Sunday's gatherings were mostly calm and festive, with little of the violence that tarnished a wave of massive demonstrations in 2013, when Brazilians protested spending to host the 2014 World Cup of soccer.
By late morning, thousands of residents, many dressed in the blue, green and yellow of Brazil's flag, crowded along Rio de Janeiro's Copacabana beachfront, singing the national anthem and shouting "Dilma, Out!"
In Sao Paulo, the country's biggest city, more than half a million demonstrators gathered along skyscraper-lined Avenida Paulista. As in Rio and Brasilia, the capital, many of the protesters hailed from the country's wealthier classes, who traditionally oppose the ruling Workers' Party.
Underscoring class divisions, marchers said Rousseff and the ruling party have instigated the polarization by trying to pit their traditional supporters, the recipients of popular social welfare programs, against the rest of Brazil.
The party, opponents complain, for too long ignored critiques that its heavy spending, subsidized lending, protectionist policies and corruption have sapped the vitality that led to average growth exceeding 4 percent during the decade before she took office.
The Workers' Party "is inciting the people against the people," said Helena Alameda Prado Bastos, a 61-year-old editor in Sao Paulo.
So grim are Brazil's prospects that many economists expect it to slip into recession this year. Inflation is running at a ten-year high, while Brazil's currency, the real, has lost over 22 percent of its value against the dollar this year.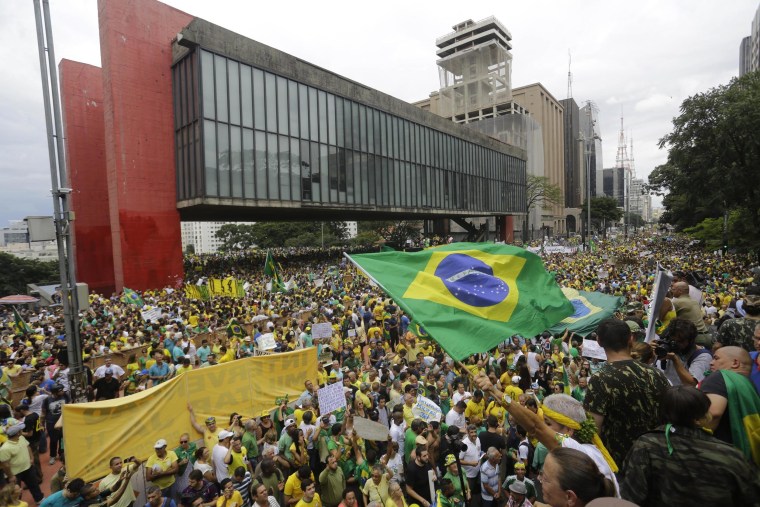 — Reuters