A civil lawsuit charging Oscar-winning filmmaker Paul Haggis with raping a publicist has prompted three additional women to come forward with their own sexual misconduct accusations, including another publicist who says he forced her to perform oral sex, then raped her.
One of the other women speaking out told The Associated Press that Haggis tried to sexually assault her. "I need to be inside you," she recalled him saying, before she managed to run away.
Another of the new accusers said Haggis held down her arms, forcibly kissed her on a street corner, then followed her into a taxi. She said she later escaped his clutches.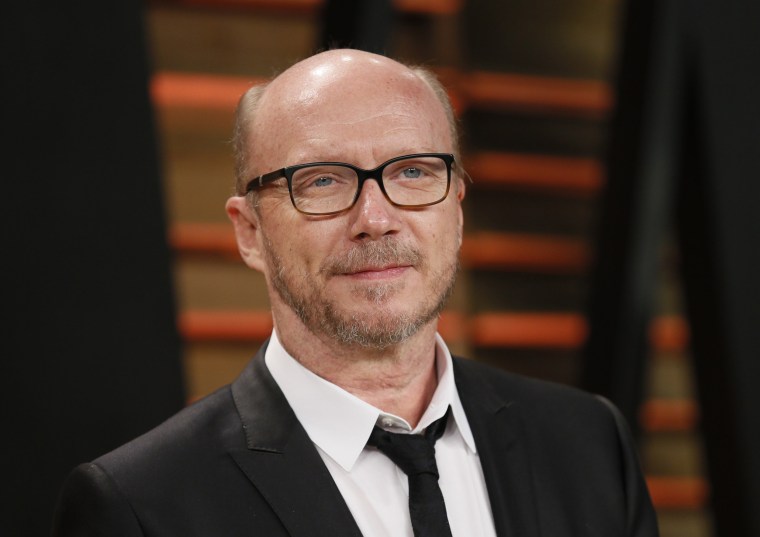 When asked about the new accusations, Christine Lepera, attorney for the 64-year-old screenwriter of "Million Dollar Baby" and "Crash," said, "He didn't rape anybody."
Haggis has denied the original rape allegation in a counter-complaint to the lawsuit, and said the accuser and her lawyer had demanded a $9 million payment to avoid legal action, which he characterized as extortion.
Related: How will Golden Globes 2018 handle #MeToo, #TimesUp?
The plaintiff in the lawsuit, filed Dec. 15 in Manhattan, is identified in court papers as Haleigh Breest. The other three women subsequently came forward to Breest's New York attorneys. They spoke to the AP on the condition that they not be identified for fear of retribution. The AP generally does not identify people who say they were the victims of sexual assault.
In a phone interview with NBC News on Friday, one of Breest's lawyers responded to Haggis' counter-complaint.
"Mr. Haggis' lawsuit against Ms. Breest is retaliatory," said attorney Ilann Maazel. "It is, in my view, designed to intimidate her. I personally find it appalling."
After years of working in television, Haggis broke out in the mid-2000s when he became the first screenwriter to write back-to-back best picture winners, "Million Dollar Baby" and "Crash," which he also directed. He also gained attention for his defection from Scientology in 2009, and public criticism of the religion in a 2011 New Yorker article, a book and an HBO documentary. All the women interviewed denied any connection to Scientology.
Related: Here are the men accused of sexual misconduct since Weinstein
In separate interviews with the AP, the three new accusers provided detailed accounts of encounters they say occurred between 1996 and 2015. The women were early in their careers in the entertainment business when, they say, the Hollywood heavyweight lured them to private or semi-private places under the guise of discussing productions or a subject of a professional nature.
They all said Haggis first tried to kiss them. In two of the cases, they said, when they fought back, Haggis escalated his aggression. NBC News could not confirm their accounts.