The Olympic and Paralympic Games — which London has promised will be the most accessible and inclusive ever — are just weeks away. All sports venues are fully equipped for disabled visitors, but many city-goers with physical impairments say they still feel like second-class citizens on public transport.
"I am shocked at how disabled I am here; I have never felt so handicapped," said Laura Hamilton, a 28-year-old American with muscular dystrophy living in London.
"I'm scared to go out on my own," said the Californian, who quit her job in San Francisco and moved to Britain in March "to see the world" before her condition deteriorates.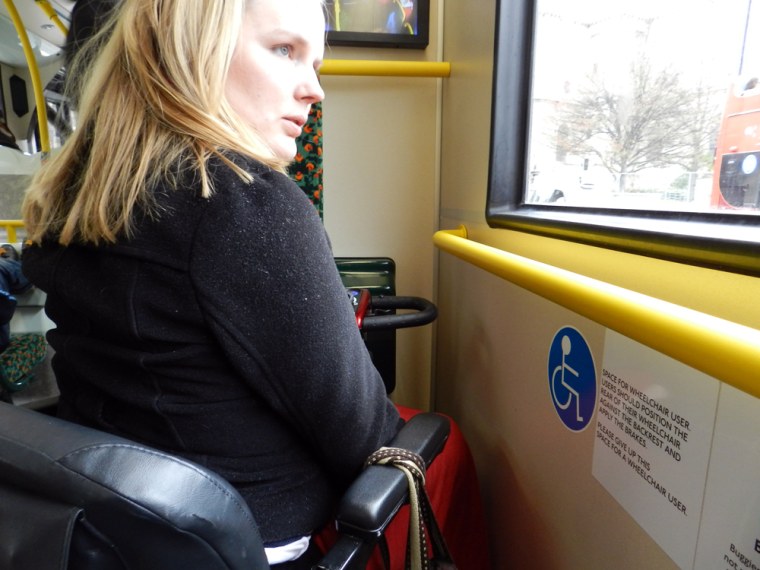 The London Underground is by far the fastest way to get around the city, but with just a handful of stations in the historic heart of the capital offering step-free access, Hamilton said "it's more of a novelty for wheelchair users."
All black cabs are accessible, but using taxis or a car as a primary form of transportation is prohibitively expensive for most residents, so wheelchair users rely heavily on buses.
But Hamilton, who uses a small electric scooter, said that "most times the drivers don't want to pull into the curb so I'm told I can't get on at all."
Paralympian crawls off train
Dame Tanni Grey-Thompson, who won 11 gold medals for Great Britain in five Paralympic Games and is a board member of Transport for London (TFL), the city's group responsible for the transportation system, described how she recently had to crawl off a train. 
"My train was late into Kings Cross Station and the station had pretty much closed and there was no one who came to get me," said the parliamentarian and TV presenter, who was born with spina bifida.
"So I got out of my chair, pushed my chair off, and crawled out of the train and got back into it," she said.
Despite that incident and other cases of being "forgotten" on long-distance trains, the athlete said the situation within London has improved greatly in recent years.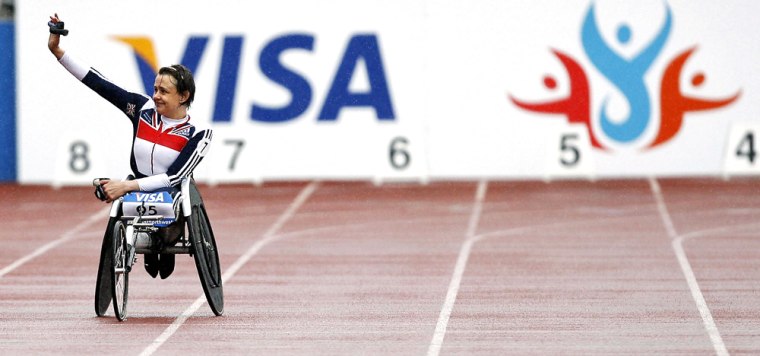 "But people coming from countries like the U.S. and Canada will find it a bit more tricky," she said.
Dating back to 1863, the London Underground is the oldest metropolitan railway in the world. Disabled access renovations only began after a wheelchair ban was lifted less than 20 years ago.
TFL, which is run by the mayor, scrapped its promise to make a quarter of stations step free by 2010 and a third by 2013.
Now, 65 of the 270 stations have step free access from street to platform, but most of those still have a gap between the platform and train.
Wheelchair access will be available at locations key to the Games — Stratford for the Olympic Park, Southfields for tennis at Wimbledon, and Green Park for equestrian events — but, not at the vast majority of tourist hot spots, including Piccadilly Circus, Notting Hill, and Covent Garden.
Grey-Thompson said upgrades had to be chosen carefully as "it costs more than 100 million pounds to make a central London station wheelchair-accessible."
'Left to the side of the road'
Meanwhile, the bus system was completely overhauled in 2007.
"Our bus fleet is the most accessible fleet in the world — with every one of our 8,500 buses low-floor wheelchair-accessible and fitted with ramps," said Wayne Trevor, Accessibility Manager for TFL. However, only 60 percent of bus stops are fully accessible.
"We get a lot of complaints from wheelchair users left to the side of the road," said Lianna Etkind, Campaigns and Outreach Coordinator for disabled rights group Transport for All.
Californian Hamilton said she often feels like a "third-class citizen" as her husband begs drivers to let her on and one in four drive away without her.
"Drivers are definitely required to pick up disabled passengers," TFL said in an email response, adding that passengers are encouraged to lodge complaints which can result in driver retraining or dismissal.
The installation of tactile paving and audio-visual displays has assisted blind and deaf passengers, but recession-induced staff cuts have made it harder to receive personal assistance.
Carole Cherrington, a blind 43-year-old who has lived in London her entire life, took the Underground on her own for the first time in March. She said she had to rely on a stranger to get to her destination and found the journey "extremely distressing."
TFL has since provided her with a "travel buddy" free of charge, but she said: "I feel excluded by society in being able to get around independently; I hope having the Paralympics here will bring more awareness."
Michael Theobold, who is profoundly deaf, said that he had encountered dangerous situations when he couldn't hear last-minute audio announcements.
The 64-year-old former teacher recalled in an email interview that he was unable to hear a warning to move along the track at Marble Arch station.
"There was a sudden surge of people and I was very nearly knocked off balance on to the electrified track," he said.
'An army of volunteers'
Transport for London is eager to ensure that the Olympics run without a hitch.
"An army of volunteers will be drafted in to assist our operations during Games time," TFL said in an email.
Scores of extra buses, manual track-to train ramps, and fast-response elevator engineers will also be brought in.
Transport for All's Etkind said she was hopeful that the extra resources would help disabled visitors get around the city successfully. 
"It's great that TFL is improving access to the Underground during the Olympics and Paralympics. But access and inclusion isn't just for Games time, it's for life," she said.
More: Londoners express hopes, frustrations as Olympics come to town 
Now towering over London's Olympic Park: 'The Godzilla of public art'  
Jennifer Carlile was a senior writer and editor for msnbc.com's news team, enjoying nearly a decade of reporting from Great Britain, continental Europe, and her hometown of Honolulu, Hawaii. She is now a freelance writer living in London.