DARRA ADAM KHEL, Pakistan — Want a knock-off Beretta or AK-47 that's "guaranteed" to be as good as the original at a fraction of the cost? Look no further than one of the most violent regions of one of the world's most violent countries.
This town, on a two-lane highway traversing the rugged mountains of northwest Pakistan, lies in the notorious "Ilaaqa Ghair" — no-man's land — where the country's laws are not normally applied.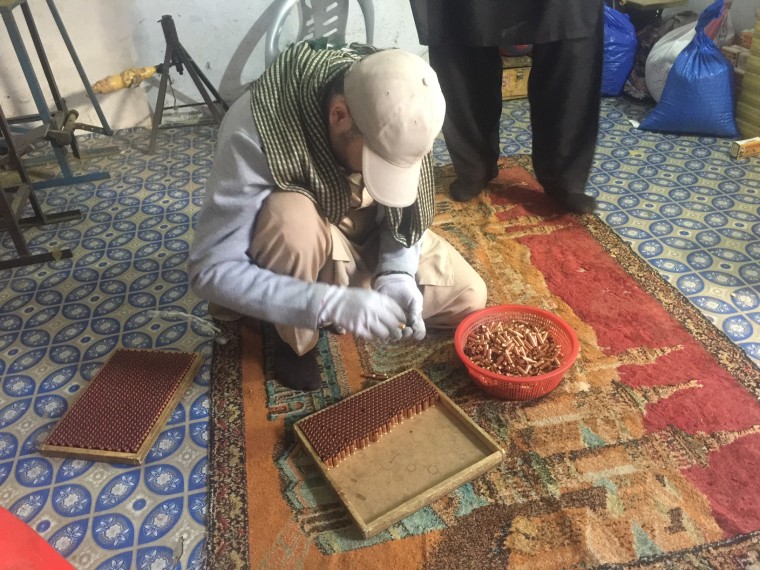 It is also home to a 150-year-old arms market that is nothing less than a Disneyland for gun lovers.
Here, genuine articles can be found alongside copies of almost anything a freelance warrior might need. Kalashnikovs, M16s, Glock semi-automatic pistols ... all can be had for a price.
In its heyday, Darra was a refuge for vagabonds, drug dealers and fugitives. Police could not operate in the area.
An army crackdown dented business but merchants at the gun market insist they're not worried.
"People will always need guns," Azmatullah Orakzai, a 25-year-old shop owner, told NBC News. A knock-off M16 hangs on the wall behind him.
The town is not far from the Afghan border and about 20 minutes off the highway that links the country's capital, Islamabad, with the dusty provincial capital, Peshawar.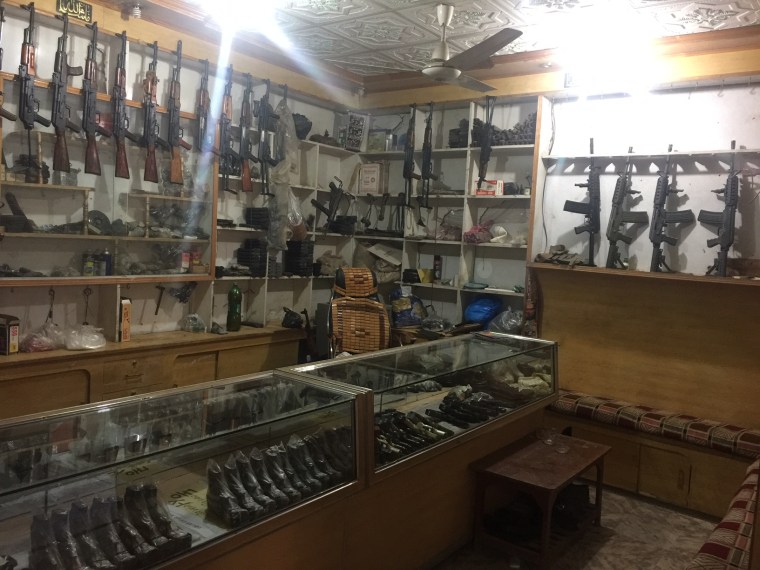 A nearby mountain ridge marks the beginning of the country's semi-autonomous tribal areas where warrior clans live among enclaves of ethnic Pashtuns.
Since an attempt by the army to impose order in the 2000s, many of Darra's shadier characters have taken to the mountains.
But the town's most famous products remain its knock-off weapons and ammo.
An M16 automatic rifle — not an American original, but a Chinese imitation — will cost a buyer 180,000 to 230,000 rupees, or $1,800 to $2,300. But a local replica of the Chinese knock-off — called a "Darra copy" — can be had for only 30,000 to 80,000 rupees, or between $300 to $800.
"A copy of the Glock is 30,000 to 35,000 rupees," Orakzai says, referring to a version of the Austrian semiautomatic pistol that can be bought for under $350.
What about the AK-47, or Kalashnikov, the favorite of guerrilla fighters around the world?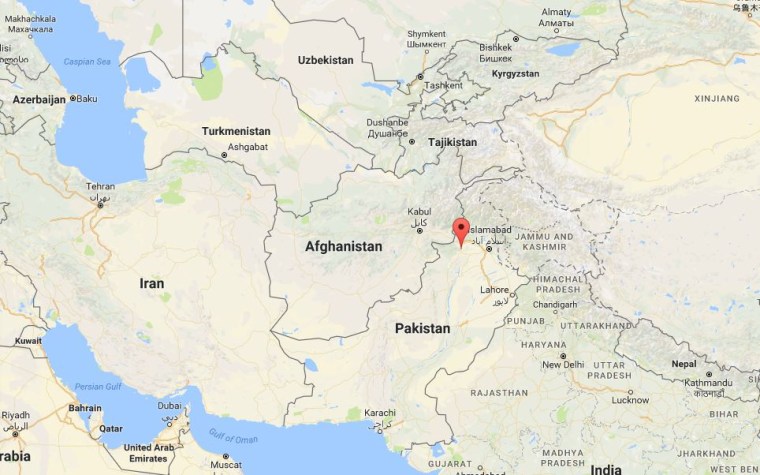 A real one will cost 80,000 to 200,000 rupees — between $800 and $2,000 — Orakzai says, proudly showing a Soviet-era AK-47 from 1971, eight years before neighboring Afghanistan was invaded by the Red Army. The markings on the gun are in Russian.
But a fake can be had for a mere 7,000 to 25,000 rupees, or $70 to $250. Just down the street, a kilo of goat kebabs that would make lunch for four people costs $20.
"I can copy anything," Orakzai says, ticking off a list that includes Turkish Zigana pistols, American Beretta handguns, and Chinese 30-caliber weapons. "We guarantee our copies to be as good as the original. A guarantee of it working when you need it to."
Antiques are also big here.
A British World War II-era Sten submachine gun, complete with U.K. markings, can be had for $800. But you need to add another $50 for the original leather strap bearing the ornate military coat of arms.
An 1860 Enfield pistol, with markings from a Hussar cavalry regiment, is on sale for just $950.
Vendors say most of the weapons sold here are used for self-defense or hunting.
But there was a time, not long ago, when rocket-propelled grenade launchers and even mortars were available. And sales of smaller arms were higher then, too.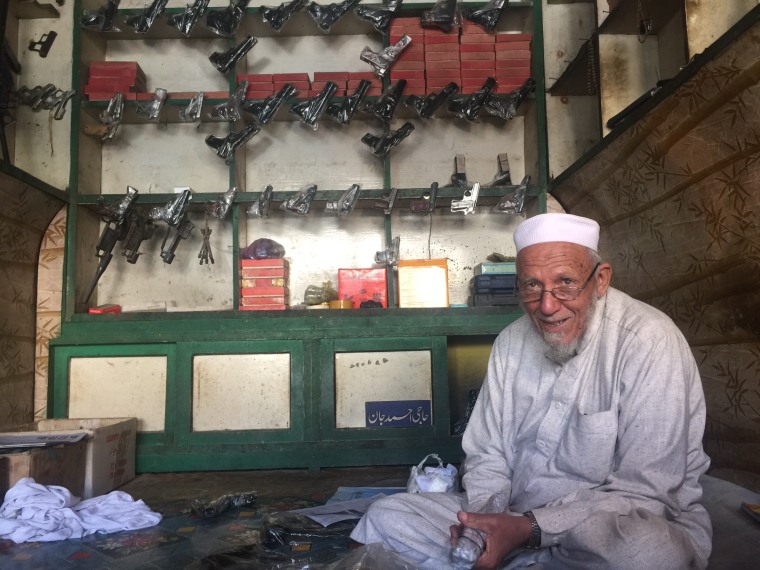 "When things were better, we used to sell 10 to 20 pistols per week," says Ahmad Jan, 65, sitting cross-legged on a mat as he wraps handguns in plastic and newspapers. "The army has now stepped in a big way and cut down demand and supply. Mostly demand, as people are scared to carry weapons around now."
In the back alleys, away from the shops where weapons hang like clothes and shop-owners welcome buyers with tea and cake, competing Sharifkhel and Sharakai tribesmen don masks for protection from the gases inherent in their trade and forge ammunition and rifles in dark, cramped workshops.
Omar Farooq, 28, is making a 12-caliber rifle which he says is his specialty.
"I've been doing this since I was 8 years old," Farooq tells NBC News. "I can make the AK-47 too, but prefer to make the 12-caliber. The demand is higher, and the work is easier."
But he acknowledges that his workmanship has its shortcomings.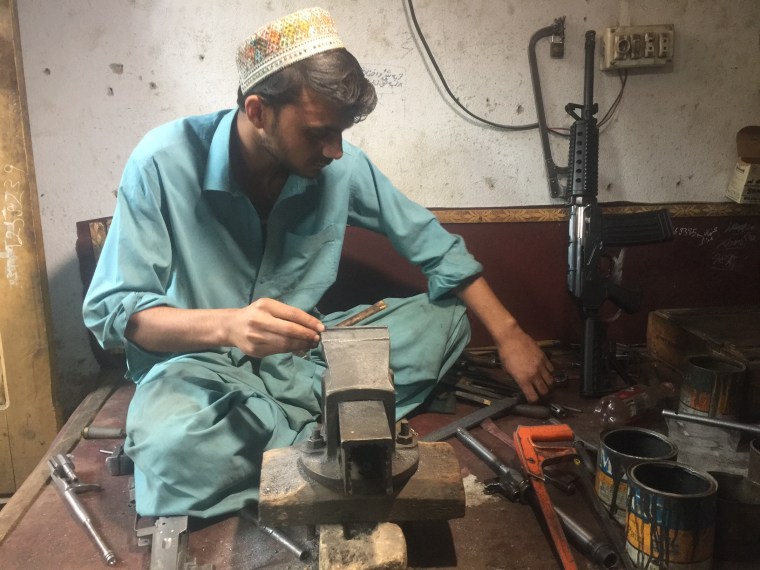 "Everybody makes replicas here," he says. "But there is a difference, of course, in the standard of work. We can't make the same thing an original gun manufacturer has made."
Afghanistan, which is just an hour away and where American forces are engaged in what has become their longest foreign war, figures prominently in Darra's economy.
Shams Zaman, 28, an accountant for an ammunition supplier called "NATO Power," explains the idea behind his brand.
"The best cartridges are used by NATO forces across the border, in the thousands," Zaman says. "The empties are picked up by scrap collectors and then hauled from Afghanistan to us, here."
He holds a ledger book in one hand, standing over a prayer mat as a basket of NATO Power 30-caliber bullets is counted by one of his workers.
"We reshape them, remold them, and resell them for local use," he explains. "We are a very popular brand, thanks to NATO."