Journalists Maria Ressa and Dmitry Muratov won the Nobel Peace Prize on Friday for their fight to defend free expression in the Philippines and Russia.
Ressa is the co-founder of the investigative digital media company Rappler, which has focused on the brutal war on drugs waged by Philippine President Rodrigo Duterte.
Muratov is a co-founder and the editor-in-chief of Novaya Gazeta, an independent newspaper holding power to account in President Vladimir Putin's increasingly authoritarian Russia.
The Norwegian Nobel Committee said it recognized the pair for their "efforts to safeguard freedom of expression, which is a precondition for democracy and lasting peace."
Download the NBC News app for breaking news and politics
More broadly, the committee said it wanted to highlight the plight of journalists across the globe who are operating in what watchdogs say is an increasingly repressive environment.
"This prize will not solve the problems that journalists and freedom of expression is facing," Berit Reiss-Andersen, the committee's chairwoman, told a news conference.
"But it will help shed a light on the importance of the work of journalists, and how dangerous it is not only in places facing war and conflict, but all over the world."
Reacting to the news, Ressa told a live broadcast by Rappler, "I am in shock."
She has been at the forefront of documenting Duterte's war on drugs, which Human Rights Watch says has led to the deaths of more than 12,000 Filipinos, some 2,500 killed by police.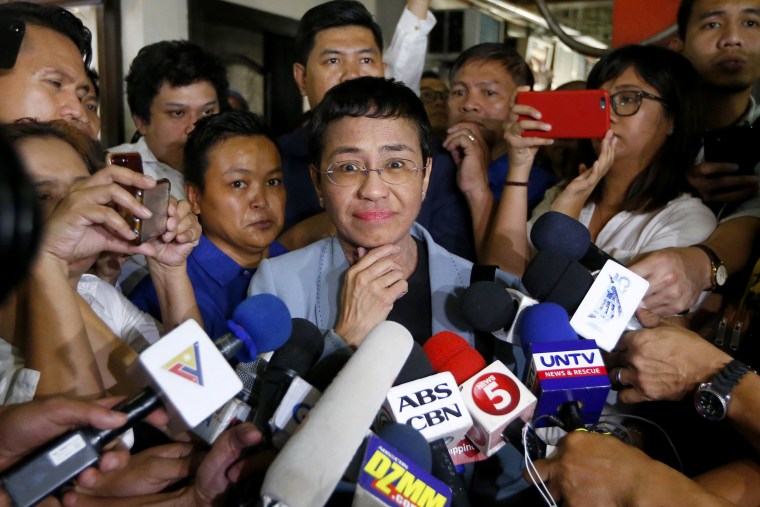 Ressa was also recognized for her work documenting how social media has been used to spread disinformation and harass political opponents.
As editor of Novaya Gazeta, Muratov leads a rare independent news source in Russia. His journalists have faced harassment and threats, and six of them have been murdered, including Anna Politkovskaya, who was shot dead in her Moscow apartment building in 2006.
"Despite the killings and threats, editor-in-chief Muratov has refused to abandon the newspaper's independent policy," the Nobel Committee said in a statement.
He told the Russian news agency Interfax that he would donate his prize money to the treatment of children with spinal muscular atrophy, as well as investing it in journalism.
He also paid tribute to the paper's journalists who have been killed. "This award is for our deceased colleagues, friends and journalists of this very newspaper," he said.
Though Muratov's newspaper has often criticized the Russian authorities, Kremlin spokesman Dmitry Peskov told reporters Friday they congratulate him.
"He persistently works in accordance with his own ideals, he is devoted to them, he is talented, he is brave," Peskov added.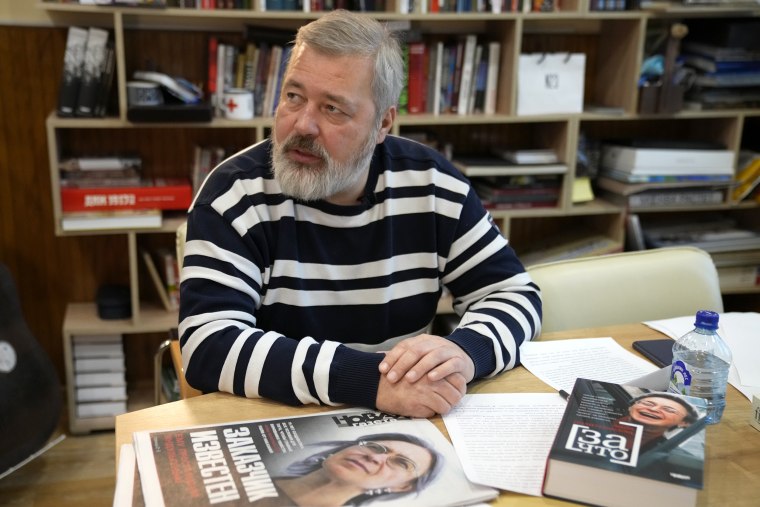 Last year's prize went to the United Nations World Food Program for its efforts to combat hunger and food insecurity around the globe.
Previous winners include Taliban attack survivor and activist for female education Malala Yousafzai, anti-apartheid icon Nelson Mandela, civil rights leader Martin Luther King Jr., and four former U.S. presidents: Barack Obama, Jimmy Carter, Theodore Roosevelt and Woodrow Wilson.
The prize comes with a gold medal and 10 million Swedish kronor (more than $1.14 million).
Nobel Prizes have already been awarded this week in physiology or medicine, physics, chemistry and literature. Still to come Monday is the Nobel Prize in economics.
But the decisions of the secretive Nobel Committee do not always guarantee a life of international acclaim.
Ethiopian Prime Minister Abiy Ahmed claimed the peace prize in 2019 for ending a 20-year stalemate with neighboring Eritrea. His reputation has since been tarnished, however, for his role in the conflict and deadly blockade of Ethiopia's northern Tigray region.
Reiss-Andersen was asked about Ahmed during Friday's announcement.
She declined to comment on him specifically, only putting the broad situation in the context of this year's award. "The situation for freedom of the press in Ethiopia is very far from ideal and is facing severe restrictions," she said.