LONDON — When Umaima met her future husband 13 years ago, he was a car mechanic. Today, he is an Islamic State terrorist.
With ISIS driven from much of the territory it once controlled in Iraq and Syria, Umaima has joined a growing number of the militants' wives who are filing for divorce.
It wasn't an easy decision, Umaima said. Her community looks down on divorced women. She is also sad that her three children, aged 6 to 12, are growing up without a dad.
"I was and still am disappointed because I married a man who didn't appreciate his life and decided to join a terrorist group instead of taking care of his family," said Umaima, who is relying on the support of her parents as she navigates life as a single mother. "I will try to be their father as well."
Deputy Justice Minister Hussein Jassem said that there has been "a huge increase" in requests for divorce in the last three months across Iraq — with the vast majority filed by women.
While the government has not tracked the number of ISIS-related divorces, there has been a notable uptick in applications in Sunni Muslim regions such as Anbar and Nineveh where the group was strong, Jassem added.
Umaima said her husband's transformation came in 2010, after Iraqi security forces accused his brother of being a militant and fatally tortured him.
"My husband got mad and he swore he would take revenge on his brother's killers," Umaima told NBC News in a phone interview from Fallujah. Like other women NBC News spoke to, Umaima asked to be identified by only her first name out of fear of being stigmatized.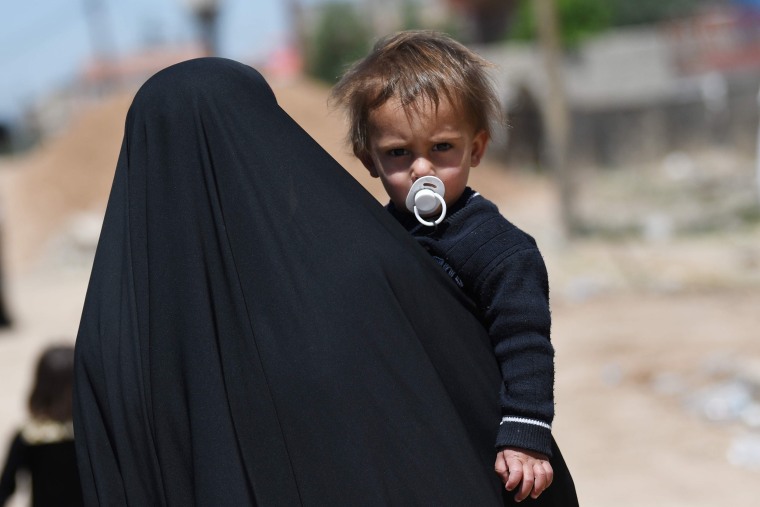 Her husband, Awad, joined ISIS after it swept across Iraq in 2014, Umaima said. He was later arrested and faces life in prison or a death sentence if convicted.
Despite the emotional hardship, Umaima, 41, said divorce is better than the alternative.
"Being the wife of a terrorist is not honoring me or my family and it is not going to honor my kids," she said.
While some conservative Sunni Muslim communities, including those where the women in this story live, are not in favor of divorce, it is accepted by many in Iraq and is not considered a sin under Islam. Both men and women can apply for divorce through the courts.
Iraqi women are free to request a divorce on a variety of grounds, including if their husband mistreated them or were convicted of crimes.
Spouses applying for a divorce have to provide evidence supporting their claims, such as sworn statements from witnesses. A case doesn't require a lawyer, is generally inexpensive and a decision is typically issued about a month after an application is filed.
According to Belkis Wille, senior Iraq researcher for Human Rights Watch, one judge in Mosul — the country's second-largest city and a former ISIS stronghold — reported that dozens of women were now trying to dissolve their marriages each week.
A divorce allows women the opportunity to remarry and erases the lingering stain of having an insurgent ex-husband, Wille added.
The stigma of being linked to ISIS runs deep in Iraq. A report released by New York-based Human Rights Watch this year said some families being held in displacement camps were unable to return to their communities because of alleged affiliation to the militant group.
The Iraqi government has also encouraged the public to tip off officials about anyone who is a potential ISIS supporter in order for them to be investigated and tried. Jassem, the deputy justice minister, said only wives of ISIS militants who cooperated with the terrorist group would face prosecution.
But Human Rights Watch's Wille said that while flagging suspects brought some militants to justice, the process has also resulted in some people embroiled in feuds of being falsely accused of being ISIS supporters.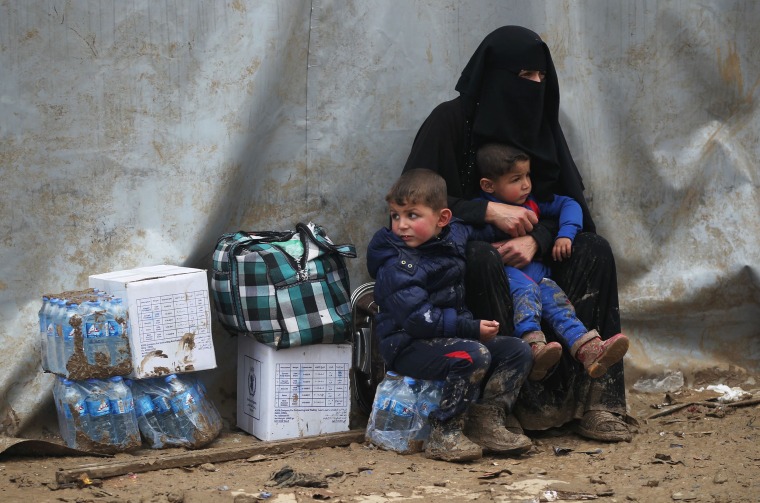 Fatima, 35, has joined the ranks of those seeking a divorce.
She said she was surprised when her husband, Omar, joined ISIS after having served as soldier in the Iraqi army before the 2003 U.S. invasion.
He was arrested three years ago when security forces liberated the city of Tikrit from the militants, according to Fatima.
"I am afraid of being accused that I support terrorism, and this is one of the reasons that drove me to ask for divorce," Fatima said.
Shaima'a shares such concerns. She doesn't know if her husband is hiding, arrested or dead.
She married Abdulqader five years ago while he owned a supermarket in their town of Heet, northwest of Baghdad. He was later lured by ISIS promises to uphold "true" Islam, according to Shaima'a.
Shaima'a, 26, said Abdulqader eventually realized his mistake and wanted to leave the group "but he couldn't do that because they would kill him."
He went missing when Iraqi forces began the campaign to liberate Heet and hasn't been heard from since.
Shaima'a said she would like to remarry if given the opportunity.
"It's not that easy," she added. "I don't want to live the rest of my life as a wife without a husband."