The bomber or bombers who killed four people and wounded at least 10 others at a Doctors Without Borders hospital in Yemen remains unknown, the United Nations said Sunday night in denouncing the "serious violation of international humanitarian law."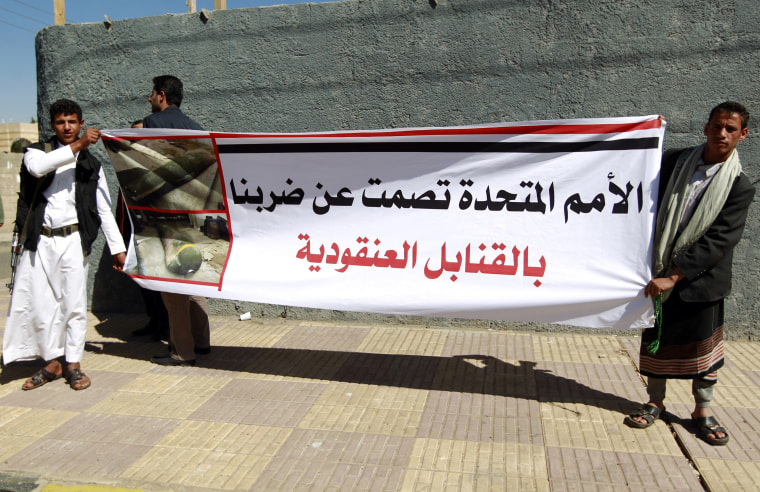 Three of those injured in the bombing at 9:20 a.m. (1:20 a.m. ET) Sunday on Shiara Hospital in the Razeh district were staff members of Médecins Sans Frontières (for the organization's name in French), the aid group said. The number of causalities could rise because people could still be trapped in the rubble, the statement said.
One projectile struck the hospital, and another fell near it, the group said.
U.N. Secretary-General Ban Ki-moon confirmed late Sunday that those responsible for the attack remained a mystery. He said in a statement that hospitals and medical personnel are "explicitly protected under international humanitarian law" and called the attack "a serious violation of international humanitarian law."
Raquel Ayora, director of operations for Doctors Without Borders, said planes were spotted flying over the facility at the time of the bombing and that anyone able to carry out the airstrike would have known that Shiara Hospital was a health care facility.
"All warring parties, including the Saudi-led coalition, are regularly informed of the GPS coordinates of the medical sites where MSF works," she said, referring to the group by its initials in French.
Related: Iran Blames Saudi Arabia After Jets 'Bomb Embassy' in Yemen
A military coalition led by Saudi Arabia has been fighting the Iran-allied Houthi group in Yemen, leaving 6,000 people dead since the Saudi coalition entered Yemen's conflict in March, according to Reuters.
MSF said Shiara Hospital had already been bombed once, before the group started supporting it in November. Three other MSF-supported hospitals have been bombed in as many months, the organization said.
"We strongly condemn this incident that confirms a worrying pattern of attacks on essential medical services and express our strongest outrage as this will leave a very fragile population without health care for weeks," Ayora said. "Once more, it is civilians who bear the brunt of this war."
In October, a Doctors Without Borders hospital in Afghanistan was struck by fire from a U.S. gunship, killing at least 31 civilians and injuring dozens more.