LONDON — British Prime Minister Boris Johnson has risked undermining his entire coronavirus strategy in an apparent attempt to save the career of one man.
Dominic Cummings, the prime minister's top adviser, has long been the bête noire of opponents after he masterminded not only Johnson's election win in December, but also the highly divisive Brexit vote of 2016, which saw the U.K. vote to leave the European Union.
Now Cummings has united foes and traditional allies in a white-hot fury after it emerged that he apparently broke his own government's lockdown restrictions, traveling 264 miles from London with his family even though his wife had symptoms of COVID-19.
It has quickly morphed into the latest and perhaps most damaging crisis to batter Johnson's government during a pandemic that's seen his country suffer the second-highest number of deaths in the world, more than 36,000.
The rules are clear and have been blanketed across social media, television and billboards for months. They say people in Britain "must stay at home if you or someone you live with has symptoms of coronavirus."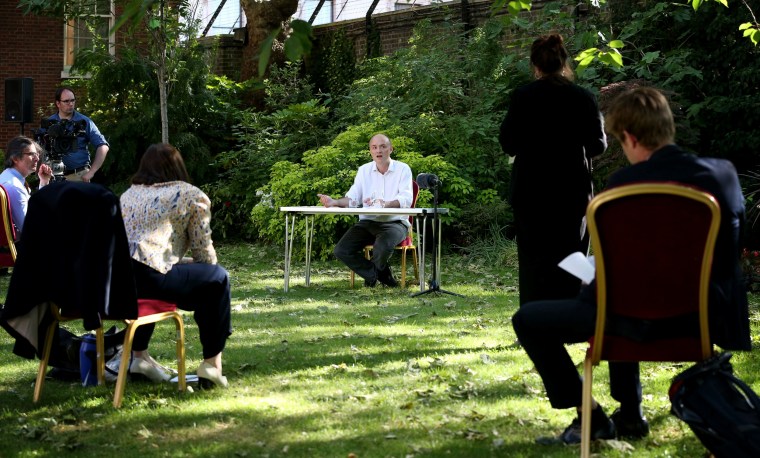 Resisting widespread calls for his firing, Cummings said Monday that he believes his actions were justified because his were "exceptional circumstances." His wife was suffering coronavirus symptoms, and he said they wanted to be nearer relatives who could provide child care in the event they were both incapacitated.
It's true the guidelines say that "not all these measures will be possible" for people with children, and officials have said they can be overridden if "there is an extreme risk to life."
But many people — including more than a dozen of Johnson's own Conservative lawmakers, as well as several senior police and health officials — say Cummings hadn't met that criteria.
"It makes it much harder for the police going forward," Martin Surl, the top police commissioner for the English county of Gloucester, told the BBC on Monday. "This will be quoted back at them time and time again when they try to enforce the new rules."
Stephen Reicher, a professor at the University of St. Andrews in Scotland who sits on one of the government's advisory panels, tweeted: "I can say that in a few short minutes tonight, Boris Johnson has trashed all the advice we have given on how to build trust" among the public to fight COVID-19.
John Wilson, whose wife died in March after she contracted the coronavirus, was among the many grieving relatives who said they felt angry for having followed the government's rules — only to learn that they apparently had been flouted by one of its most senior officials.
"On the day she died I could not be with her to hold her hand," Wilson said in a letter to his member of Parliament, which he posted on Twitter before Cummings spoke. He said he had delayed writing the letter to "let my rage subside so that I can be coherent and civil."
Radio phone-in shows have been flooded with calls from angry Britons. And the Daily Mail, a conservative tabloid that doesn't often agree with The Guardian's editorial line in the partisan world of British newspapers, ran with the headline "What planet are they on?" alongside pictures of Johnson and Cummings.
The incident itself may have been forgotten with a swift apology. However, it's Johnson's defense of Cummings — saying he "acted responsibly, legally and with integrity" — that has led the episode to dominate headlines in Britain and around the world.
To put an end to the story, Cummings called a news conference in the garden of No. 10 Downing Street on Monday, an unusual move for an unelected official who usually works behind the scenes. He offered little contrition, instead urging people to "not believe everything they read in newspapers or see on TV."
Full coverage of the coronavirus outbreak
He added that "many have been angry about what they have been seeing in the media about my actions," saying he "made the right judgment, but I understand that others may disagree."
It was familiar rhetoric from an iconoclastic political enforcer who has never hidden his disdain for the media and much of the political establishment that he now advises.
At the news conference, Cummings detailed how, at the end of March, his wife had become ill and they had driven to a property on his father's farm in Durham, in the north of England. He wanted to be close to his younger family members, who live in a separate building on the farm, in case he and his wife became too ill to care for their son.
He soon suffered symptoms himself, but neither he nor his wife were ever tested, nor were their symptoms severe enough to require hospitalization. His son did briefly go to the hospital after having felt unwell but tested negative for COVID-19.
He also confirmed that he had made a second trip while in Durham to the nearby town of Barnard Castle about 30 miles away. That was at a time when nonessential journeys were strictly prohibited.
Cummings said that his eyesight had suffered during his illness and that his wife wanted him to try a shorter drive to test his vision before making the long trip back to London.
Questions still hang over that journey: It wasn't clear why his wife, who by that time had fully recovered, didn't drive back to the capital herself, nor why Cummings didn't attempt a shorter test drive around the family farm.