LONDON — Some might call them strongmen. Some might call them dictators. President Donald Trump might also call them friends.
Russian President Vladimir Putin, Chinese President Xi Jinping and Philippines President (and self-confessed murderer) Rodrigo Duterte are among the world leaders Trump has invested time in during his first year in office.
Trump has also hosted less controversial foreign leaders, such as Japan's Shinzo Abe and Britain's Theresa May, for visits that included jocular press conferences and in some cases even golf.
He is also far from the first U.S. leader to break bread with an erstwhile foe; President Richard Nixon took the first step to normalizing relations with China by shaking hands with Chairman Mao Zedong, and President Barack Obama hailed a "win-win" nuclear deal between the West and Iran.
"When the U.S. president endorses and applauds despots, more people think they can get away with it"
The U.S., like many countries, maintains some nuanced diplomatic ties that can bring awkward encounters.
In 2009, Obama was criticized for sharing a joke with late Venezuelan dictator, Hugo Chavez. Obama later explained it was unlikely that "as a consequence of me shaking hands or having a polite conversation with Mr. Chavez, we are endangering the strategic interests of the United States."
However, some analysts say Trump's willingness to build apparently unconditional personal relationships with strongmen could alienate traditional allies.
"It's not clear what [this administration's] strategic goals are because the personal politics, the personal relationships don't align with U.S. strategic objectives," said Leslie Vinjamuri, an associate fellow with the U.S. and Americas program at the London-based Chatham House think tank.
Brian Klaas, a fellow at the London School of Economics, likened the traditional U.S. role in global affairs to that of a "biased referee" who would "call penalties on things like human rights and democracy" despite turning a blind eye to actions of problematic allies such as Saudi Arabia.
Related: 'Disruptor in chief' Trump leaves U.S. standing alone
"What's different now is that Trump is just fully embracing autocrats without any sort of criticism," said Klaas, who is the author of "The Despot's Accomplice."
"The U.S. used to be two-faced. And now it's one-faced but with a consistency on the side of despots and autocrats," Klass said. "When the U.S. president endorses and applauds despots, more people think they can get away with it."
Here's a look at the strongmen Trump forged friendships with during 2017.
Vladimir Putin, Russia
Entering office, Trump said that he would "love to be able to get along with Russia" and that he hoped to work with Moscow to defeat the Islamic State group and broker peace in Syria.
He appears to trust the Russian president. During two one-on-one meetings with Trump this year, Putin denied that Moscow meddled in the 2016 election — and Trump suggested he believed him.
That's despite the fact that the CIA, the National Security Agency, the F.B.I. and the Office of the Director of National Intelligence all concluded that Russia interfered in the 2016 election, at Putin's direction.
"[Putin] said he absolutely did not meddle in our election. He did not do what they are saying he did," Trump told reporters aboard Air Force One following a meeting with the Russian leader on the sidelines of the APEC summit in November.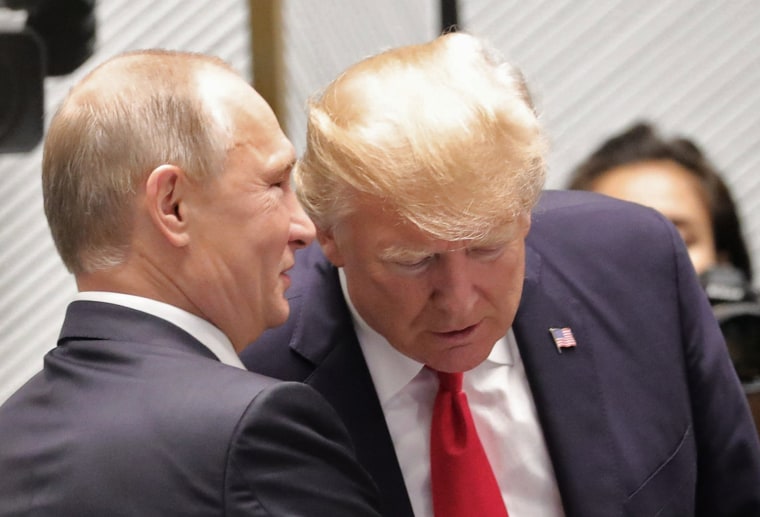 "Every time he sees me, he says, 'I didn't do that.' And I really believe that when he tells me that, he means it," the president added.
Vinjamuri, who is also associate professor of international relations at SOAS University of London, said that "being friends with Putin has done absolutely nothing to alter the U.S. interest in changing Russia's behavior."
She added: "Things have gotten no better with respect to Syria, no better with respect to Crimea and Ukraine. And they certainly haven't gotten better overall in the Middle East."
Trump's efforts to foster better relations with the Kremlin also need to be seen in the context of special counsel Robert Mueller's probe into Russian interference in the 2016 election.
And Trump's outreach to Putin hasn't helped him at home, Vinjamuri said.
It has "undermined any sense that he's independent" when it comes to Russia, which has "fed right into the perception that Trump has something to hide when it comes to the Russia investigations."
Xi Jinping, China
Candidate Trump railed against China, accusing it of devaluing its currency and dumping cheap goods on the U.S. market while stealing American manufacturing jobs. He promised to designate China a currency manipulator and to slap hefty tariffs on Chinese imports.
But just three months into his term, Trump said he was sharing the "most beautiful piece of chocolate cake you've ever seen" with China's President Xi Jinping at his Mar-a-Lago resort while the U.S. was launching a missile strike on Syria.
Trump said he had "great chemistry" with the leader of the world's second-largest economy and spent hours chatting with him about the North Korea conflict. Days later, Trump told the Wall Street Journal that the Chinese were "not currency manipulators."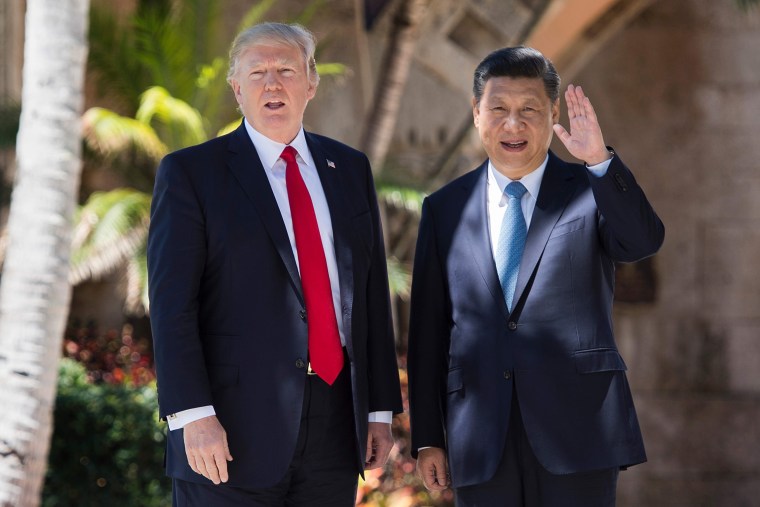 The president has tried to leverage his budding friendship with Xi to press Beijing to implement tougher sanctions on North Korea. Trump has embraced a hard-line approach to North Korean dictator Kim Jong Un since taking office.
During a visit to Beijing in November, Trump sympathized with China's America rivalry. "I don't blame China," he said. "After all, who can blame a country for being able to take advantage of another country for the benefit of its citizens? I give China great credit."
Trump did not publicly challenge Xi, who recently cemented his status as China's most powerful leader in decades with another five-year term as head of the ruling Communist Party, on human rights or press freedom.
Indeed, Trump refused reporters' questions during an appearance with Xi in Beijing — breaking a tradition set by the past three U.S. leaders to push back against China's tight control over the media.
Rodrigo Duterte, Philippines
The Philippines president — whose nicknames include "Duterte Harry" and "The Punisher," both references to ultra-violent vigilantes — has been condemned by human rights groups for his deadly war on drugs and thousands of extrajudicial killings.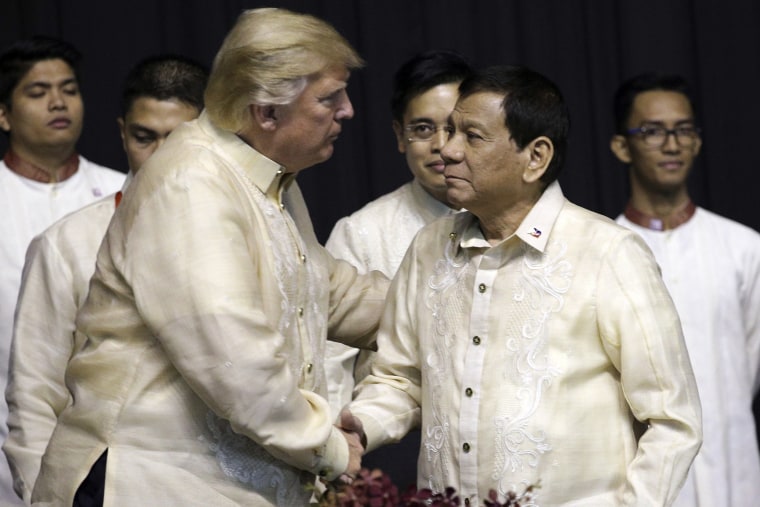 Trump praised Duterte for how he was conducting his war on drugs, according to a leaked transcript of an April call between the two leaders published by The Washington Post.
"I just wanted to congratulate you because I am hearing of the unbelievable job on the drug problem," Trump said, according to the transcript, which NBC News was unable to independently verify. "Many countries have the problem, we have a problem, but what a great job you are doing and I just wanted to call and tell you that."
The issue of human rights was raised only "briefly," along with the trade and the fight against ISIS, when the leaders met in person at a summit in Manila in December, according to White House press secretary Sarah Huckabee Sanders.
Trump later thanked Duterte for the "fantastic" entertainment and praised the "great" relationship between the U.S. and the Philippines.
Perhaps unsurprisingly given his own assault on the U.S. media, Trump made no public condemnation of Duterte's attacks on press freedom; indeed, Trump laughed when Duterte referred to a group of journalists as spies at a news conference.
"What I think is critical to understand is Trump's language when he talks to someone like Duterte or [Turkish leader Recep Tayyip] Erdogan or Putin or Xi — everybody in places like Malawi or Myanmar or wherever else are listening to that and taking cues on how to behave," said Klaas, of the LSE.
Recep Tayyip Erdogan, Turkey
Trump called to congratulate Turkey's president on his victory in a controversial April referendum that was widely dismissed by international monitors as a tool for extending his autocratic rule. Trump's warm words were a stark contrast to the criticism from European leaders and independent election monitors.
In May, Trump welcomed Erdogan to the White House — a visit overshadowed by a shocking brawl outside the Turkish embassy in D.C. between protesters and a dozen members of Erdogan's security detail. Two Americans who also took part last week pleaded guilty to assault.
Nevertheless, Trump declared at the UN General Assembly in September that Edrogan "has become a friend of mine."
But America hasn't gotten much out of the friendship — especially now that Erdogan is among the most vocal opponents of Trump's plan to recognize Jerusalem as the capital of Israel. Erdogan is calling for world leaders to instead recognize the city as the capital of Palestine.
And there has been divergence between the NATO allies over Syria, where Erdogan has likened Washington's support for the Kurdish YPG militia to arming "a terror organization." The YPG is the backbone of a coalition of rebels that the U.S. provided weapons to in order to drive ISIS from Syria.
"With Erdogan the U.S. hasn't sought to think strategically about how to engage, but also hold the line on certain issues," said Vinjamuri. "So the very friendly extension of the free hand has acted more as a free pass than it has served as leverage."
Crown Prince Mohammed bin Salman, Saudi Arabia
Trump first met with then-Deputy Crown Prince Mohammed bin Salman at the White House in March and then again in May when he chose Riyadh for his first overseas trip.
When Mohammed bin Salman, who is now crown prince, detained more than 200 people in what he claimed was a corruption crackdown — but which many observers saw as a purge of potential rivals — Trump tweeted that he and his father, King Salman, "know exactly what they are doing."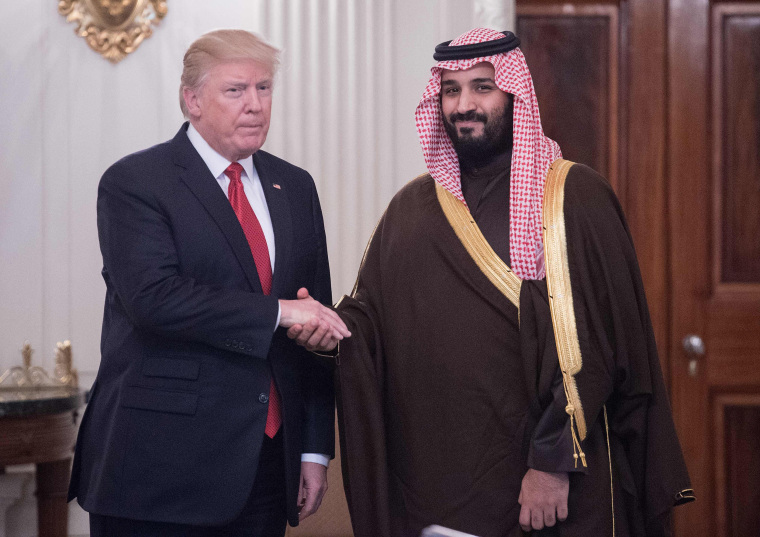 The picture is further complicated by Trump's desire for a "deal of the century" on Middle East peace nurtured by son-in-law and senior adviser Jared Kushner. With Iran pushed away, the deal needs support from Saudi Arabia at a time when the kingdom is ruffling regional allies.
Klass, from the LSE, said Trump's emphasis on personal connections serves to diminish years of U.S. diplomacy.
"What Trump has done is that he's undercut a huge amount of long-standing diplomacy that's pushing for democracy around the world with his personalized touch which often hinges on, 'If someone is nice to me, I'll be nice to them.'"