HAMBURG, Germany — President Donald Trump said Saturday that it might be easier for his daughter Ivanka if her last name weren't Trump.
Heaping praise on her at the launch of a new women's economic empowerment event, Trump said: "I'm very proud of my daughter Ivanka, always have been from day one. I have to tell you that. If she weren't my daughter it would be so much easier for her.
"It might be the only bad thing she has going," he added.
But being the president's daughter also has its perks.
When President Trump left the negotiating table with fellow G-20 leaders Saturday, Ivanka assumed his seat — a switch captured on camera by a Russian G-20 official.
A White House official told NBC News: "Ivanka was sitting in the back and then briefly joined the main table when the President had to step out and the President of the World Bank started talking" about an initiative that Ivanka was a part of.
"When other leaders stepped out, their seats were also briefly filled by others," the official added.
As a senior adviser in the Trump White House, Ivanka has made her "passion" for female advancement a central focus. Saturday's event celebrated a new World Bank Facility for Women Entrepreneurship, with the U.S. putting $50 million into an Ivanka-backed effort to break down financial barriers for women in businesses.
Ivanka's role in the initiative is that of a global champion and advocate for the cause, a senior World Bank official told reporters. A senior White House official says she will not be involved in the fundraising efforts.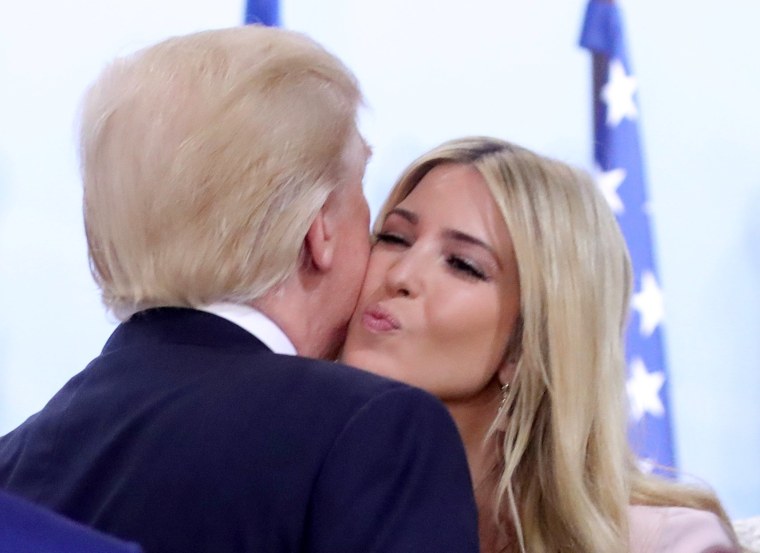 But Ivanka has faced criticism for her White House role, ranging from perceived conflicts of interest to being lambasted as "complicit" in controversial policies pushed by her father's administration.
"If being complicit is wanting to ... be a force for good and to make a positive impact, then I'm complicit," she said, defending herself in an April interview with CBS.
The president, in town for the G-20 summit, also acknowledged the protests taking place in the city. "Quite a few people," Trump observed to the gathering's host, German Chancellor Angela Merkel. "They seem to follow your G-20s around. But you have been amazing."
Daily protests across the city have left hundreds injured, and even temporarily trapped First Lady Melania Trump in her residence Friday, preventing her from attending pre-planned events.