NEW DELHI — Poverty-stricken people in India could teach some of the world's richest a lesson, Donald Trump Jr. said during a visit to the country to help sell luxury apartments featuring his family's name.
"I don't want to be glib but you can see the poorest of the poor and there is still a smile on a face," the president's eldest son said in an interview with CNBC TV18. "It is a different spirit than that which you see in other parts of the world and I think there is something unique about that."
Trump Jr. added, "I know some of the most successful businessmen in the world, and some of them are the most miserable people in the world."
As part of his trip, Trump Jr. is due to meet with Indians who have already bought units in Trump-branded developments.
A barrage of glossy full-page advertisements in Indian newspapers promised that buyers who order apartments in that development by Thursday will get "a conversation and dinner" with Trump Jr. one day later.
"Trump has arrived. Have you?" read the front-page ads in almost every major Indian newspaper.
The apartments are expensive — though not outrageously so in the overheated real estate world of India's wealthy elite. An apartment in the Trump Towers complex in the New Delhi suburb of Gurgaon runs $775,000 to $1.5 million.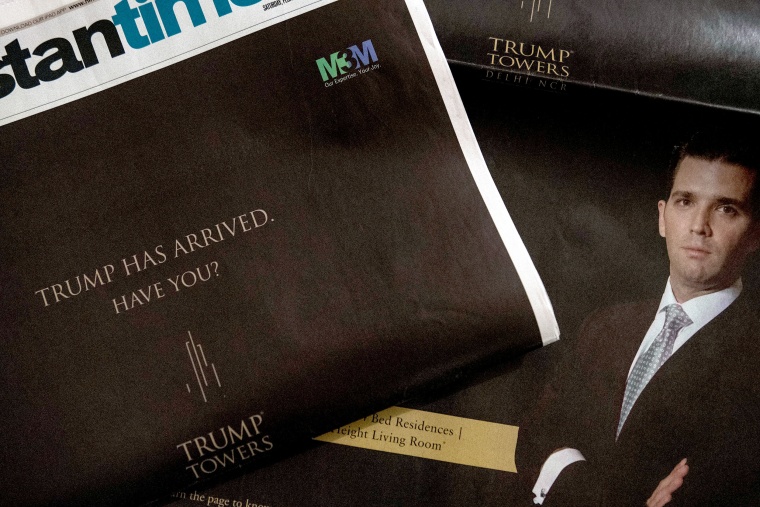 The average person in the territory of Delhi now earns around $4,600 annually, The Times of India reported last year. That figure was around three times the national average.
On Friday, Trump Jr. is scheduled to make a speech about Indo-Pacific relations at a New Delhi business summit. Indian Prime Minister Narendra Modi is scheduled to speak at the same event later in the day.
After his father became president, Trump Jr. took over the running of the Trump businesses together with his brother Eric.
Unlike his sister Ivanka Trump, Trump Jr. has no official role in his father's administration.
"There would be no shortage of business that we could do"
The Trump Organization has licensing agreements with all its Indian business partners, who build the properties and acquire the Trump name in exchange for a fee. The organization has five projects in India, making it the brand's largest market outside the United States.
The projects that Trump Jr. is promoting in India were inked before his father was elected. President Trump has pledged to avoid any new foreign business deals during his term in office to avoid potential ethical conflicts.
Trump Jr. expressed frustration at his inability to build the business in India while his father is in the White House.
"It is unfortunate we are not able to do new ones because there would be no shortage of business that we could do, but it is an understandable opportunity cost of some of the other things that we are doing that are also important," he said.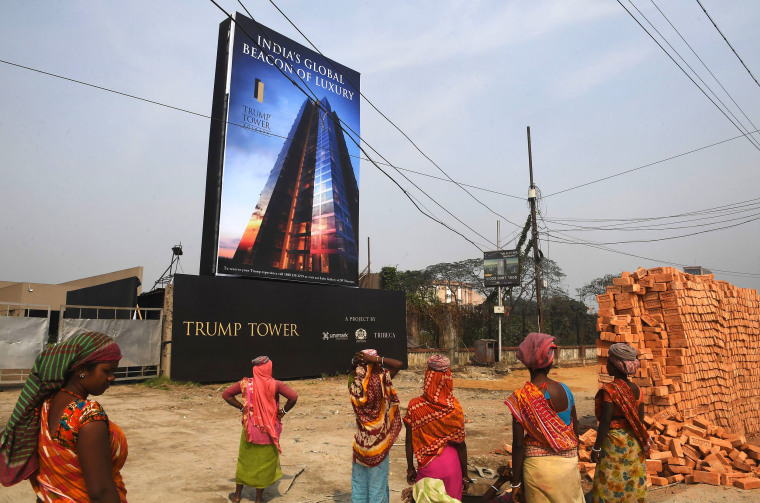 Ethics experts have long seen the use of the Trump name to promote even existing business ventures as tricky territory.
A luxury complex with the Trump name is already open in the central city of Pune, with other developments in varying stages of construction in the coastal cities of Mumbai and Kolkata, and two in chrome-and-glass in Gurgaon.
Rachel Elbaum and Hannah Milne contributed reporting from London.