BEIJING — If Donald Trump launches a trade war with China it would likely result in catastrophic losses for both nations and possibly a humbling defeat for the United States, some have warned.
Trump's campaign promise to "make America great again" included a threat to slap a 45-percent import tariff on Chinese goods.
"We can't continue to allow China to rape our country," he told a rally in Indiana in May. "That's what they're doing. It's the greatest theft in the history of the world."
But as in a regular war, China has formidable weapons of its own.
The Global Times, a Chinese state-run newspaper, warned last week that Beijing would take a "tit-for-tat approach" if Trump followed through on his bold rhetoric.
"A batch of Boeing orders will be replaced by Airbus, U.S. auto and iPhone sales in China will suffer a setback, and U.S. soybean and maize imports will be halted," the paper said. "China can also limit the number of Chinese students studying in the U.S."
That would pose a serious problem for the American economy, whose bilateral trade with China stood at almost $600 billion last year.
China will become the world's first trillion-dollar aviation market over the next two decades with a demand of some 6,810 new airplanes, according to Boeing. China switching to Europe's Airbus to fulfill this demand would give the U.S. a daunting counterpunch.
The threat to halt soybean and maize imports are similarly intimidating, jeopardizing U.S. food exports to China that are expected to hit $21.5 billion in 2017.
And some 320,000 Chinese students accounted for 31.5 percent of international enrollments in the U.S. last year — a market worth $30.5 billion to the American economy — according to the Institute for International Education.
"If the U.S. levels punitive tariffs on Chinese goods then, in a worst-case scenario, China can retaliate by leveling similar tariff on U.S. goods," explained Victor Gao, a Chinese international affairs expert who worked as a translator for late Chinese leader Deng Xiaoping. "That will create a vicious cycle and everyone will be a loser."
Many American giants such as Apple, GM and Ford rely on China both for the manufacture of goods at low prices and as a huge consumer market.
Related: Trump Jobs Plan Could Boost These Industries, At A Price
The likely outcome of disrupting this symbiosis? Higher prices hitting the wallets of blue-collar Americans.
Trump's campaign was built in part on a promise to return industrial jobs to areas such as the Rust Belt. But whatever economic penalties China might pay in a trade war, there would not likely be a direct benefit for the U.S., experts believe.
Apple might be compelled to move its export manufacturing base from the Chinese city of Shenzhen to another place such as Vietnam, while a shoe company like Nike could move to somewhere like Indonesia. Even if some vacancies did trickle back to the States, most would probably be filled by robots.
Not everyone predicts even losses, with some suggesting China might actually welcome such a war.
Tang Xiaoyang, deputy director of the Carnegie-Tsinghua Center for Global Policy, thinks China might benefit from the U.S. tearing up international trade agreements.
"A trade war would cause confusion and complication for the global economy but in the long term it would not hurt China, it would rather hurt the country that launched it, the United States," he said. "China is already strong enough to resist such a trade war."
Tang said the China that Trump has been bashing no longer exists. It's no longer focused on cheap labor that earned it the nickname "the workshop of the world." Rather, it's now concentrating on manufacturing its own products to compete with imports from the U.S. and elsewhere.
In May, China unveiled a grand industrial strategy "Made in China 2025," including plans to grow its own brands in areas such as computing equipment, robotics and the aerospace industry.
"Trump sounds like he's attacking the China of five years ago," Tang said. "iPhones, movies, cars — these things China is able to make itself but with less well-known brands. A trade war might even benefit its own brands and its own products."
Other experts say Trump's allegation that China is a currency manipulator is also outdated. The U.S. and others have previously alleged that Beijing suppressed the value of the yuan so its exports would be cheaper.
"In fact, the evidence is that they have been propping up their currency, for all sorts of different reasons," according to William J. Antholis, CEO of the Miller Center, a nonpartisan affiliate of the University of Virginia.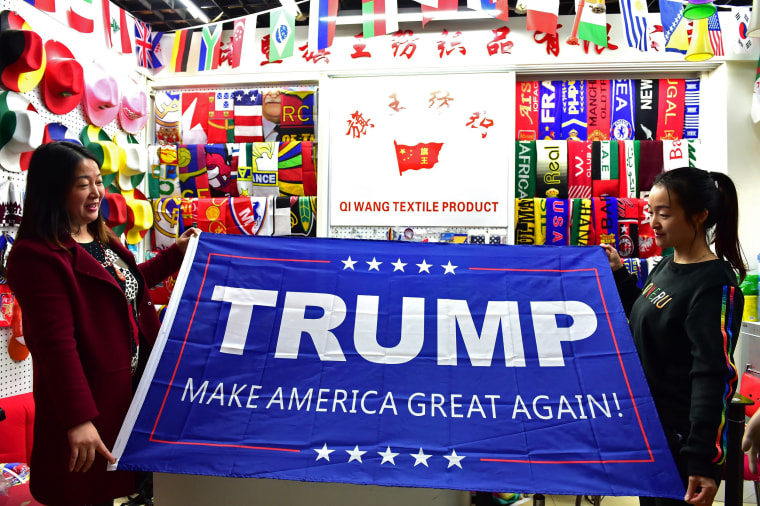 The threat of a tariff could also be moot because Trump would likely require congressional approval for imposing such a high levy on a permanent basis.
"It's not the kind of thing he could do by administrative fiat," Antholis said. "And this is the exact kind of thing that a Republican congress that is pro-trade would have a hard time following through with."
Instead, the threat of high tariffs might be used as a ploy to try to stop China stealing U.S. intellectual property. This practice — of which China is the world's largest perpetrator — costs the American economy $300 billion a year, according to a 2013 bipartisan commission report.
"Tariffs will be used not as an end game but rather as a negotiating tool to encourage our trading partners to cease cheating," according to a white paper written by Trump's senior policy advisor Peter Navarro. "If, however, the cheating does not stop, Trump will impose appropriate defensive tariffs to level the playing field."
Just as Europe is hoping that Trump doesn't follow through on his campaign rhetoric surrounding NATO, Chinese officials are publicly saying they hope Trump's bark is worse than his bite.
"Keep in mind that campaign commentary is not government policy," said James Zimmerman, chairman of the American Chamber of Commerce in China. "Indeed, the president-elect will get absolutely nothing done and create much uncertainty if he carries through with his campaign rhetoric on trade and China."