WARSAW, Poland — President Donald Trump vowed on Thursday to confront North Korea "very strongly" for test-launching missiles and he took a shot at Russia for "destabilizing" actions in Ukraine and other countries.
"I have some pretty severe things that we're thinking about," Trump told reporters about the possible U.S. response to North Korea, which launched a ballistic missile earlier this week.
Later, in a speech to the Polish people, Trump also briefly criticized Russia — without mentioning President Vladimir Putin, whom he is scheduled to meet on Friday.
"We urge Russia to cease its destabilizing activity in Ukraine and elsewhere," Trump said, calling on Moscow to "join the community of responsible nations."
The president demanded that Russia halt its "support for hostile regimes, including Syria and Iran."
North Korea test-fired its first intercontinental ballistic missile Tuesday, marking a significant step forward in its weapons program and an escalation of the nuclear standoff with the U.S.
"I think we'll just take a look at what happens over the coming weeks and months," Trump said ahead of his trip Friday to the G-20 Summit in Hamburg, Germany. "It's a shame that they're behaving this way. Something will have to be done."
Trump added: "I don't draw red lines," repeating his criticism of President Barack Obama's stance over Syria and chemical weapons.
In his remarks to a packed crowd of thousands in Krasinski Square, Trump also pledged to confront the "dire threats to our security and our way of life."
The president said America and Europe "have suffered one terror attack after another" and he promised that the U.S.'s borders will be closed to "extremism and terrorism of any kind."
Trump declared the West's survival "the fundamental question of our time," lashing out at "the steady creep of government bureaucracy" that he said "drains the vitality and wealth of the people."
"Defense of the West ultimately rests not only on means, but also on the will of its people to prevail," said the president, who was repeatedly interrupted with chants from the enthusiastic crowd. "The fundamental question of our time is whether the West has the will to survive."
Related: Read the Full Text of Donald Trump's Speech in Poland
Thousands lined the sun-drenched square to secure a vantage point for Trump's speech. U.S. and Polish flags were visible, with some people wearing "Make America Great Again" caps.
Seats were full, including an area set aside for Polish and U.S. uniformed military members. Also in the crowd and getting a shout-out from Trump were 10 World War II veterans who were part of the 1944 Warsaw Uprising against the German occupation — a struggle commemorated by a monument adjacent to Trump's lectern.
Trump cited a "special bond" with Poland as he hailed the country's heroism during World War II. "We salute your noble sacrifice," the president said, calling Poland a leader of modern-day Europe.
At the earlier news conference, Trump praised Poland as "one of the few nations that meets its financial obligations" to NATO, saying money was "pouring in" to the alliance since his complaint that some leaders were not spending enough on shared defense.
He said the "world will be a safer place" thanks to cooperation between Washington and Warsaw in response to Russia's "destabilizing behavior."
The president also explicitly mentioned in his speech NATO's Article 5 which calls for a common alliance defense if a member nation is attacked. "Words are easy, but actions are what matter," he said.
"Poland becomes," a senior White House official told reporters ahead of the address, "in many respects, a symbol and a metaphor for the sacrifices required to preserve a civilization."
"Just as Poland could not be broken… the West will never, ever be broken," Trump said. "Our values will prevail. Our people will thrive. And our civilization will triumph."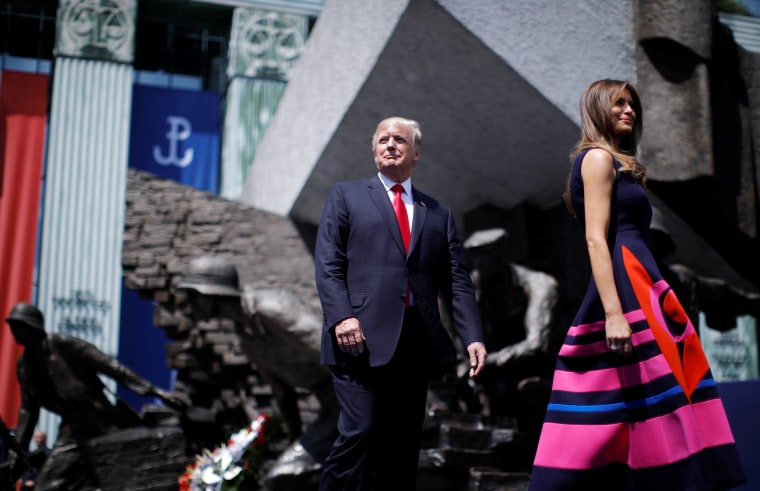 Asked at the press conference to unequivocally state that Russia meddled in the 2016 election, Trump reiterated that "other countries" could also be to blame.
Related: Trump Faces 'Uncomfortable Conversations' With World Leaders
"Nobody really knows for sure," he said, just one day before a planned meeting with Putin at the G-20 summit in Hamburg. This has been "happening a long time," Trump said without elaborating, immediately pivoting to attacking Obama for not responding to intelligence reports before Election Day suggesting Russian interference.
"Why did he do nothing about it?" Trump asked before answering his own question: "The reason is he thought Hillary was going to win."
White House officials have not said whether Trump plans to bring up Russia's role in the 2016 election during his meeting with Putin.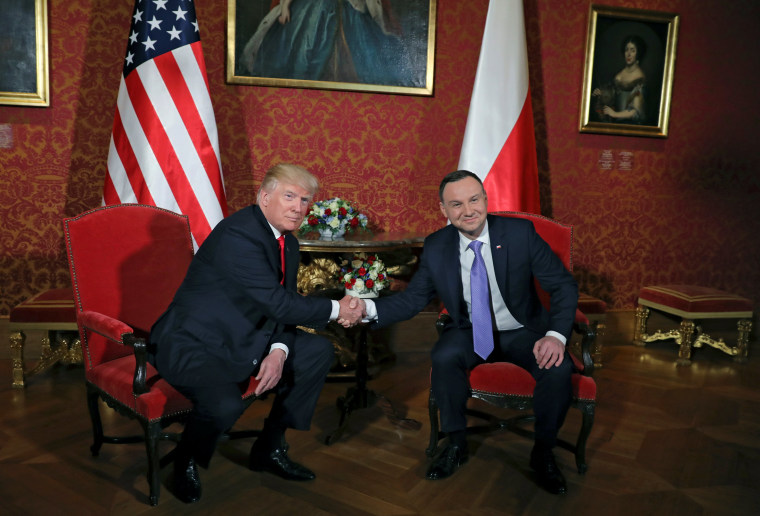 Trump also took another opportunity at the press conference to rail against the media, saying CNN has "been fake news for a long time… covering me in a very dishonest way."
He said that "NBC is equally as bad, despite the fact that I made them a fortune with 'The Apprentice' but they forgot that," adding that he wanted America to have a "beautiful… free but honest press. We don't want fake news."
Earlier, Trump held talks with Polish president Andrzej Duda in Warsaw's Royal Castle, and shook hands with the leader in front of cameras.
CORRECTION (July 6, 8:20 a.m. ET): An earlier version of a headline on this article misquoted Trump's remarks. He said the measures he was considering against North Korea were "pretty severe," not "very severe."
Ali Vitali reported from Warsaw, and Alastair Jamieson from London.