The Trump administration reintroduced sanctions on Iran at a minute after midnight Monday ET, a consequence of the president's decision to withdraw from the landmark 2015 nuclear deal.
"What is happening today is part of a coordinated campaign of pressure on Tehran that President Trump put in place since day one of his administration," according to a senior administration official who spoke to reporters on condition of anonymity.
"We are looking at the region from Yemen to Syria and the regime using the resources they got from the [nuclear deal] to spread human misery across the region instead of spending on its people at home," they added. "We can have no further illusions about their intent."
What will these measures involve, how do they affect America and Tehran, and what could be coming next?
What do sanctions cover?
The moves targeting oil-rich Iran's automotive industry, civil aviation sector, as well as trade of gold and other metals are the first in a set of punitive measures had been eased under President Barack Obama.
Why is the U.S. doing this?
The White House is open to looking beyond sanctions on Iran, but there is a need for "enormous change" from the government of President Hassan Rouhani, Secretary of State Mike Pompeo told reporters aboard his plane Sunday on his way home from a trip to Southeast Asia.
The U.S. and regional allies Saudi Arabia and Israel accuse Iran of being the foremost state sponsor of terrorism.
Trump has called for a wholesale overhaul of Iranian regional policies, such as an end to its military support for the Syrian government and regional militant groups like Lebanon's Hezbollah. The 2015 pact did not curb these actions, one reason Trump has called the agreement "the worst deal ever."
International inspectors say Iran has been complying with the nuclear deal, formally known as the Joint Comprehensive Plan of Action and signed by the five permanent members of the U.N. Security Council — the U.S., Russia, France, China and the United Kingdom — as well as Germany and the European Union. Other signatories opposed the U.S. withdrawal from the deal.
The Trump administration official said it was also working to "build a global coalition to counter Iran's malign activity."
"Make no mistake about it — we are very intent on using these authorities, we will use them aggressively and we are already seeing a very substantial impact," they said.
The official did not provide details on which countries would join the administration's campaign.
How has Iran responded?
While Trump tweeted last week that he would meet with Rouhani, the country's Revolutionary Guard said it is holding naval exercises near the Strait of Hormuz, a crucial waterway used by about a third of all oil traded at sea.
Iran on Sunday announced a plan to ease foreign exchange in a bid to counter the effects of a plunging currency. Foreign currencies have recently doubled in price on the black market and Iran's rial has lost two-thirds of its value in six months.
The country's Central Bank also lifted restrictions on bringing gold and foreign currency into Iran.
"We are facing an economic war and the U.S. government is restoring sanctions and also trying to increase them," the Central Bank governor, Abdolnaser Hemmati, said on state TV.
Hard currency will be made available at a subsidized rate for purchases of basic goods and medicine, according to agencies.
Rouhani has come under growing pressure from more hardline members of Iran's ruling elite. In a sit-down, televised address, the leader struck a tough line when he addressed Trump's campaign to bring Iran to the table.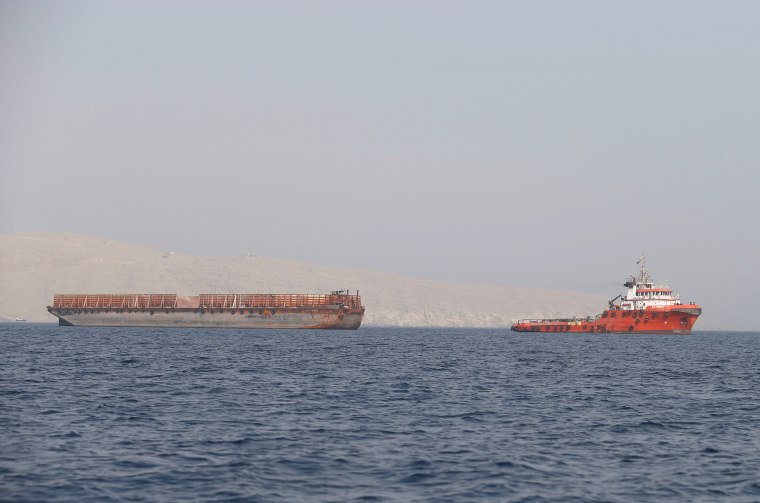 "Negotiations and sanctions at the same time is meaningless. If someone stands in front of his rival or enemy and pushes a knife against their arm and seeks talks, the response is that he should first put the knife in his pocket and come to the negotiating table and use logic," Rouhani said in Farsi.
The Iranian president mirrored Trump's recent statements on having "no pre-conditions" for a sit-down between the two world leaders but said first the U.S. will have to pay the Iranian people back for "several interventions in their country" and "apologize" and "compensate for the past."
The leader of the Islamic Republic also discussed the country's independence from the U.S., stating that with help from China and Russia, they are able to help maintain their oil and banking sectors as the U.S ramps up sanctions against those industries up until Nov. 4.
The president ended the address by offering mild praise for Trump, saying that his recent comments have been a "step back from his previous harsh stance" against the country.
"Trump should go back several steps, at least to the pre-Trump-era, to protect the interests of the U.S., Iran and the world," Rouhani said.
Iranian officials have hit out at Saudi Arabian and Israeli leaders, as well as Trump.
"Today, Trump, bin Salman and Netanyahu have become the symbol of mistrust in the world," Foreign Minister Javad Zarif was quoted as saying on state TV, referring to Saudi Crown Prince Mohammad bin Salman and Israeli Prime Minister Benjamin Netanyahu. "The world has distanced itself from their hostile policies against Iran."
What's been going on in Iran?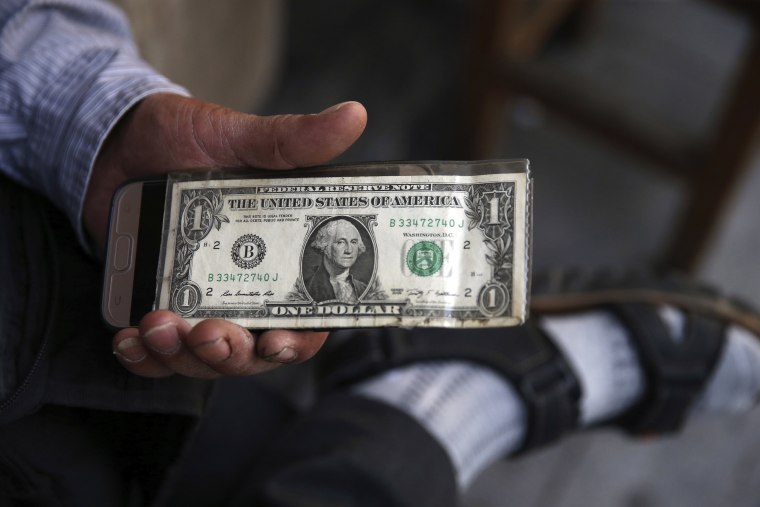 Rouhani sold the nuclear agreement to Iranians as a crucial step for the country's reintegration into the world economy. Iran had suffered under years of punishing sanctions but, even before Trump's decision to withdraw from the accord, the expected economic benefits had been slow to arrive.
There has been an unprecedented spike in protests and strikes around Iran — including in the last few days — amid anger at the languishing economy and strict social controls imposed by the country's clerical leadership.
When pressed on whether the U.S. was responsible for widespread suffering the sanctions will likely cause, the senior administration official responded: "Absolutely not. I think the blame for the situation is perfectly clear, it lies with the Iranian regime that has systematically destroyed that beautiful country over the last four decades."
How have others responded?
A joint statement from foreign ministers of the European Union, Germany, France and U.K. — also signatories of the 2015 deal — said they "deeply regret" America's decision.
"We are determined to protect European economic operators engaged in legitimate business with Iran, in accordance with EU law and with U.N. Security Council resolution 2231," they said in the statement.
What's next?
The U.S. is preparing to reimpose the remainder of U.S. sanctions lifted as part of the Iran nuclear deal, which target Iran's oil sector and central bank, in early November.
America has pressured allies to stop importing oil from Iran before the November deadline. Top importers of Iranian oil are China, India, Turkey and South Korea.
Iran, meanwhile, has hinted that it will block the Strait of Hormuz — raising the possibility of an escalation.
Abigail Williams reported from Washington; F. Brinley Bruton reported from London.