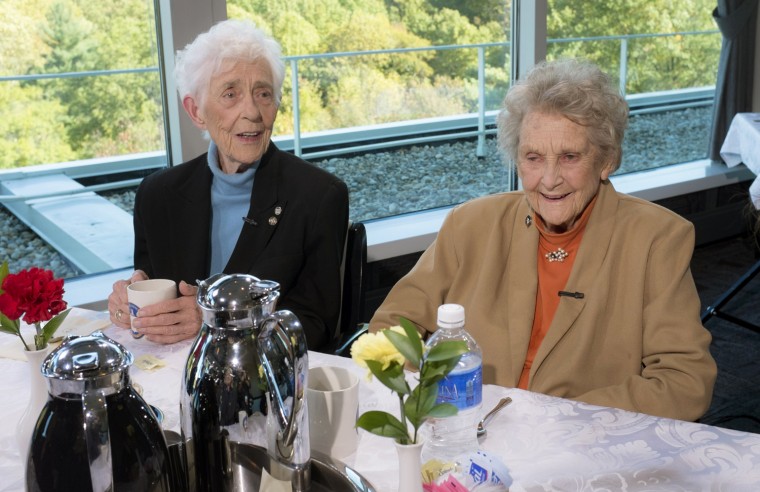 If you want a group of soldiers to stop teasing you about being a female spy, just drop a grenade in the middle of their lunch table and watch them run.
"I had an engineer friend make me a disabled grenade," said Doris Bohrer, who during World War II was stationed in Italy as an agent for the OSS, the U.S. spy service that later morphed into the CIA. "When I reached for the handle, the boys went out the windows. They just disappeared. And I sat there and ate my salad."
Almost 70 years later, Bohrer reminisces about her OSS days from the couch of her home in a Virginia retirement village. Now 90, she's surrounded by seniors whose pasts are more sedate, but as she learned to her pleasure soon after she moved to the village, at least one of her new neighbors can relate.
Betty McIntosh signed up for the OSS in 1943. A Hawaii-raised journalist fluent in Japanese, she had seen the wreckage of Pearl Harbor first hand. She was sent to Asia to write propaganda and deliver messages and supplies to undercover agents, including a bomb disguised as a lump of coal that derailed a Japanese troop train.
"Doris and I got to talking and realized we were both stationed overseas for the OSS at the same exact time, except she was in Europe and I was in Asia," said McIntosh, now 98. "It was great fun to realize she was just down the street and we had so much in common. We've been great friends ever since."
Watch Ann Curry's TODAY show report on the women of the CIA
Together they were pioneers in a clandestine agency that helped win the war, two of the small number of women sent overseas and, in Betty's case, the few sent behind enemy lines. They never knew each other during the war, even though both trained at headquarters at Washington at around the same time. But they both recall how women were treated.
"Everybody else was 'Lieutenant So-and-So,' or 'Captain This,'" said Bohrer. "We were 'The Girls.' … I was doing the exact same thing as majors and lieutenant colonels, but I was 'The Girls.'"
Growing up in Maryland, Bohrer's dream was to be a pilot, but after taking the civil service exam she settled for typist when the OSS called. Soon she'd been dispatched to the Adriatic coast to analyze aerial photographs of concentration camps and plan troop drops. She was 21.
"It was like looking at the world with a magnifying glass," she said. "It was a little challenge trying to figure out what the Germans were doing, where they were sending the railroad cars, what they were picking up, what they were manufacturing in the factories, how many airplanes were on the air fields."
The analysts also wanted to confirm suspicions that the Nazis were shipping civilians to concentration camps. "We were trying to find them, and we did," said Bohrer. "But there wasn't anything we could do about it."
McIntosh specialized in "Morale Operations" in China and India. "We were authorized to engage in espionage, initiate rumors, forge documents, dynamite rail bridges, and infiltrate enemy lines," she would later write. During one mission, McIntosh even shared a terrifying flight and then a room with famed chef Julia Child, a fellow OSS agent.
As the women flew from India to Kunming, China, their plane crossed the infamous and deadly "Hump." The flight was turbulent and they could look out the window at the glinting hulks of all the crashed planes scattered on the mountainsides.
"We were all kind of shuddering, and holding our hands," recalled McIntosh, "and she was busy reading a book." Child, then known as Julia McWilliams, was unflappable and "wonderful," said McIntosh. "When we finally got to China, she was the first one out, and she looks around, and she goes, 'Oh, it looks just like China.'"
On another mission, McIntosh delivered a black rock to an operative in China. She thought she was handing him a lump of coal. The coal was actually dynamite in disguise, and the operative used it to blow up a Japanese troop train as it crossed a bridge.
The OSS disbanded in 1945 when the war ended. Two years later, the CIA was formed. McIntosh and Bohrer both went on to work for the agency, but their paths never crossed. That may have been because McIntosh was immediately dispatched overseas – where, she still won't say.
There are many tales McIntosh and Bohrer remain unwilling to tell about what they did for the OSS and CIA. Though technically they're now free to talk, they feel an obligation to keep quiet and maintain they do not share some stories even with each other.
McIntosh has packed the tales she can tell into two books, "Undercover Girl," published in 1947, and "Sisterhood of Spies," released in 2009. "Undercover Girl" has been out of print for decades, but may be reissued in 2014.
Bohrer became a real estate agent after retiring from the CIA and decided to move to a retirement village after her husband died in 2009. McIntosh has outlived three husbands. Now the widows live in Westminster at Lake Ridge Retirement Community in cottages just steps apart. Both chose the complex on recommendations from the same ex-CIA colleague, as they discovered later. They enjoy spending time with each other and with their pets, Bohrer's poodle Ari and McIntosh's cat Nekosan -- "Mr. Cat" in Japanese.
In October, McIntosh and Bohrer traveled to CIA headquarters in Langley, Va., to meet two of the highest ranking women in the CIA today, Director of Intelligence Fran Moore, and Sue Gordon, who was then director of support but has since been named the agency's cyber czar, a newly created position.
Driving up to the CIA's iconic headquarters building, Bohrer said it felt like she was going home, since the Agency is the only place that knows the extent of the undercover work she did. Both women felt honored when CIA Director John Brennan met with them and thanked them for their long service.
"That was just a real treat. It's nice to be recognized for everything you've done and can't tell anyone about," McIntosh said. 
They are amazed at how far women have come in the agency since they were just "girls," and look forward to the day when they can celebrate the appointment of the CIA's first female director.
 "I'm sure she'll be extra, extra, extra capable, because they always have to be better than the male for the job," said Bohrer. "I don't know who, but it'll have to be a special woman who can handle it."
More from NBC News Investigations: