MAINZ, Germany — More than 1,000 people were still unaccounted for early Friday after raging floods in western Europe left more than 100 people dead and communities devastated as frantic rescue efforts entered a second day.
In Germany over 100 people were killed after heavy rains pounded the country's western states and caused rivers to burst their banks, turning streets into torrential rivers that left vehicles overturned and submerged in muddy waters, while some houses were reduced to rubble.
Storms also caused deadly flooding in neighboring Belgium, with at least 12 deaths reported as of Friday morning, while Luxembourg and the Netherlands were also hit with heavy rain.
At least 62 people were killed in the western German state of Rhineland-Palatinate alone, officials said, while 43 died in neighboring North Rhine-Westphalia.
As many as 1,500 people in the country were still assumed to be missing, with hundreds of soldiers deployed to aid the rescue effort.
Officials said they hoped the high number of people still unaccounted for was due to mobile networks and internet connections going down, making it difficult for many to reach their loved ones.
Stranded residents had to be airlifted from rooftops and rescued in inflatable boats after seeing their homes inundated with floodwater.
Download the NBC News app for breaking news and politics
Anja Menzel told NBC News that her street in the city of Hagen, in North Rhine-Westphalia, was overcome with water.
"It was just this situation where the street was completely [turned] into a river, basically like a wild river," said Menzel, 34.
Menzel said residents had taken to the streets with shovels to clear roadways of debris.
Herbert Reul, the state's interior minister, said he had "never seen anything like this."
"The situation is enormously difficult and enormously dangerous," Reul told a news conference. He said that rescuers had carried out "about 30,000 missions in the past days," including airlifting people from hospitals and care homes.
Andreas Friedrich, a German weather service spokesman, said Hagen and other areas affected had "very severe precipitation" that was comparable to the amount usually expected in two months.
The ensuing floods were some of the worst seen in Germany in decades, Freidrich said. Floods at the Elbe River in 2002, which saw 21 people killed in eastern Germany, were billed as a "once-in-a-century" event at the time.
However, he said the level of destruction caused by the disaster has much to do with where torrential rains hit.
"This is a special situation," he said. "In this region, we have small valleys, small rivers and of course, with the big amount of precipitation in a short time, we've had floods and damage in this region."
The death toll was the highest caused by a natural catastrophe in Germany since a North Sea flood in 1962 killed around 340 people.
There were also fears that the worst may not be over yet.
Authorities in Rhine-Sieg county, south of Cologne, called for the evacuation of several villages near the Steinbach reservoir amid fears the dam there could break.
A number of homes also collapsed in Erfstadt in North Rhine-Westphalia earlier Friday, with rescuers struggling to trace families who returned to their houses despite safety warnings.
German Chancellor Angela Merkel, who was in Washington on Thursday to meet with President Joe Biden, said the situation was "characterized by fear, by despair, by suffering."
"My empathy and my heart goes out to all of those who in this catastrophe who lost their loved ones or who were still worrying about the fate of people still missing," she said.
The chancellor said she feared that the "full extent of this tragedy will only be seen in the coming days."
Biden also expressed his condolences on behalf of the American people to those affected by the flooding in Germany and other countries.
In Schuld, which is in Ahrweiler, a rural district in the north of Rhineland-Palatinate, Edgar Gillessen said the devastation was "simply catastrophic."
"All these people living here, I know them all. I feel so sorry for them. They've lost everything. All they have is what they've had on them — it's all gone," Gillessen, 65, told Reuters. "A friend had a workshop over there, nothing standing. The bakery, the butcher — it's all gone. It's scary. Unimaginable."
In North Rhine-Westphalia, Armin Laschet, the state's governor and the conservative hopeful seeking to succeed Merkel in the country's election in September, called an emergency Cabinet meeting on Friday in the response to the floods.
He said a multipronged support system would be necessary to respond to the current catastrophe and to prepare for future disasters.
In addition to the growing death toll, thousands of people were left homeless after their houses were destroyed or deemed at-risk by authorities.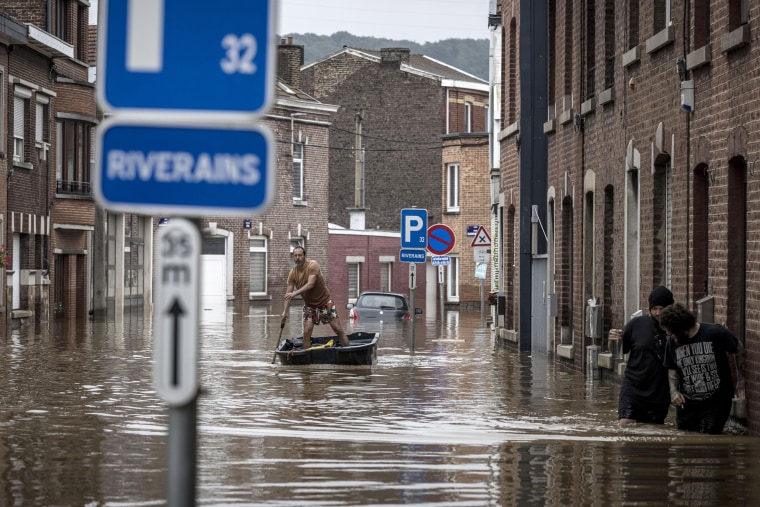 In Belgium, the Vesdre River broke its banks and sent torrents of water churning through the streets of Pepinster, close to Liege, its destructive power bringing down some buildings.
France sent a helicopter and a rescue team to Belgium to assist local authorities, and Italy and Austria have also offered flood rescue teams.
CORRECTION (July 16, 2021, 10 a.m. ET): A previous version of this article misstated the last name of a resident of Hagen, Germany. She is Anja Menzel, not Menzer.
Andy Eckardt reported from Mainz, Chantal Da Silva and Matthew Mulligan reported from London, and Phil Helsel reported from Los Angeles.