KABUL, Afghanistan — At least 63 people, including women and children, were killed after a suicide bomber struck at a crowded wedding party in the Afghan capital on Saturday.
Another 182 people were injured in the late-night blast.
The deadliest attack to hit Kabul this year comes as the Trump administration appears to be on the verge of signing a deal with the Taliban to end its involvement in the 18-year conflict, America's longest war.
The Taliban was quick to deny responsibility and condemn the attack, while the so-called Islamic State's local affiliate claimed it was responsible. NBC News has not verified the claims.
Afghan President Ashraf Ghani didn't mince words.
"Taliban cannot absolve themselves of blame, for they provide platform for terrorists," Ghani said on Twitter before the ISIS claim of responsibility. He declared a day of mourning and calling the attack "inhumane."
The groom, identified only as Mirwais, told Afghan news channel TOLOnews that the blast went off as the marriage ceremony was about to get underway.
"I won't ever be able to forget this however much I try," Mirwais said in the interview on Sunday.
He added that many of his relatives and neighbors were among the dead.
The bomber detonated his explosives near the stage where musicians were playing.
Amid the carnage were blood-covered chairs, crushed music speakers and a pile of abandoned shoes.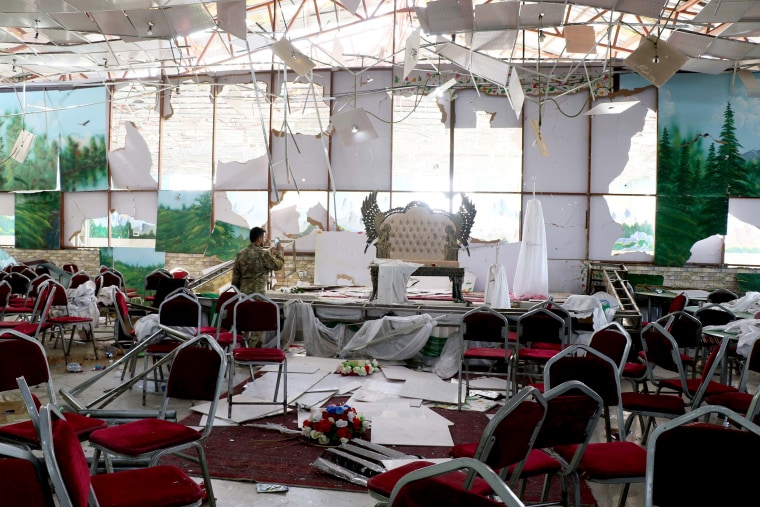 "I can't go to the funerals, I feel very weak," Mirwais said.
"I know that this won't be the last suffering for Afghans," he added. "The suffering will continue."
A wedding invite, shared on social media after the deadly attack, urged guests to celebrate "with a world of hope and desire" — but the prospect of a new era free of the violence that has scarred the country for decades seemed only more distant on Sunday as families began to bury the dead.
Some helped to dig graves with their bare hands.
The blast took place inside a wedding hall in a western Kabul neighborhood that is home to many of the country's minority Shiite Hazara community.
ISIS has claimed responsibility for many deadly attacks against the community since the militant group emerged in Afghanistan in 2014.
The explosion came a few days after the end of the Muslim holiday of Eid al-Adha, with Kabul residents visiting family and friends, and just ahead of Afghanistan's 100th Independence Day on Monday.
"Devastated by the news of a suicide attack inside a wedding hall in Kabul. A heinous crime against our people; how is it possible to train a human and ask him to go and blow himself (up) inside a wedding?!!" presidential spokesman Sediq Seddiqi said in a Twitter post.
Meanwhile, Taliban spokesman Zabihullah Mujahid on Sunday sought to emphasize the claim that his group condemned the attack.
"Such barbaric deliberate attacks against civilians including women and children are forbidden and unjustifiable," Mujahid said in a statement Sunday.
The government of Pakistan also denounced the bombing, saying in a statement it "strongly condemns the heinous bomb attack targeting civilians."
"Pakistan condemns terrorism in all its forms and manifestations," the statement from the Pakistan Foreign Office said. "Terrorism is a common threat for the entire region and must be defeated together."
Saturday's blast was the second major attack in the capital this month.
On Aug. 7, a Taliban suicide car bomber targeted a police station, killing 14 people and wounding 145, most of them civilians.
Just days before, U.S. envoy Zalmay Khalilzad reported "excellent progress" in talks to negotiate a peace deal and said he was hoping for a final agreement by Sept. 1.
The deal would see the United States withdraw troops from Afghanistan by a specific deadline in return for the Taliban promising not to allow the country to be a staging ground for terrorist groups, agreeing to a ceasefire and sitting down for peace talks with Ghani's Afghan government, which has been largely sidelined from peace discussions after the Taliban dismissed it as a U.S. puppet.
But while there is a deep thirst for peace in Afghanistan, many fear the talks between the United States and the Taliban will not halt the conflict but merely see the end of American involvement.
NBC News reported earlier this month that President Donald Trump had told his advisers he wanted to pull all U.S. troops out of Afghanistan by the November 2020 presidential election.
Seddiqi, the presidential spokesman, said Saturday that his government was waiting to hear the results of Trump's meeting Friday with his national security team about the negotiations.
"Just completed a very good meeting on Afghanistan" the president tweeted on Friday. "Many on the opposite side of this 19 year war, and us, are looking to make a deal - if possible!"
In another twist that could complicate the peace talks, Hafiz Ahmadullah — a brother of Taliban leader Haibatullah Akhundzada — was killed in a bomb attack on a mosque in Pakistan on Friday.
There was no claim of responsibility, but senior Taliban members told NBC News the talks with the U.S. will continue despite Ahmadullah's death and they were "quite optimistic" about their success.
Ahmed Mengli reported from Kabul, Mushtaq Yusufzai from Peshawar, Pakistan and Yuliya Talmazan from London.