HONG KONG — In a sweeping crackdown on opposition, police in Hong Kong on Wednesday arrested more than 50 pro-democracy figures for allegedly violating the stringent new national security law, according to political parties and local media.
Those arrested on suspicion of subversion included U.S. citizen John Clancey, an attorney and human rights advocate at the Ho Tse Wai & Partners law firm in Hong Kong and also chair of the Asian Human Rights Commission, a Hong Kong-based group that campaigns for greater human rights across the region.
A source close to the firm confirmed that he had been arrested and kept in police custody Wednesday.In a video published by the AFP news agency, Clancey is asked to react to his arrest and says, "Continue to work for democracy and human rights in Hong Kong."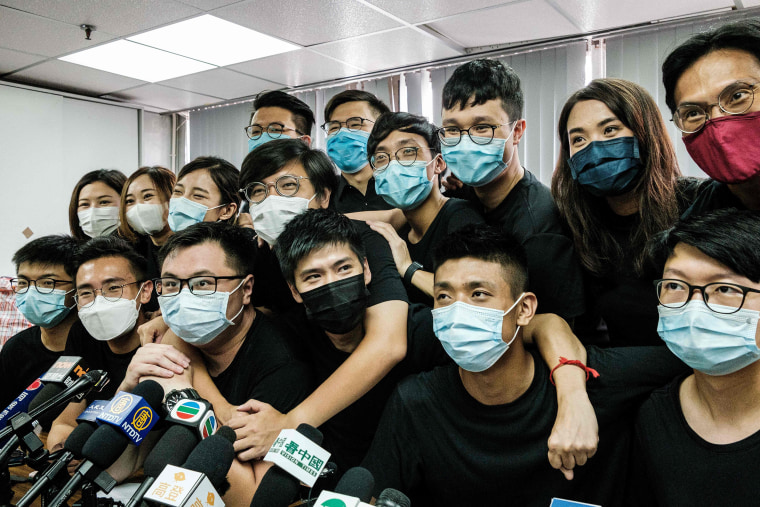 U.S. officials were not immediately available for comment on Clancey's arrest.
Hua Chunying, spokeswoman for China's Foreign Ministry, said Beijing backed the arrests. She also said that people's rights and freedoms were not affected.
John Lee, Hong Kong's security minister, told a news conference Wednesday that the operation "targets the active elements who are suspected to be involved in the crime of overthrowing, or interfering (and) seriously destroy the Hong Kong government's legal execution of duties."
Senior superintendent Steve Li from the national security unit told a news conference that 53 people — 45 men and eight women aged between 23 to 64 — were arrested in an operation that involved 1,000 officers.
Anthony Blinken, President-elect Joe Biden's secretary of state nominee, said on Twitter that the new administration would "stand with the people of Hong Kong and against Beijing's crackdown on democracy."
The mass arrests were for allegedly violating the national security law and mark the most significant move against Hong Kong's democracy movement since the law was imposed by Beijing in the semi-autonomous territory in June last year.
At least seven members of Hong Kong's Democratic Party — the city's largest opposition party — were arrested, including former party chairman Wu Chi-wai. Former lawmakers Helena Wong, Lam Cheuk-ting, and James To were also arrested, according to a post on the party's Facebook page.
The party also said that the arrests were made on suspicion of "subverting state power."
Benny Tai, a key figure in Hong Kong's 2014 Occupy Central protests and a former law professor, was also arrested by the police, according to local media reports. Tai was one of the main organizers of the primaries.
Following the handover of Hong Kong to China by the British in 1997, the semi-autonomous Chinese city has operated on a "one country, two systems" framework that affords it freedoms not found on the mainland. In recent years, Beijing has asserted more control over the city, drawing criticism that Hong Kong's freedoms were under attack.
Maya Wang, a senior China researcher for Human Rights Watch, said the move had removed "the remaining veneer of democracy in the city."
The home of Joshua Wong, a prominent pro-democracy activist who is serving a 13-and-a-half-month prison sentence for organizing and participating in an unauthorized protest last year, was also raided, according to a tweet posted from Wong's account.
According to tallies based on local reports, all the pro-democracy candidates who had participated in the unofficial primaries were arrested.
Hong Kong has already jailed several pro-democracy activists, including Wong and Agnes Chow, for their involvement in antigovernment protests, and others have been charged under the national security law including media tycoon and outspoken pro-democracy activist Jimmy Lai.
In 2019, hundreds of thousands of people from across the social and demographic spectrum marched in the streets to demand change.
The security law criminalizes acts of subversion, secession, terrorism and collusion with foreign powers to intervene in the city's affairs. Serious offenders could face up a maximum punishment of life imprisonment.
Pro-democracy activists and lawmakers had last July held an unofficial primary election to figure out which candidates they should field in a now-postponed legislative election that would boost their chances of gaining a majority of seats in legislature. Gaining a majority would allow the pro-democracy camp to vote against bills they deemed to be pro-Beijing, block budgets and paralyze the government.
In November, all of Hong Kong's pro-democracy lawmakers resigned en masse after Beijing passed a resolution that led to the disqualification of four of its camp, leaving a largely pro-Beijing legislature.
The Associated Press contributed to this report