JERUSALEM — At least 45 people were killed and more than 150 injured in a stampede at a religious festival in northern Israel, medical officials said Friday. It was one of the country's deadliest civilian disasters.
Prime Minister Benjamin Netanyahu said children were among the dead and described it as one of the "heaviest disasters" to befall Israel, as he visited the scene.
"There were heartbreaking sights here, people crushed to death including children," he said. "A large proportion of those who have perished have not yet been identified ... This is tearing up the hearts of families."
Video posted on social media appeared to show angry crowds jeering at Netanyahu during his visit as they blamed his government and the police for the disaster.
Netanyahu said a thorough investigation would be conducted and declared a national day of mourning on Sunday.
President Joe Biden said he had spoken with Netanyahu on Friday and offered U.S. assistance.
"The United States stands with the people of Israel, and with Jewish communities the world over, in mourning the terrible tragedy at Mount Meron," Biden said in a statement.
"The loss of life among worshipers practicing their faith is heartbreaking."
He added the U.S. was also "working to confirm reports that American citizens may have lost their lives or been wounded," in the disaster.
A State Department spokesperson told NBC News "multiple U.S. citizens were among the casualties," but did not give a specific number, adding that the U.S. Embassy in Israel was working with local authorities and providing consular support to affected U.S. citizens.
Earlier both White House national security advisor Jake Sullivan and Secretary of State Antony Blinken shared their condolences.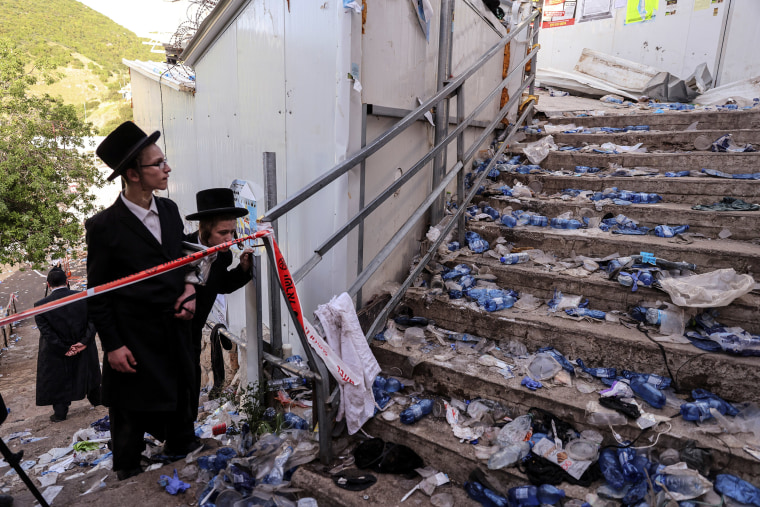 Most of the dead had not yet been identified by late Friday afternoon and police asked family members to provide pictures and personal information of those who attended the festival, to help with the process.
The stampede occurred during celebrations of Lag BaOmer, at Mount Meron, the resting place of a second century sage and Jewish mystic, Rabbi Shimon bar Yochai.
Each year, tens of thousands of people — mostly ultra-Orthodox Jews — throng to the area to celebrate the rabbi and light bonfires as part of the celebrations. The event was the first mass religious gathering to be held legally since Israel lifted nearly all restrictions related to the coronavirus pandemic.
Download the NBC News app for breaking news and politics
Magen David Adom, Israel's national medical emergency services, said it received a call about a stampede at Mount Meron at 12:50 a.m. Friday (5:50 p.m. Thursday ET).
Stills from drone video taken of the event Thursday showed what appeared to be thousands of people, most of them black-clad ultra-Orthodox men, gathering for the festivities.
"People came to celebrate Lag BaOmer and Rabbi Shimon bar Yochai and unfortunately were literally crushed to death," said Dov Maisel, of United Hatzalah, an Israeli volunteer emergency medical services organization that was on the scene.
One video posted on social media overnight appeared to show a mass of people spilling down an open-air corridor, amid what appeared to be a cacophony of alarmed sounds as people were carried along with the crowd.
In a separate video, people appear to be being pulled back and forward by the momentum of a crowd.
Avi Maruc, head of United Hatzalah's medical department, told NBC News how in the early hours of Friday he had performed CPR on around two dozen people, including a teenager, who he had found collapsed on the stairs.
"There were a lot of people just lying on top of the other, not breathing," he said. "People were suffocated because they fell on top of each other."
Maruc said that, having worked more than 18 years a paramedic, it was surreal to see people not bleeding, but suffocated.
"It's a scene that doesn't make sense," he added.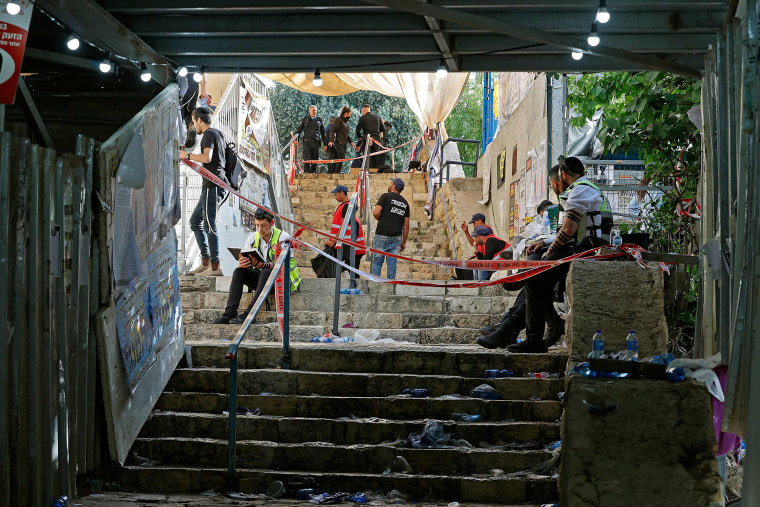 Video put out by The AP appeared to show the moment that the festivities were interrupted, music cut and crowds of dancing revelers and others milling around were told to clear the area.
Photos from the aftermath showed rows of bodies wrapped in white covers and others of bodies being lifted into ambulances by rescue workers.
In a race against time, a number of funerals were to be held before sundown Friday, the start of the Jewish Sabbath when burials do not take place. The country's figurehead president, Reuven Rivlin, lit 45 memorial candles to honor the dead.
Condolences were offered by world leaders and diplomats among them Britain's Queen Elizabeth II who said she was "deeply saddened by news of the disaster" in a statement from Buckingham Palace. The European Union also conveyed its "deepest condolences to families and friends of the victims."
Chairman of the Palestinian Authority Mahmoud Abbas sent a letter of condolence to Israel's president expressing his deep sorrow "for the tragedy."
Lawahez Jabari reported from Jerusalem, Saphora Smith and Adela Suliman from London. Paul Goldman contributed reporting from Tel Aviv, Abigail Williams from Washington D.C. and Shira Pinson, Caroline Radnofsky and Matthew Mulligan contributed from London. The Associated Press contributed to this report.