A U.S. Navy warship on Thursday shot down multiple drones and three cruise missiles that were fired from Yemen and heading "potentially towards Israel," a Defense Department spokesman said.
The USS Carney was in the northern Red Sea when it took out the missiles and more than a dozen drones, said Brig. Gen. Patrick Ryder, the Pentagon press secretary.
There were no casualties, but such incidents "may be ongoing," he said.
Tensions in the region are rising after the hospital explosion in Gaza and a spate of recent drone attacks on U.S. bases in the Middle East.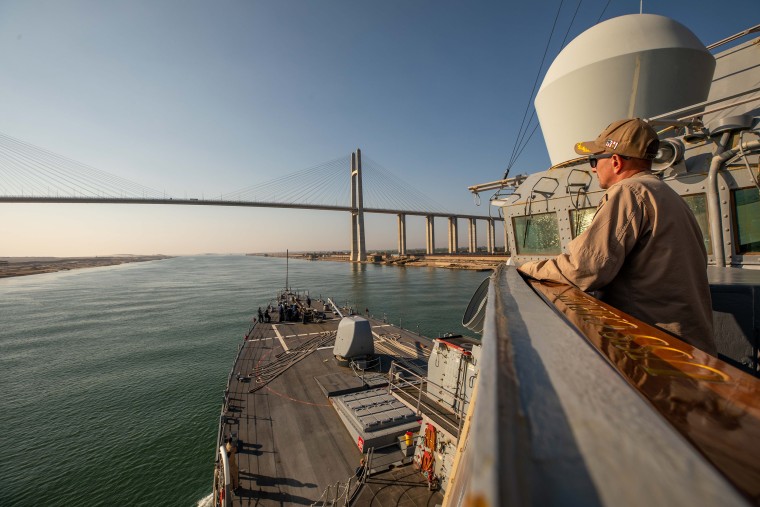 At least two drones targeted al-Tanf, a U.S. garrison in southern Syria, on Wednesday. The U.S. shot down one of them, but the other struck the base, resulting in minor injuries among a small number of U.S. troops. 
The U.S. is still investigating who sent the drones, but the early belief is that they were launched by Iranian-backed militias.
On Wednesday, three drones attacked U.S. and coalition forces in Iraq.
The U.S. shot down a drone that attacked a base in northern Iraq and another that attacked al-Asad military base in western Iraq.
A second drone that attacked al-Asad broke into pieces when it was hit by coalition forces. The debris struck a hangar where people were sheltering. There were no serious injuries or deaths, but several people suffered minor lacerations, officials said.
Ryder said that a civilian contractor died after suffering a cardiac episode at al-Asad but that it was not connected to the drone attacks.
The contractor was sheltering in place after early warning alarms went off at the base, signaling a possible threat. No attack occurred, Ryder said.