Heat waves and drought are hitting communities across the world, threatening supplies of energy and food while causing rivers from Europe's Danube to China's Yangtze to dry up.
In the United States, these receding water levels have exposed human remains and dinosaur tracks. Elsewhere, they have revealed relics that include ancient Buddhist statues, lost villages and sunk Nazi warships.
It's a phenomenon that experts say should ring alarm bells about climate change.
"It's heartening that people are starting to take notice," said Ashish Sharma, professor of hydrology and water resources at the University of New South Wales in Sydney. "People tend to care about floods, but they lose sight of the big elephant in the room."
"If you look at the broad picture, it's pretty clear that higher temperatures are resulting in lower water flows and disappearing lakes and rivers," he said.
NBC News looked at some of the historic items revealed by the historic drought and heat.
Ancient Buddhist statues in China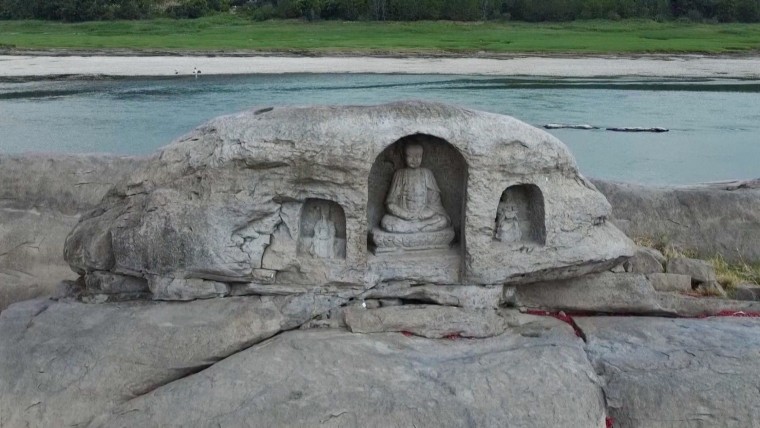 The Yangtze, Asia's largest river and a crucial part of China's economy, has seen its water levels fall rapidly amid a drought and record-breaking heat wave.
This has revealed three ancient Buddhist statues atop a normally submerged island in the Chongqing area in the country's southwest. 
The relics feature three monk-like figures sitting and watching over the river that are believed to be about 600 years old and built during the Ming dynasty, which ruled China from 1368 to 1644, Chinese state news agency Xinhua reported.
"There are thousands of these kinds of images across China in the time of Ming, but within the river reef, this case is very rare," Kim Minku, an art historian from the Chinese University of Hong Kong told NBC News.
The island reef is known as Foyeliang, or Buddha's father island, said Minku.
Sunken Nazi warships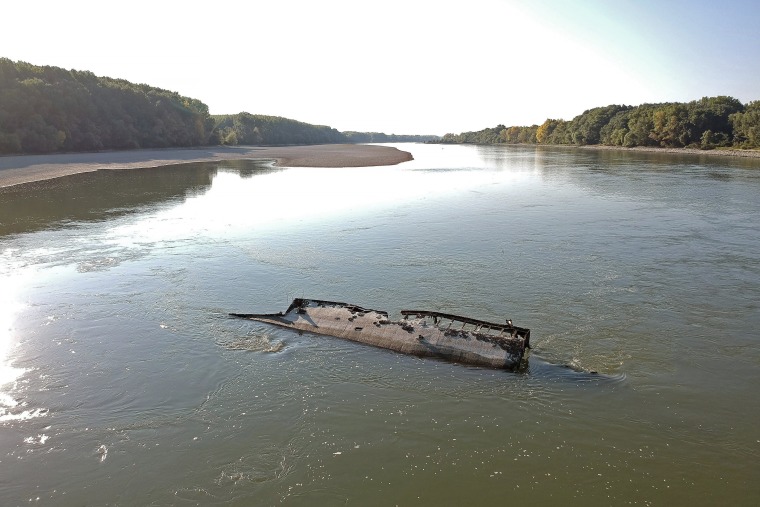 Europe is also suffering through a historic drought, with experts estimating this week that it's the continent's worst in 500 years.
The Danube, the continent's second-longest river, has dropped to one of its lowest levels in decades — exposing dozens of German warships that were sunk during World War II and are still laden with explosives.
More than 20 of these hulks have been found near Prahovo, a town in Serbia, according to Reuters. They were a part of Nazi Germany's Black Sea Fleet that was scuttled by the Soviet army in 1944.
Ghost village in Spain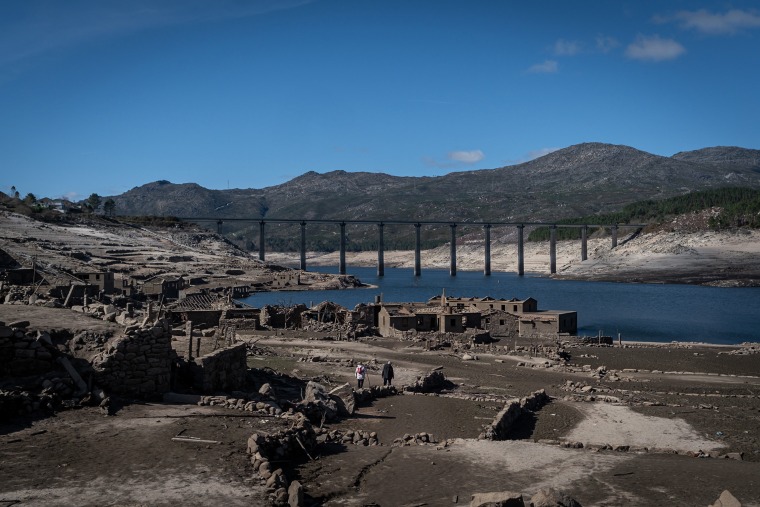 In Spain's northwestern Galicia region, a forgotten village has emerged from the Limia river due to the drought sending water levels in a nearby reservoir to historic lows.
The village was flooded in the 1990s to help create the reservoir. Now tourists are flocking to the site for a view of the ruins.
Remains such as collapsed roofs, bricks and wooden debris were found alongside urban facilities like drinking fountains, beer stacks and car wrecks, according to Reuters.
The 'Spanish Stonehenge'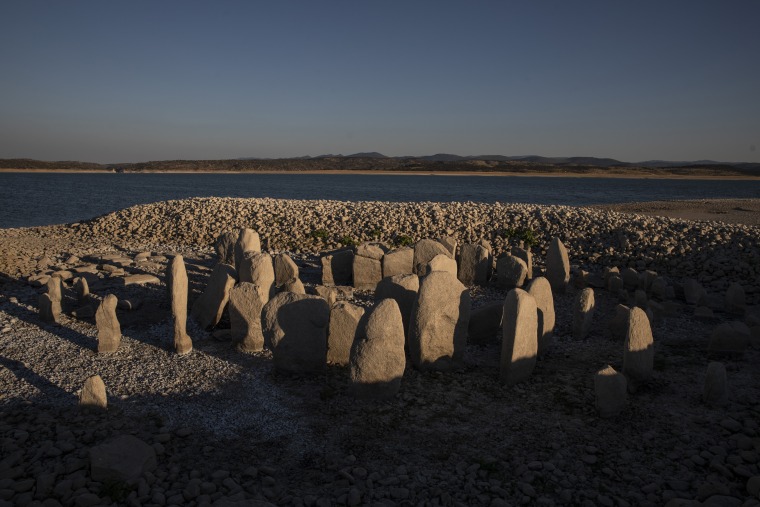 Another drought-hit dam has led to the emergence of a site sometimes known as the "Spanish Stonehenge."
Discovered by German archaeologist Hugo Obermaier in 1926, the Dolmen of Guadalperal is believed to date back to 5000 B.C. Sitting in the Valdecanas reservoir in the central Cáceres province, the circle of dozens of large prehistoric stones is now fully exposed for only the fourth recorded time, according to Reuters.
The reservoir was first flooded in 1963 in a rural development project, but authorities report that its water levels have dropped to just 28% of capacity. According to a study published by the journal Nature Geoscience, the entire Iberian Peninsula is at its driest level in 1,200 years.
WWII bomb in Italy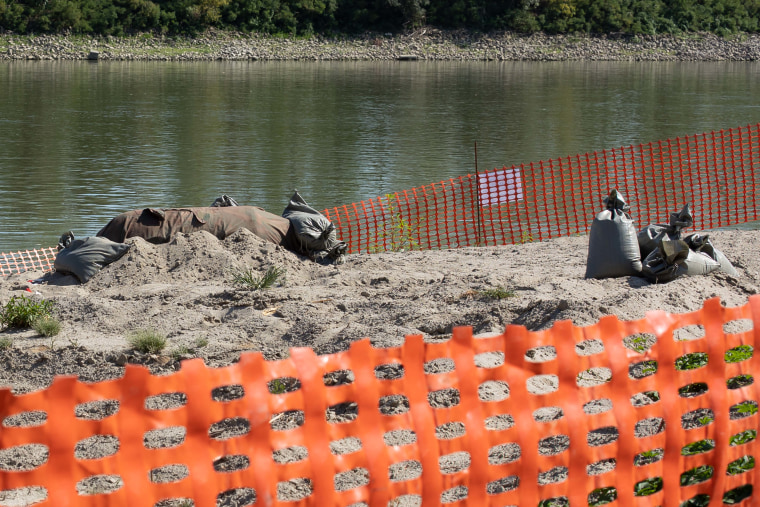 Another explosive World War II relic has washed up in Italy, where the drought-stricken River Po is also suffering from extremely low water levels.
The 1,000-pound unexploded bomb was found by fishermen near the northern village of Borgo Virgilio, close to the city of Mantua.
Military officials told Reuters that engineers had removed the fuse from the U.S.-manufactured device, which contained about 530 pounds of explosive.
Roman bridge over the Tiber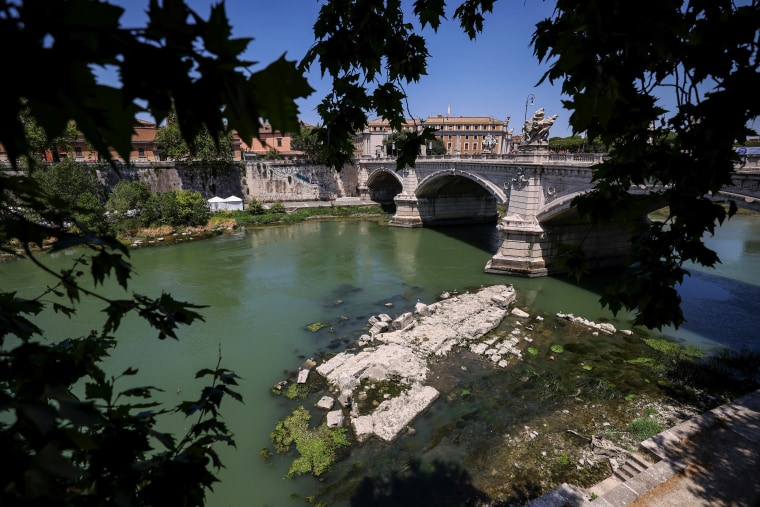 Elsewhere in Italy, the drought has revealed the ruins of an ancient bridge over the River Tiber that was reportedly built by the Roman emperor Nero around 50 A.D.
A small part of the Pons Neronianus ruins has always been visible whenever the water level falls, experts told the science news website Live Science.
But as the Tiber flows at multi-year lows, according to Reuters, much more of the structure than usual has been exposed this year.
Human remains and dinosaur tracks in the U.S.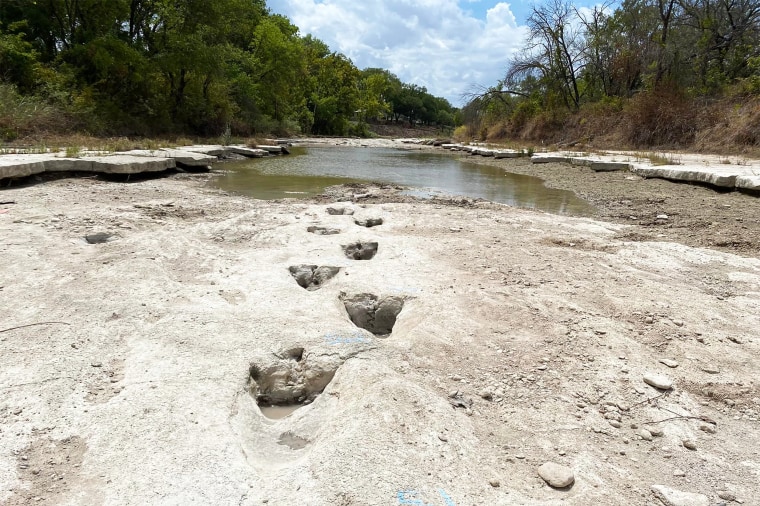 As the nation's largest reservoir has dipped to record low levels, Lake Mead's receding waters have revealed several sets of human remains.
The body of someone police think was fatally shot in the 1970s or '80s was found in a barrel on May 1 and since then, several sets of skeletal remains have also emerged.
Elsewhere dinosaur tracks, mostly left by the Acrocanthosaurus — a theropod that stood 15 feet and weighed 7 tons have emerged in recent weeks as the Paluxy River has dried up almost entirely in most parts of Dinosaur Valley State Park in Glen Rose, Texas.