/ Source: Associated Press
The son of jailed drug kingpin Joaquín "El Chapo" Guzmán was among among the several people recently kidnapped from a swanky restaurant in the resort town of Puerto Vallarta, a Mexican prosecutor said Tuesday.
Jalisco state Attorney General Eduardo Almaguer said Jesús Alfredo Guzmán Salazar, 29, was abducted from the La Leche restaurant by seven gunmen early Monday. The names of three others taken were also released at a Tuesday press conference.
Earlier, Almaguer told Radio Formula "it is presumed" that a son of the drug kingpin was among those abducted, but Almaguer named a different son, Ivan Archivaldo Guzmán.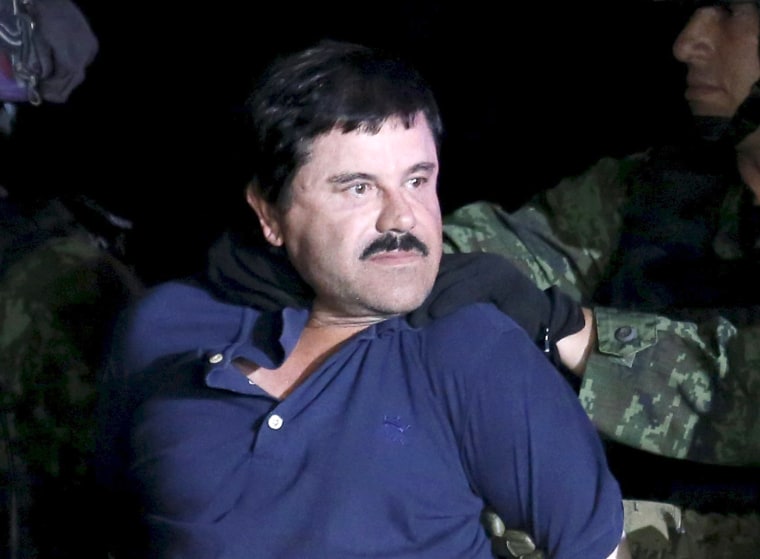 The victims turned out to be six men who "were not tourists or residents who work in legal activities," Almaguer said later at a press conference. "They were people tied to a criminal group we can very clearly presume."
Complicating efforts to identify the abducted is that fact that "several of them had false identities," Almaguer told Radio Formula.
The kidnappers were members of a "criminal group" that Almaguer declined to identify.
The Associated Press, however, said the biggest gang in the area is the Jalisco New Generation cartel, which now rivals Guzmán's Sinaloa cartel "as the most powerful of Mexico's drug gangs."
Almaguer said the the kidnapping victims were partying when the gunmen burst inside the restaurant around 1 a.m. Monday and rounded them up without firing a shot. Five cars belonging to the missing menwere still in the parking lot when cops arrived.
For two decades, the elder Guzmán almost single-handedly ran the Sinaloa cartel, which smuggled billions of dollars worth of cocaine and heroin into the U.S. through an extensive network of tunnels on the border and via other routes.
Guzmán was captured in January — six months after he embarrassed Mexican officials by busting out of a high-security penitentiary through a mile-long tunnel. He is currently awaiting extradition to the U.S.
Raul Benitez, who teaches political science at the National Autonomous University of Mexico, told the AP other gangs could be trying to tear the Sinaloa cartel apart and wipe out the Guzmán clan.
"There is a war right now for control of the Sinaloa cartel and a central theme in that war is the issue of attacks on his family," Benitez said. "People have information about the family's movements and they want to destroy the family."