In the desert kingdom of Dubai, billionaire developer Hussein Sajwani is hoping to enhance his business relationship with Donald Trump's real estate firm, the Trump Organization.
The two real estate titans — who celebrated New Year's Eve together — have already collaborated on the Trump International Golf Club, where luxury villas have racked up almost $2 billion in sales.
Amid concerns about potential conflicts of interest, Trump has promised he won't be making any new business deals while in office.
But Sajwani told NBC News that his ties to the Trumps extend beyond the president-elect — to daughter Ivanka and sons Eric and Donald Jr.
"All his three children are very much involved, and I think under their leadership we will have no issue in expanding and growing and maintaining our business relation," Sajwani said.
"They are very much involved with the details," Sajwani said. "They're very protective of their brand."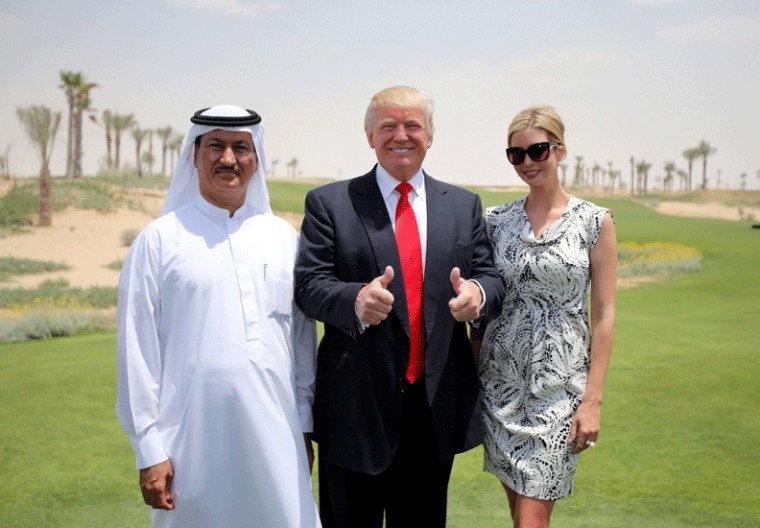 "My wife and Ivanka are very good friends," he added. "They send emails. She's been here to my house. We've been in New York having lunch and dinners with them regularly. And, you know, you enjoy working with somebody — it's not only cold business relation."
Ivanka, Eric and Donald Jr. have all represented the brand to wealthy foreigners — who often have links to powerful politicians — from Canada and Turkey to South America and Central Asia. Ivanka has posted on social media about business meetings in at least 13 countries since 2010.
Sajwani recalled that Ivanka was pregnant when she was working on the project and "quite involved until almost a few days before delivery." He happened to be in New York three days after she gave birth, and he marveled that Ivanka got on the phone to talk business with him and was back in the office a couple of days after that.
He said he met then-candidate Trump before the election for the opening of his Washington hotel. Over dinner, he said, it became clear that if Trump won, he would need to hand over the reins of the business to the younger generation.
Sajwani was back in the United States after the election and met with Ivanka, who is moving to Washington to be closer to the White House. He and his family attended Trump's New Year's Eve celebration at Mar-a-Lago, where the president-elect gave them a shout-out, calling them "the most beautiful people."
While ethics watchdogs have raised red flags about intersecting interests in sensitive regions like the Middle East, Sajwani brushes off those concerns. He says there's no reason to be worried about the nexus of his close relationship with the emir of Dubai and his financial links to the next occupant of the Oval Office.
"I am not involved in any political issues or positions," Sajwani said.
But Danielle Brian, executive director of the Project for Government Oversight, a nonprofit accountability organization, said that, such assurances aside, Trump's international money-makers and his family's continued involvement in the company mean the new president "is going to have divided loyalties."
"He's now going to be pursuing U.S. foreign policy, with an eye to the fact that it may be impacting his family's financial interests," Brian said. "And this is not only a case of what we perceive. It's going to be what the rest of the world is perceiving."
Related: Arab Billionaire to Trump: I'm Sorry I Ever Supported You
For now, what Sajwani perceives is a boost to his business, courtesy of Donald Trump's election.
"Definitely good news," he said of the election. "Naturally, I think we will benefit from the strength of the brand going forward."
He told NBC News that while he and the Trumps "haven't discussed anything," he's open to deepening his relationship with the brand.
"I would love to enhance the relation with the Trump Organization," he added.
Sajwani is close to the emir of Dubai, and other Trump business partners abroad sometimes have ties to the heads of state in their countries, which worries watchdogs like Brian.
And Trump enters office with a complex of business holdings unprecedented for a president. He even has the government he will soon head as a landlord in one of his properties. The General Services Administration, which holds the lease for Trump's new luxury D.C. hotel, says it will not make a final decision on whether he must sell his stake until after he's sworn in.
Trump has rejected calls to liquidate his company and place the proceeds in a blind trust. He has also said presidents are not subject to conflict-of-interest laws — which is accurate — and he postponed a December news conference until January that he had scheduled to address potential business conflicts of interest.
But the Trump transition team is working on eliminating the appearance of conflicts of interest at home and abroad. Trump has said he plans to shut down his personal charity, and he has tweeted that his sons, along with "executives," will run his businesses. Eric has said he will not participate in meetings with his father on any government-related issues.
Related: Billionaire Who Dumped Trump: Election Isn't Reality TV
In addition, Trump has settled labor disputes at a hotel in Las Vegas and at his hotel in Washington. Ivanka has said she plans to donate proceeds from a coming book to charity.
"As we have said many times, we are in the process of vetting various structures with the goal of the immediate transfer of management of The Trump Organization and its portfolio of businesses," spokeswoman Hope Hicks said.
"This is a top priority at the Organization and the structure that is ultimately selected will comply with all applicable rules and regulations. We look forward to sharing additional details in January."