A couple of years ago, Gallup released a poll that found 51% of Americans calling themselves "pro-life" and 42% "pro-choice." It was the first time a majority of U.S. adults had identified themselves as pro-life since Gallup began asking the question, and the nine-point margin was easily the largest lead opponents of abortion rights have seen.
The ensuing fuss was considerable -- right up until the numbers switched back soon after, and "pro-choice" outnumbered "pro-life" again.
The volatility apparently continues, with a new Gallup poll out today showing results that largely mirror the figures we saw in 2009.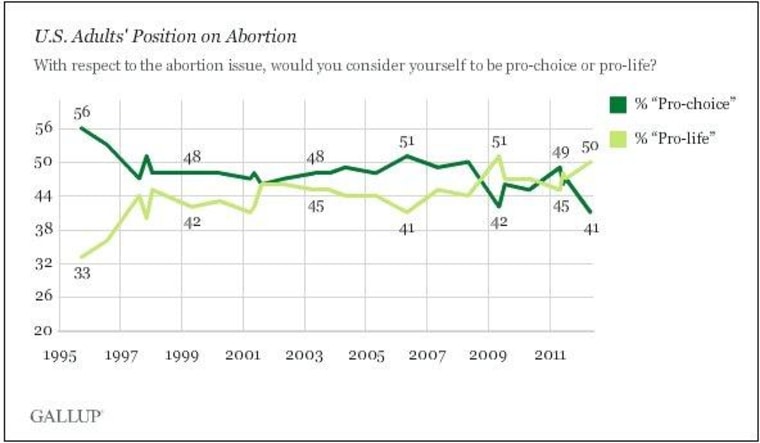 If recent history is any guide, this will once again generate big headlines -- when "pro-choice" is in ascendance, it's assumed to be the status quo, which apparently makes it less newsworthy -- but I'd recommend caution before either side of the fight overreacts to today's data.
Yes, there's some interest in self-imposed labels -- though relying on one volatile Gallup poll may not be the best metric -- but how one describes himself or herself on reproductive rights isn't necessarily indicative of one's larger policy perspective.
Indeed, the same Gallup poll found that the number of Americans who support banning abortion altogether is just 20% and falling, while the overall rates for those who support abortion rights in some or all instances has been fairly steady for the last decade.
In other words, "pro-choice" and "pro-life" are labels that lack nuance, and the details make all the difference. Gallup's own report added, "[I]t is notable that while Americans' labeling of their position has changed, their fundamental views on the issue have not."
The fundamental views matter more the vague buzzwords.