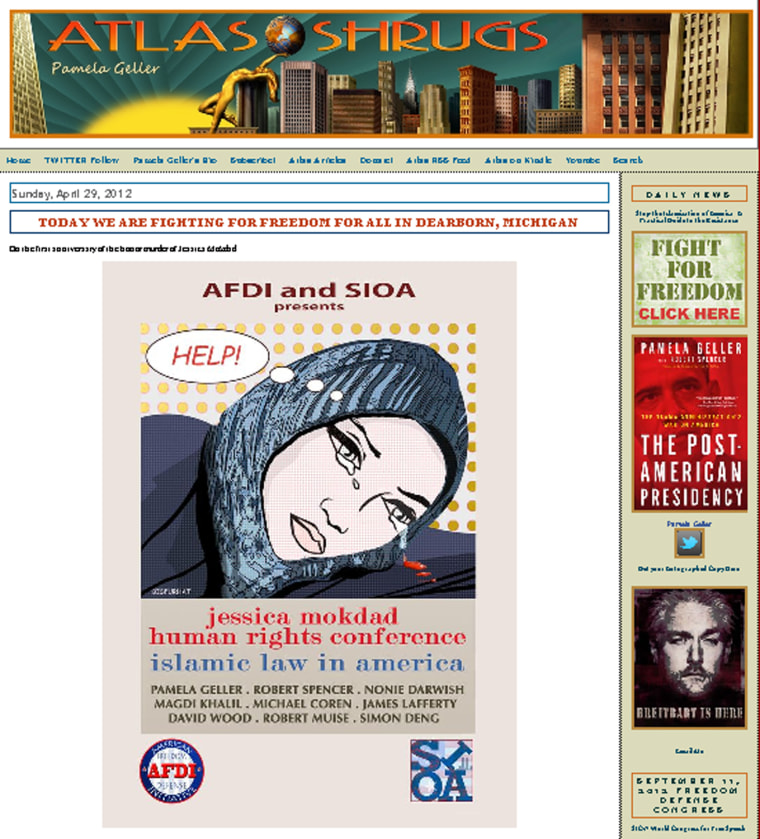 In Dearborn Mich., a Detroit suburb known for its concentration of Muslim Americans, anti-Islam leaders from around the country are gathering to discuss how to rescue women from that faith. The "Jessica Mokdad Human Rights Conference on Honor Killings" on Sunday is named for a local Muslim woman murdered one year ago.
But Muslims, civil rights groups and other religious leaders say the conference is merely another event put on by well-known bigots to attack the minority religion. Their response was to schedule a town hall meeting just a few miles away on Sunday called "Rejecting Islamophobia: A Community Stand Against Hate."
The honor killing conference, organized by Pamela Geller, who became nationally famous for her vocal opposition to the Ground Zero Mosque, aka Park 51 in Manhattan, is based on the premise that Mokdad, 20 years old when she died in April 2011, was the victim of an honor killing justified by Islam.
Mokdad's family maintains that the killing was a tragedy that has nothing to do with their Islamic beliefs, according to a report in the Detroit Free Press.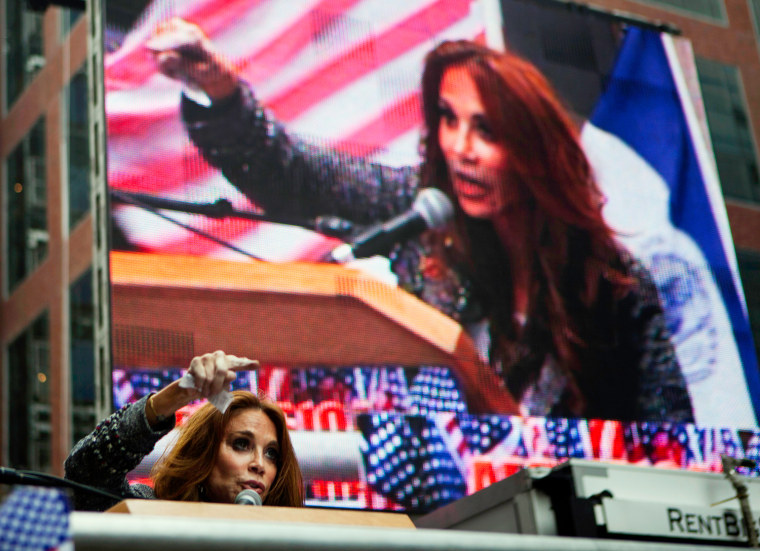 "It's not a case based on honor," Macomb County Assistant Prosecutor Bill Cataldo, chief of homicide, told the Free Press on Friday.
In court, prosecutors have said the motive for Mokdad's killing was that her stepfather, Rahim Alfetlawi had "been sexually abusing her," Cataldo said, according to the report. They argue that when she threatened to go public about the abuse he killed her.
Cataldo said the family strongly objects to the conference using Mokdad's killing, which they say was a tragedy that had nothing to do with their faith.
Geller insists this was an honor killing carried out by a devout Muslim because his stepdaughter was not following Islam, and that the family is covering it up. She alleges that law enforcers systematically cover up honor killings here and elsewhere under "stealth enforcement" of Islamic shariah law.
On her web site, Geller says: "Despite pressure from the media and members of Jessica's family who want to cover up the honor killing aspect of her murder, we are not going to change the name of the conference. Unlike those closest to her, we are going to honor Jessica's memory and stand up against the brutal practice that took her life."
The Dearborn conference will feature speeches by Geller and Robert Spencer — author of the blog "Jihad Watch" — as well as several like-minded legal and religious figures. They have also invited a young man who says he was Mokdad's friend to offer "firsthand testimony" that she was a victim of honor killing.
Stop the Islamization of America, which Geller and Spencer founded, has been listed as a hate group by the Southern Poverty Law Center, a non-profit civil rights watchdog.
"Pamela Geller is the anti-Muslim movement's most visible and flamboyant figurehead," according to a profile published by SPLC on its web site. "She's relentlessly shrill and coarse in her broad-brush denunciations of Islam and makes preposterous claims."
The Arab American Institute, a decades-old community organization in the Detroit area, discouraged Muslims and their supporters from protesting at the site of Geller's conference.  But they organized a competing event, said AAI president Jim Zogby, because Geller and Spencer have become too prominent to ignore.
"Geller and Spencer have thousands of followers, and are given airtime to spew their hate on major American news networks, as if they are respected analysts with just another viewpoint," Zogby said on the AAI announcement for the "Rejecting Islamophobia" town hall in Detroit.
Although many Americans have never encountered a Muslim in person, about 43 percent questioned in a recent Gallup Poll said they felt at least "a little" prejudice against Muslims.
"This group, we cannot ignore. This is the time for our community to take a stand, along with all those who value America's commitment to diversity and freedom of religion, against the politics of division and bigotry promoted by the Islamophobes."
A variety of community, interfaith and religious leaders and Michigan public on their agenda, for a "community conversation about how to respond to these continued attacks," said Zogby.
One participant who was just on his way to the town hall was Dawud Walid, who heads the Michigan office of the Council on American Islamic Relations, a civil rights advocacy group for Muslims.
"I think firstly we have to better expose who these anti-Muslim bigots are as well as their funders," said Walid. "We believe that the Islamophobia that permeates our country is being pushed by a well-organized, highly-funded network."
He says that while Dearborn and Detroit have become a focus for the activities of Geller and others of like mind, the problem is bigger.
"Islamophobia is a national illness," he said.
More content from msnbc.com and NBC News:
Follow US News on msnbc.com on Twitter and Facebook