JERUSALEM — A Palestinian home near the site of an arson attack that killed three Palestinians last year caught fire early Sunday, Israeli and Palestinian officials said.
Immediate suspicion fell on Jewish extremists.
Police spokeswoman Luba Samri said an investigation was underway into the fire in the West Bank village of Duma. Palestinian officials say attackers broke the bedroom window of Ibrahim Dawabsheh's home and set the house on fire. Dawabsheh and his wife escaped. He was unharmed but his wife suffered light smoke inhalation.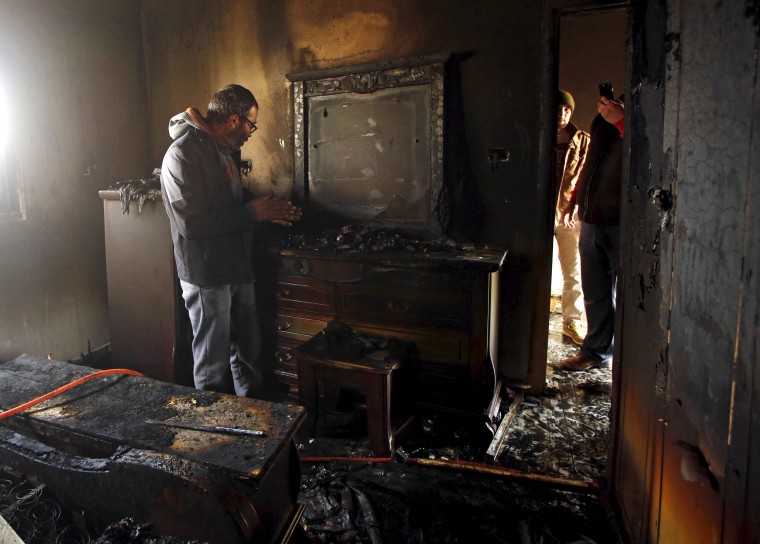 Dawabsheh — a relative of last year's victims — is a key witness to the attack that killed them and is currently testifying before an Israeli court in the trial of two Jewish extremists.
Last July, suspected Jewish settlers hurled firebombs into a home, killing 18-month-old Ali Dawabsheh. His mother, Riham, and father, Saad, later died of their wounds. Ali's 4-year-old brother Ahmad survived.
Related: Boy Who Survived Duma Attack Doesn't Know His Family Died
The deadly July 31 firebombing was condemned across the Israeli political spectrum, and Prime Minister Benjamin Netanyahu pledged "zero tolerance" in the fight to bring the assailants to justice.
Investigators placed several suspects under "administrative detention," a measure typically reserved for alleged Palestinian militants that allows authorities to hold suspects for months without charge.
But as the investigation dragged on for months, Palestinians complained of a double-standard, where suspected Palestinian militants are quickly rounded up and prosecuted under a military legal system that gives them few rights, while Jewish Israelis are protected by the country's criminal laws.
Amiram Ben-Uliel, a 21-year-old West Bank settler, has been charged with murder. He and other alleged accomplices are part of a movement known as the "hilltop youth," a leaderless group of young people who set up unauthorized outposts, usually clusters of trailers, on West Bank hilltops — land the Palestinians claim for their hoped-for state.
Related: Experts Say Fundamentalist Jewish Terror Is Growing Threat to Israel
The group has been accused of carrying out so-called "price tag" attacks in which they vandalized Palestinian property, as well as mosques, churches, the offices of dovish Israeli groups and even Israeli military bases to exact a cost for Israeli steps seen as favoring the Palestinians.