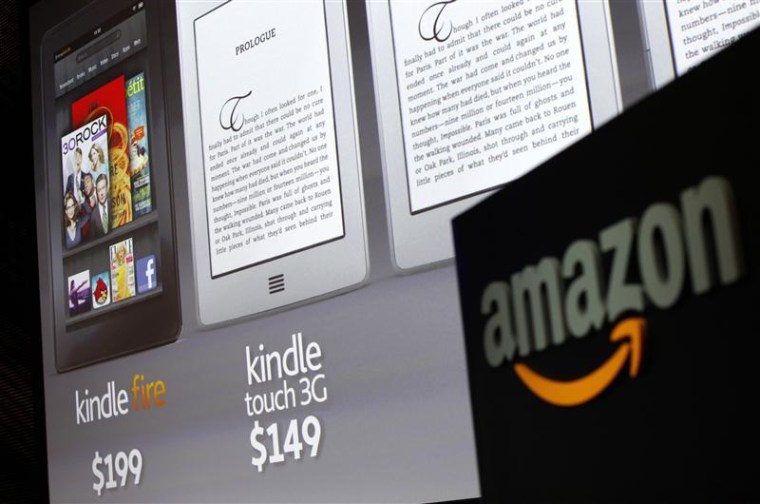 The government's announcement that it plans to go after Apple and major book publishers over e-book pricing is a big boost for the nation's largest bookseller Amazon.com, analysts say, and it's heaping more pressure on the struggling book publishing industry.
On Wednesday, the Justice Department charged that Apple and a handful of book publishers conspired to push up the price of e-books and limit retail competition. The antitrust lawsuit alleged that Apple and the publishers had a common interest in fighting Amazon.com's practice of selling e-books for as little as $9.99 and decided to work together in an effort to raise prices.
In response to the government suit, Amazon, which controls about two-thirds of the market for e-books, plans to bring some major titles down to $9.99 or less, from $14.99, according to The New York Times.
Amazon.com's move, coupled with the federal lawsuit, is likely to have negative repercussions for traditional book publishers, according to Arun Sundararajan, a professor at New York University's Stern School of Business.
"The traditional business model for publishers is under threat, and I think we will see it reshaped," he said.
Whereas in the past book publishers held market power by owning the rights to a book and the means of producing it, in the new digital economy the companies that own content delivery systems -- Amazon.com's Kindle, or Apple's iPad -- are the holders of market power, he said.
Amazon.com has about two-thirds of the e-book market, compared with about 10 percent for Apple. The Justice Department's announcement Wednesday has handed more of that power to Amazon.com, Sundararajan said.
"This decision increases the rate at which Amazon.com becomes the dominant channel for e-books," he said. As the balance of power tilts even more toward the Kindle platform, book publishers will lose bargaining power, he added, and eventually, as it gathers more market power, Amazon.com will be able to raise prices.
If the Kindle consolidates its position as the dominant player in the e-book business, Amazon will be taking a larger share of what consumers pay for e-books, and publishers will have little leverage in dealing with the giant online retailer.
That sounds like bad news for consumers.
Indeed, booksellers and publishers have argued that the Justice Department's lawsuit will allow Amazon.com to operate as a monopoly.
"We think the DOJ has got it all wrong," said Oren Teicher, CEO of the American Bookseller Association.
"The agency model created a more competitive book market than we have now," he said, referring to the e-book pricing arrangement detailed in the government's antitrust suit, in which Apple established a deal with publishers upon the introduction of its iPad. It allegedly allows publishers to receive 70 percent of the retail price of the book and gave Apple a 30 percent commission.
The Justice Department contends the deal amounted to illegal collusion to raise prices.
"Amazon has a strategy of becoming the Wal-Mart of the web, and they have turned the book business into their loss leader in order to sell people flat-screen televisions and lawn furniture," Teicher said. "They are prepared to lose money on sales of books to sell people other things. But history is clear about this -- if you get one company that becomes a monopoly it's never going to benefit consumers."
On Thursday, Apple broke its silence on the Department of Justice's allegations, calling them "simply not true," according to The Wall Street Journal.
"The launch of the iBookstore in 2010 fostered innovation and competition, breaking Amazon's monopolistic grip on the publishing industry," an Apple spokeswoman told the Journal.
Sundararajan said it's far too early to say Amazon.com has a monopoly in the e-book market. The web retailer does have a large market share, but e-books only make up 10 to 20 percent of the book market, he noted.
"Gaining market power isn't a bad thing," he said. "The government only comes after you if you do bad things with it."
The challenge for the publishing industry is that Amazon.com could call the shots later when it has consolidated a leadership position, he said.
"I do worry that there is a point beyond which publishers can't recover their costs," he said, adding that it's hard to say whether the lawsuit will ultimately be bad news for book publishing in general.
"On the one hand less revenue will go to book publishers, but on the other hand there are more opportunities for authors to self-publish, bypassing the publishing industry entirely, and they can do that through Amazon.com."
Is Amazon.com about to reshape the publishing industry? Discuss it on Facebook.