A bird's stunning flight from the tallest building in the world was captured on video Saturday, thanks to a small camera attached to the eagle's back.
The bird's-eye view was recorded when Darshan the eagle flew from the top of the Burj Khalifa in Dubai, swooping 2,722 feet down to his trainer on the ground. It was the highest recorded bird flight from a man-made structure ever, and was broadcast live on BBC News.
Darshan was equipped with a tiny Sony Action Cam Mini for his big expedition. The flight was organized by the Freedom Conservation group to raise awareness for endangered birds of prey and encourage conservation; in the past, the group has recorded eagles taking off from landmarks across Europe, including the Eiffel Tower in Paris and St. Paul's Cathedral in London.
"We know that people love these types of videos. It's a great way for us to attract the public's attention to endangered animals and to the fact that humans need to learn how to share their space with these animals," Freedom Conservation Director Ronald Menzel told NBC News.
Menzel's adventures with birds caught the attention of the Crown Prince of Dubai, who invited the French conservationist to Dubai to bring attention to the need to protect wildlife in urban areas. Menzel told NBC News that over the course of four months, they worked with the prince's technology team and Sony to get the camera and transmitter on Darshan's back.
The white-tailed eagle was trained by falconer Jacques-Olivier Travers, who has pioneered techniques to reintroduce endangered eagles to the wild, including paragliding, skiing and kayaking with the birds to teach them survival skills. Travers, who runs a park with about 150 birds of prey in Haute Savoie, France, founded the Freedom Conservation group in 2006.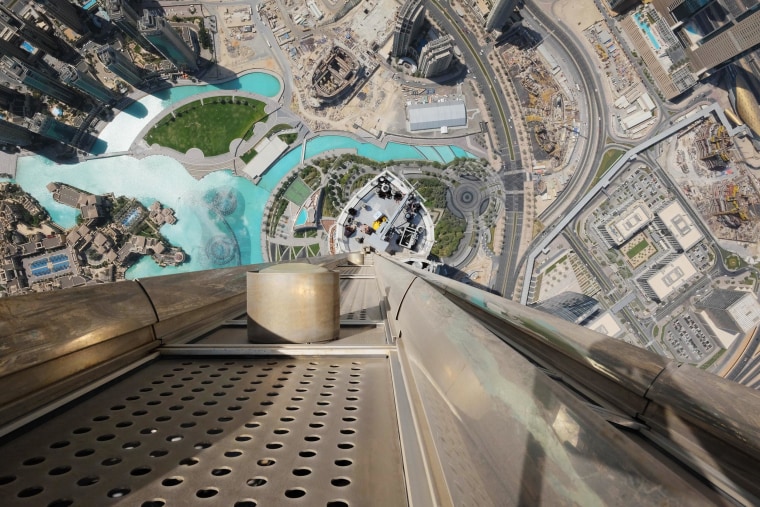 SOCIAL
— Emmanuelle Saliba