Families who had so far managed to survive Syria's decadelong civil war saw their already-battered homes come crashing down around them Monday.
"This time they didn't escape," said Abdulkafi Alhamdo, a resident of the area who sent a video to NBC News hours after a devastating 7.8-magnitude earthquake hit the region.
The quake has piled further misery on rebel-held Syrian towns and nearby areas, threatening a new humanitarian crisis exacerbated by winter and war. It reduced homes to rubble as residents slept in the bitter winter cold that has enveloped the country's northwest.
Alhamdo stood against a gray horizon littered with the remains of what used to be the heart of a town, gesturing to the wreckage around Atareb's market.
"They are just underground. People are under the rubble," he said.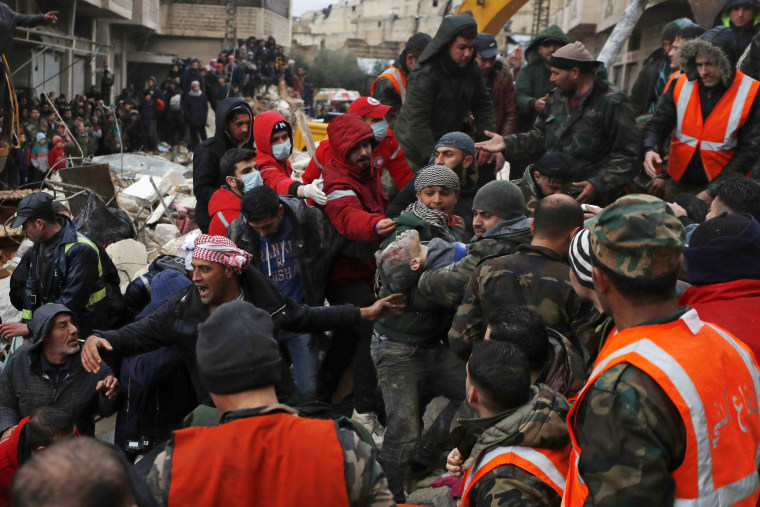 People in rebel-held areas have spent almost a decade besieged and bombarded by the Syrian government and its Russian allies. In 2017, Atareb — around 10 miles from the Turkish border — was hit by a series of airstrikes that killed dozens, including several children.
Almost six years later, Alhamdo could not help but recall the horrors the town endured in the past.
"This area five years ago witnessed a very harsh attack from the Syrian regime warplanes," Alhamdo said of the three airstrikes that hit the market in Atareb, west of Aleppo, in November 2017.
At least 84 people were killed in that attack, including five children, according to the British-based Syrian Observatory for Human Rights, which monitors Syria's civil war through a network of sources on the ground.
A United Nations inquiry concluded the strikes were carried out by the Russian air force. Moscow denies targeting civilians in Syria.
"Those houses that were effected at the time have now [fallen] to the ground," Alhamdo added.
Videos showed houses, mosques and shops reduced to rubble, and rusting metal wires jutting out from the ground. A single excavator was working to clear debris alongside a small group of people in the city's main market.
 "What can one vehicle, some few people working with their bare hands, [do] for those who are under the rubble?" said Alhamdo. "Unfortunately they can do nothing."
The quake hit a part of Syria's northwest that is divided between government-held territory and the country's last remaining rebel-controlled enclave, likely complicating efforts to deliver aid.
Around 4.5 million people are packed into the area, many of them living in dire poverty, having been displaced from other parts of the country by the war.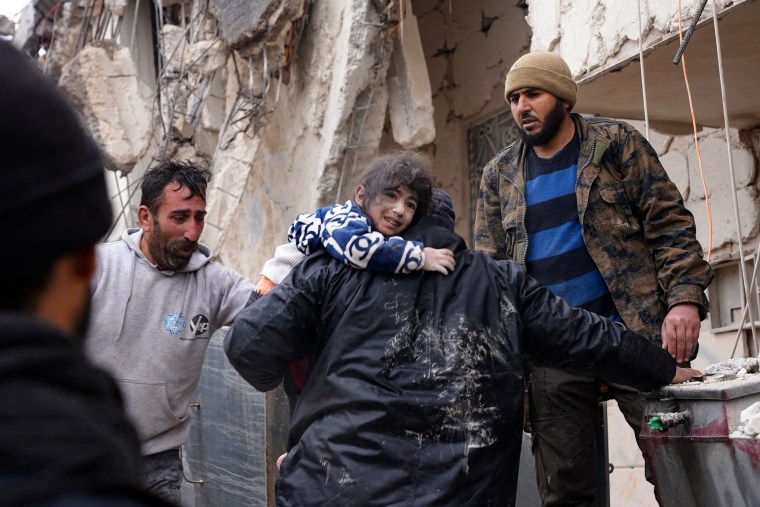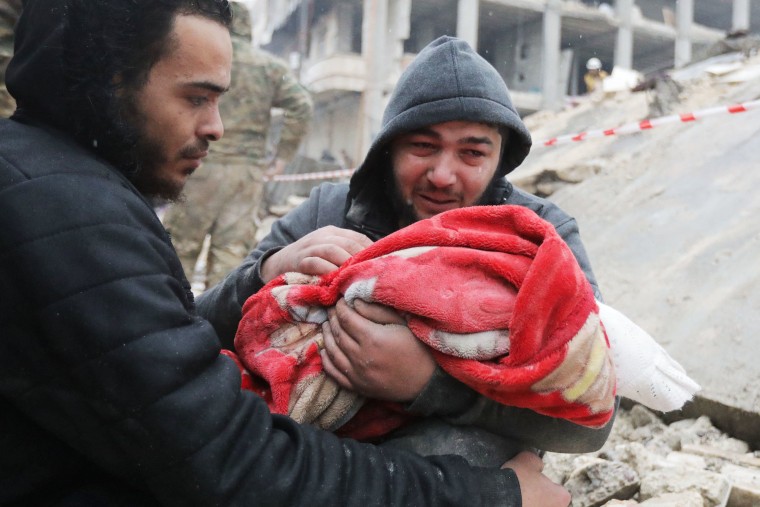 The Syrian government's health ministry said more than 800 people had been killed, but with the hardest-hit areas outside of regime control, the true figure is likely significantly higher.
Rescue efforts were led by an opposition emergency organization called the White Helmets, which said at least another 700 people had been killed in rebel-held areas.
The territory is controlled by a patchwork of armed groups and relies heavily on international aid, usually brought over the border from Turkey, which is also home to millions of refugees from the conflict.
Health facilities have been ravaged by the fighting.
"Many hospitals have been closed in the last few years because there is no help or assistance," Alhamdo said of the situation in Atareb.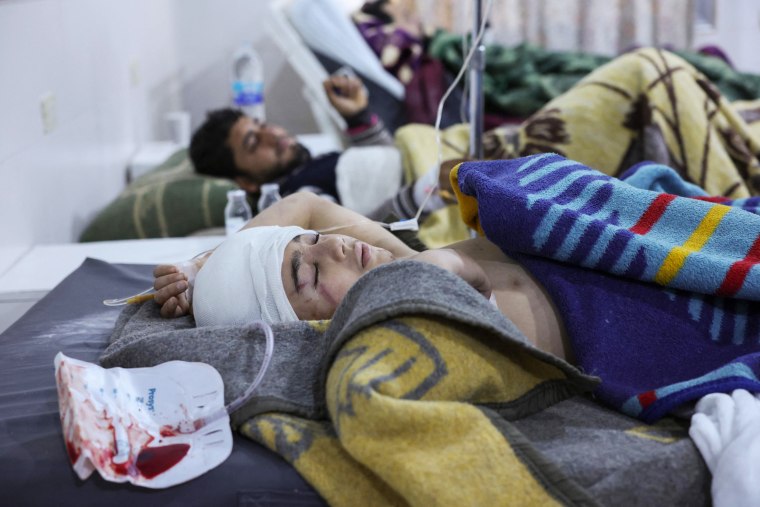 The Syrian American Medical Society, a U.S.-based medical charity, said one hospital it supports in Atareb alone had reported 89 deaths and 150 wounded.
"The conditions in our hospitals are catastrophic," a spokesperson for the aid group told NBC News, adding that four of its hospitals had been damaged and evacuated.
In winter, the area is often battered by floods, torrential rains and strong winds, which often destroy tents and food supplies, leaving many homeless, according to the U.N. Refugee Agency.
"This earthquake is yet another devastating blow to so many vulnerable populations already struggling after years of conflict," said Tanya Evans, the Syria director for the aid group The International Rescue Committee.
"It is a crisis within multiple crises," she said, adding that "temperatures are plummeting to below zero leaving thousands exposed" after the area was hit by a snowstorm.
Though international leaders swiftly promised aid and medical assistance Monday, for Alhamdo years of death and destruction frayed whatever hope remained.
"Words do nothing," he said.