A strong earthquake shook the region around Ecuador's second-largest city on Saturday, killing at least 15 people, damaging homes and buildings, and sending panicked residents into the streets.
The U.S. Geological Survey reported an earthquake with a magnitude of 6.7 in the country's coastal Guayas region. It was centered about 50 miles south of Guayaquil, which anchors a metro area of over 3 million people.
One of the victims died in Peru, while 14 others died in Ecuador, where authorities also reported that at least 126 people were injured.
Solange Coyago was in an apartment in Cuenca, Ecuador, and about to go to lunch when the windows started shaking and the lights began to move really fast.
"I was really scared," she told "NBC Nightly News." "Everyone outside was in the streets ... [it] was a really tough moment."
After the earthquake stopped, Coyago, who was visiting the city on vacation, said she had a panic attack.
"Everything in my mind was blind. I started shaking," she said.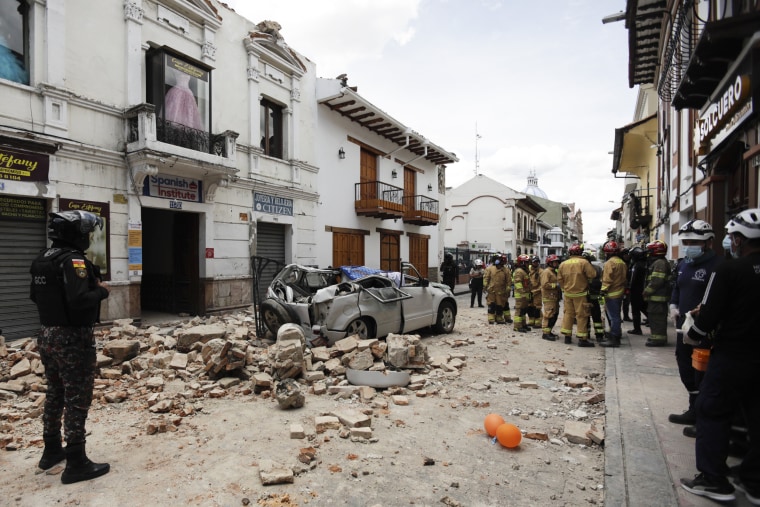 Ecuadorian President Guillermo Lasso told reporters the earthquake had "without a doubt ... generated alarm in the population." Lasso's office in a statement said 12 of the victims died in the coastal state of El Oro and two in the highlands state of Azuay.
In Peru, the earthquake was felt from its northern border with Ecuador to the central Pacific coast. Peruvian Prime Minister Alberto Otárola said a 4-year-old girl died from head trauma she suffered in the collapse of her home in the Tumbes region, on the border with Ecuador.
In Guayaquil, about 170 miles southwest of Ecuador's capital, Quito, authorities reported cracks on buildings and homes, as well as some collapsed walls. Authorities ordered the closure of three vehicular tunnels.
Videos shared on social media show people gathered on the streets of Guayaquil and nearby communities. People reported objects falling inside their homes.
Coyago said the apartment where she was staying did not have a lot of damage, but some buildings nearby have partially collapsed.
"The police officers are saying please don't walk around here because in every moment this is going to come down," she said. "Right now, the streets are closed, some of them."
One video posted online showed three anchors of a show dart from their studio desk as the set shook. They initially tried to shake it off as a minor quake but soon fled off camera. One anchor indicated the show would go on a commercial break, while another repeated, "My God, my God."
A pier sank in the city of Machala. The earthquake was also felt in northern Peru.