KABUL, Afghanistan — A magnitude-7.5 earthquake hit northeastern Afghanistan on Monday, killing hundreds of people there and in neighboring Pakistan.
"More [deaths] are expected," the Pakistani province of Khyber Pakhtunkhwa's chief minister, Pervez Khattak, told state TV about three hours after the quake hit.
Pakistan suffered the worst casualties, with more than 200 people dead and 1,000 or so others reported injured, officials said.
In Afghanistan, 73 people were reported dead and more than 300 were injured.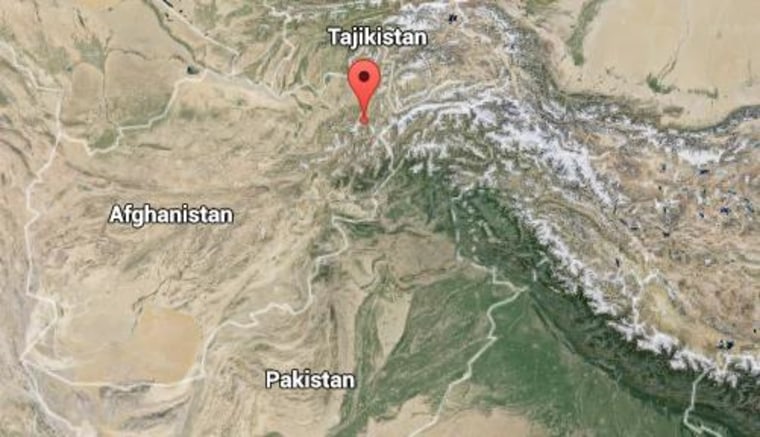 The toll included about 12 girls who died while trying to flee their school in Afghanistan, an official told NBC News — with some of them crushed in a stampede.
Landslides were reported, and some of the affected regions could not immediately be contacted, authorities said. The quake came just days after rain fell in many parts of Afghanistan, potentially making mud-built dwellings vulnerable.
The temblor struck about 2:10 p.m. (5:10 a.m. ET) in a remote area of the Hindu Kush region of Afghanistan about 28 miles south-southwest of Jarm, according to the U.S. Geological Survey. The agency later revised its magnitude from a preliminary 7.7 to 7.5.
Witnesses reported a series of aftershocks.
Related: 'I Thought It Was the End of the World'
The earthquake was widely felt in neighboring Pakistan, where the government declared an emergency in some areas. The country's army put all non-combat units on standby.
"I just felt it go up and down as if I was on a New York subway on a really rough ride," said NBC News producer Wajahat S. Khan, who was in a hotel in Lahore at the time of the quake. "Everything was moving up and down. My lunch on the table was literally just popping up and down."
Khan added: "The scenes downstairs were really, really chaotic. The panic continued and lasted for a good four or five minutes after the quake."
NBC News producer Mushtaq Yusufzai was eating with his family in Peshawar when the earthquake struck.
"There was no was way to go downstairs, so we immediately climbed to the rooftop," he said. "It seemed the entire building was going to collapse. Women and children were crying, and traffic was stopped on roads."
At least 55 people were injured in Peshawar, officials said. Some were listed in critical condition.
The country's Supreme Court in Islamabad was in a televised session, and judges, lawyers and complainants were shown running out of the room.
In Badakhshan, where the quake's epicenter was located, aone, 1,438 homes were destroyed or damaged, said the province's governor, Shah Waliullah Adeeb. That included at least 70 in the village of Charmaghz Daram, according to the police chief, Gen. Gulam Sakhi.
In Kunar province, 42 people were dead and another 67 injured, Police Chief Habib Sayeddkhili told NBC News.
In the Afghan capital, Kabul, cars stopped in the streets and screaming residents streamed out of homes, offices and schools. Widespread power failures and telephone cuts were reported.
Photos: Earthquake Rocks Afghanistan, Pakistan, India
"This was the most powerful earthquake we have witnessed," he told NBC News. "It happened while there was heavy rain and hailstorm in parts of the province ... but many homes have been destroyed, and the death toll could be higher as we are trying to reach to the remote areas."
The quake was also felt in Indian cities including Srinagar, which is almost 300 miles away.
Devastating earthquakes are relatively common in the mountainous and seismically active region. A 7.6-magnitude quake killed about 75,000 people when it hit northern Pakistan on Oct. 8, 2005.
The U.S. Embassy in Kabul released a statement expressing its "deepest condolences" to victims.