KAHRAMANMARAS, Turkey — Fears of a "secondary disaster" were momentarily eclipsed Friday by a flurry of dramatic rescues that saw survivors pulled from the rubble four days after earthquakes devastated Turkey and Syria, killing more than 23,300 people.
Emergency services, volunteers and families have toiled despite diminishing hopes for those still trapped in the subzero temperatures. Streets have grown heavy with bodies wrapped in blankets, while residents have huddled over fires amid a sea of makeshift morgues and temporary shelters.
The government and aid groups have distributed millions of hot meals, as well as tents and blankets — but many feared that would not be enough, setting off a "second disaster" of hunger and exposure. Help was still struggling to reach many people in need, fueling fears of sickness among the ruins.
The situation is driving anger in southern Turkey and in northern Syria, where civil war has only compounded the difficulties.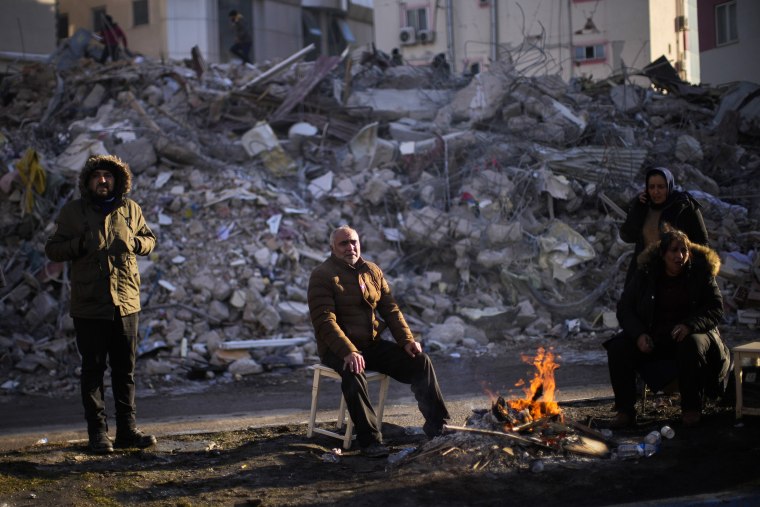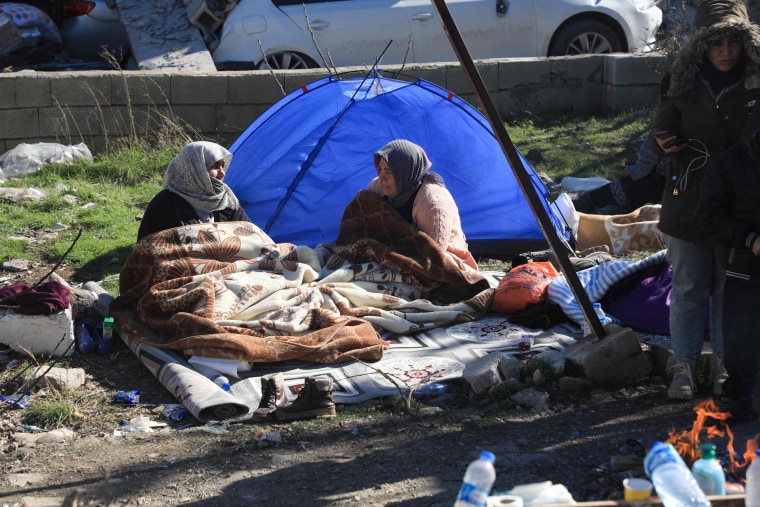 But in Kahramanmaras, near the epicenter of Monday's 7.8-magnitude quake, NBC News witnessed one of the many rescues that offered a glimmer of hope to the millions affected.
Dozens of rescuers clambered around a 57-year old woman, who was still conscious when she was pulled from the wreckage of a building. 
Wrapped in a gold-colored emergency blanket, she was rushed to the hospital. 
Murat Kucuktecer, one of the many rescuers at the site, first heard the woman's voice. He said she survived for days under the rubble because she was trapped in an insulated air pocket.
"She was inside a 20-inch space where there was enough air, that's how she survived," he told NBC News. "It was a miracle, thank God."
"This is the eighth person I've rescued alive. God willing, I still have hope," he added with a smile as he stood in front of craggy rubble and jagged wires rising from the ground. 
In Gaziantep, there were tears of joy early Friday when 17-year-old Adnan Muhammed Korkut was pulled from the rubble fully conscious, after 94 hours trapped in the basement of an apartment building that had collapsed. 
Unable to move for four days and determined not to starve to death, the teenager survived by drinking his own urine, according to news agencies. 
Video showed his mother, Buket Pakize, sobbing with joy, embracing and kissing him as he was carried out on a stretcher.
"My son doesn't leave me alone for one hour. God blessed my son, who doesn't leave me alone for one hour. May everyone else be blessed as well," she said, as those around her responded hopefully, "Amen." 
Brimming with joy, one of the rescuers — a woman called Yasmen — embraced the teenager who seemed remarkably lucid after his ordeal. 
"I have a son just like you. I swear to you, I have not slept for four days," she said, as she tenderly held Korkut's face while he looked on with tears in his eyes. "I was trying to get you out, I love you very much."
Despite the moments of joy on the ground, the death toll continued to rise and the focus was also turning to fears of a "secondary disaster" for those still lacking warm shelter, food and water across the border region, which is home to more than 13.5 million people.
The World Health Organization said that survivors desperately needed vital support providing basic necessities, such as clean water and shelter, in worsening weather conditions.
"We are in real danger of seeing a secondary disaster, which may cause harm to more people than the initial disaster, if we don't move with the same intention and intensity as we are doing on the search and rescue side," the WHO's incident manager for the earthquake, Rob Holden, said at a news conference Wednesday.
The need is especially dire in rebel-held areas of northwest Syria, grappling with 12 years of civil war and now a border crossing made nearly inaccessible for international aid after the earthquake damaged roads.
The United States is pushing for more safe passages for United Nations humanitarian supplies across the Turkish border into the region.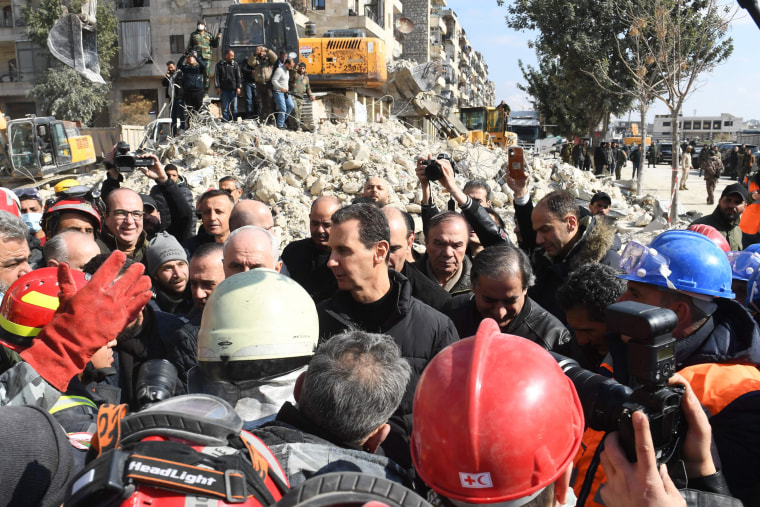 In a statement issued Friday, the U.N. World Food Program said it had delivered urgently needed food assistance, primarily hot meals, food packages and ready-to-eat rations, to around 115,000 people in Syria and Turkey in the first four days since the earthquakes struck the region.
"For the thousands of people affected by the earthquakes, food is one of the top needs right now and our priority is to get it to the people who need it fast," said Corinne Fleischer, the agency's regional director for the Middle East and North Africa.
Friday prayers resumed at one mosque in Gaziantep with a much larger congregation that included more than 1,000 survivors — many of them Syrian refugees who had fled across the border years ago to seek safety from the war there.
Many of the refugees who spoke to NBC News said that their homes had not collapsed, but that they had sought sanctuary in the mosque because they were too frightened to return should another large aftershock hit.
Until engineers determine that structures still standing are safe to return to, their only options for shelter are the mosque, makeshift tents outside or the brutal winter cold. 
Inside a stadium in Kahramanmaras, dozens of white tents had been erected for those left homeless or too terrified to return to their homes out of fear of yet another earthquake. 
Inside, coats and blankets were being distributed to the stadium's new occupants. 
One elderly couple sat desperately awaiting news of their grandson, who was still missing after his home collapsed Monday. 
"We pray for patience," 75-year old Durdu Koklu said as he sat beside his wife, Durdane, both of them wearing layers of clothing to help them endure the winter cold. 
Nearby, the grief of one mother pierced the air, as she beat her chest and wept after learning her son did not survive. "Take me with my son," she cried.  
Gabe Gutierrez and Kayla McCormick reported from Kahramanmaras, Ziad Jaber from Gaziantep, and Aina J. Khan from London.