TEPEHAN, Turkey — An olive grove split into two, separated by an enormous canyon 1½ miles long, is a lasting testament to the sheer power of the deadly earthquakes that devastated large swaths of Turkey and Syria.
Drone video released Wednesday showed how the grove, in the small town of Tepehan in rural eastern Turkey, is now bisected by a valley that wasn't there just days ago.
The town is near the East Anatolian Fault line that caused last week's earthquakes, which have been declared the deadliest ever in Turkey and also caused widespread death and devastation in neighboring Syria. More than 39,000 people have been killed in both countries and officials say the number is likely to rise.
The new pictures illustrate just how intense the tremors were, to have forever altered this ancient landscape.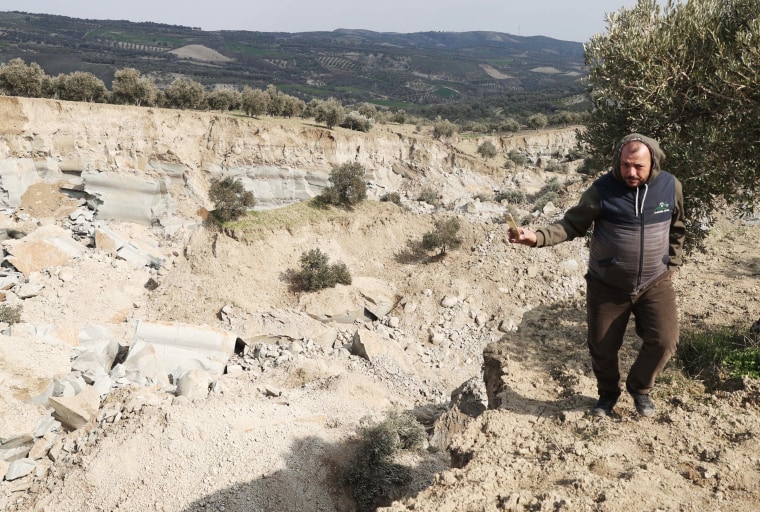 The transformation is so large that it is attracting families from nearby villages who are coming to peer over the newly formed cliffs, some of which are still crumbling, freshly exposed rock crashing to the canyon floor.
Meanwhile, against all odds, people are still being pulled alive from the wreckage of their homes. The Turkish National Defense Ministry released video Wednesday showing a 77-year-old woman being rescued in the southern city of Adiyaman, 212 hours after the last earthquake struck.
In Adiyaman province, a daring and delicate rescue operation saved 18-year-old Muhammed Cafer Cetin. Medics gave him an IV with fluids before rescuers removed him from a building that was falling down around them. Turkish TV video showed him wearing a neck brace and an oxygen mask as he was taken away for treatment.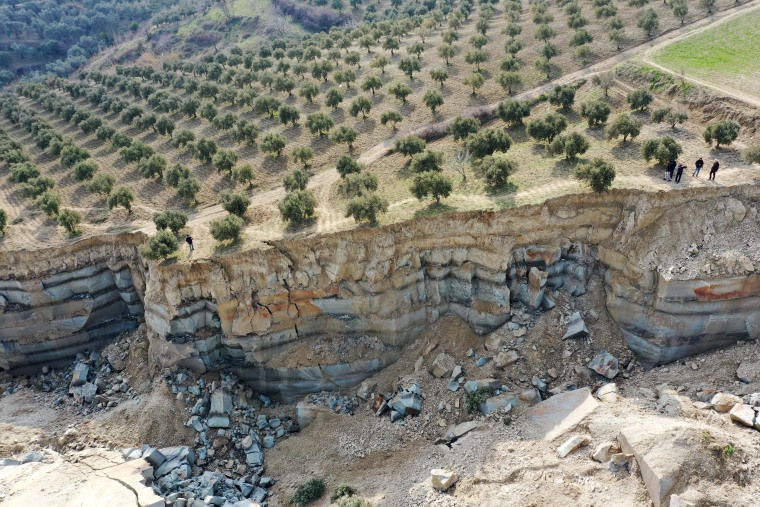 The first of the devastating quakes that struck Turkey and Syria last week registered at magnitude-7.8. It qualified as "major" on the official magnitude scale. Hours later, a second quake, registering at 7.6-magnitude, struck nearby.
As the rescue operations begin to end, the job of rebuilding and caring for displaced people begins. The World Health Organization said in a statement Tuesday that 26 million people across both Turkey and Syria need immediate humanitarian help.
In Turkey alone, it's estimated that 1 million people lost their homes and 80,000 people are in hospitals, many of which were badly damaged in the quakes, according to the WHO.
Across the border in northwest Syria, the death toll is nearly 5,000, it added.
Kelly Cobiella reported from Tepehan. Laura Saravia and Patrick Smith reported from London.