KENNER, La -- It was a substance-free, 12-minute prime-time performance that remains unlikely to sway a single vote, but Clint Eastwood's cameo appearance and conversation with an empty chair representing President Barack Obama in Thursday night's final hour of the Republican convention coverage remained a prime topic on the campaign trail Friday.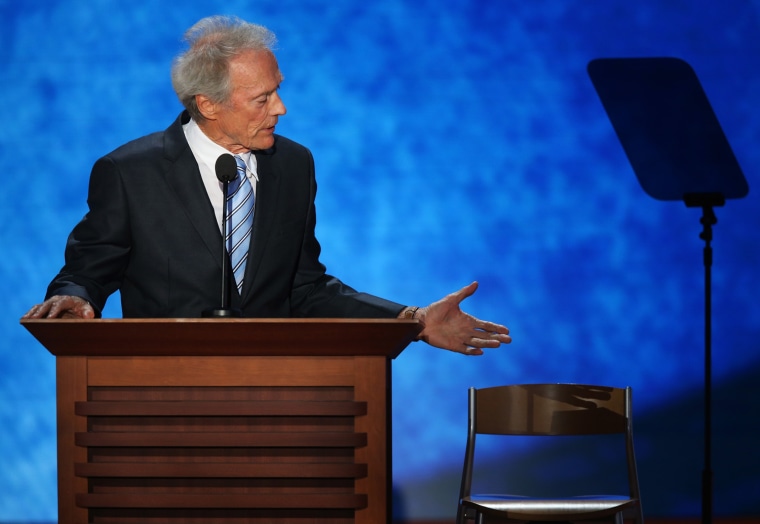 Mitt Romney's top strategist told reporters on the candidate's campaign plane Friday that the moment should be judged as a performance, and that while not everyone may have liked it, Eastwood's very presence -- and concern for out-of-work Americans in particular -- made the rambling remarks by the 82-year old Academy Award winner worthwhile.
"The fact that he's there shows he's speaking his mind and if somebody wants to say I would have liked this different performance or that difference performance, have it," Romney campaign strategist Stuart Stevens told reporters, comparing the remarks to two famous Eastwood films. "Some people didn't like 'Dirty Harry,' some people didn't like 'Gran Torino,' that's OK."
And while Ann Romney and several of Romney's top advisers remained stone-faced during Eastwood's appearance, Stevens said Mitt Romney very much enjoyed it.
"I was backstage with him and he was laughing," Stevens said."[Romney] thought it was funny."
A Romney adviser confirmed the remarks were ad-libbed, and the use of an empty chair as a prop was not discussed by the campaign. If there was any panic during the remarks, the adviser said, it might have come from the control room, where convention planners watched Eastwood continue for more than double his allotted time.
"He did what actors do sometimes, he did a little improv. If someone wants to say this wasn't Clint Eastwood's greatest performance, have at it. It doesn't matter, you know," the adviser said. "It's I think people saw that Clint Eastwood was not only endorsing Romney but endorsing the need for change. I liked that."
Meanwhile in Virginia, Romney running mate Paul Ryan faced a question by a reporter from NBC's Hampton Roads affiliate WAVY if Eastwood's remarks were a distraction.
"I think Clint Eastwood was just being Clint Eastwood," Ryan said in the interview to air Saturday. "One of the most profound things Clint said was that 23 million people out of work struggling to find jobs is just unacceptable."
Vice President Joe Biden, who was the butt of several of Eastwood's sharpest jokes, didn't mention the 'Dirty Harry' actor's performance during campaign stops in Ohio Friday.
But, according to pool reports, a supporter did allude to Eastwood's chair act, insisting to Biden during an impromptu stop at an Ohio fairgrounds that "You gotta keep the chair."
Biden didn't directly acknowledge the "chair" comment but gave the woman, Bev Kalmer of Poland, Ohio, a kiss on the lips.
Ann Romney, who spoke in prime time on the first full night of the convention, told CBS that Eastwood is "a unique guy and he did a unique thing" during his RNC appearance.
Asked if she was surprised by the unusual speech, she laughed and said merely "I didn't know it was coming."
Related: Clint Eastwood's 'invisible guest' RNC appearance is a hit online