Ecuador's government acknowledged Tuesday that it had partly restricted internet access for Julian Assange, the founder of anti-secrecy group WikiLeaks, who has lived in the South American country's embassy in London since mid-2012.
WikiLeaks said Assange lost connectivity Sunday, sparking speculation that Ecuador might have been pressured by the United States because of the group's publication of hacked material linked to Democratic presidential nominee Hillary Clinton.
Related: WikiLeaks: Assange's Internet 'Severed' by State Actor
The State Department denied the claims Tuesday.
Ecuador's leftist government said later that WikiLeaks' decision to publish documents affecting the U.S. election was entirely its own responsibility and that the country didn't want to meddle in election processes or favor any candidate.
"In that respect, Ecuador, exercising its sovereign right, has temporarily restricted access to part of its communications systems in its UK Embassy," it added in a statement. "Ecuador does not cede to pressures from other countries."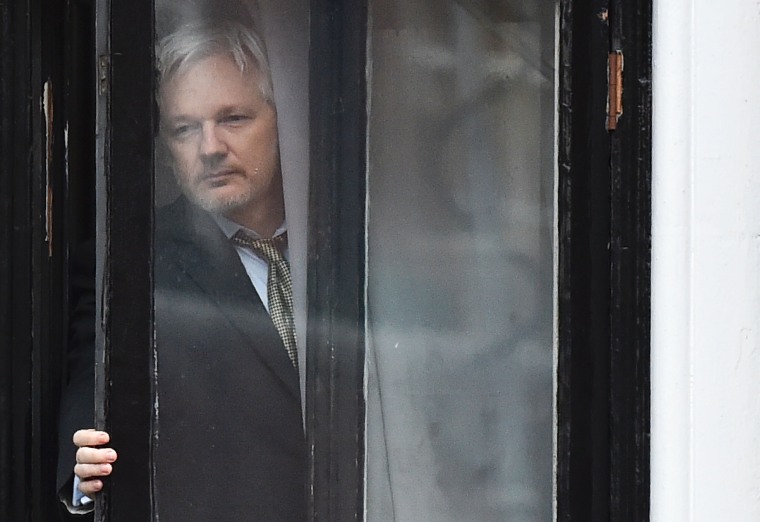 WikiLeaks said that unspecified "contingency plans" were in place and the site and that its Twitter feed appeared to be working as usual. On Tuesday it released a tranche of emails from Clinton campaign chairman John Podesta, suggesting that the group's ability to publish has yet to be compromised.
The disclosure was the 11th installation in a series of leaks that has captured the workings of Clinton's inner circle and included excerpts of her well-compensated speeches to the investment bank Goldman Sachs.
Those leaks themselves are part of a wider cascade that has embarrassed and destabilized the Democratic Party and that the U.S. intelligence community has recently described as an attempt by the Russian government to interfere in the U.S. election.
Assange has been holed up at the modest embassy suite at No. 3 Hans Crescent in London for more than four years after he skipped bail to avoid extradition to Sweden over sex crimes allegations, a position that — until now — hasn't prevented him from continuing to play a pivotal role in exposing state secrets and backroom trade deals.
Assange remains wanted in Sweden, and British authorities have made it clear that they would arrest him if he tried to leave. London's Metropolitan Police used to maintain a visible presence outside the building, although officers were nowhere in sight when an AP journalist visited Tuesday.