The death toll from a powerful earthquake that shook Ecuador's northwestern coast soared to 272 on Sunday, and hundreds more pepole were wounded, the office of the nation's president said.
Ecuador was in a state of emergency Sunday after the magnitude-7.8 earthquake flattened buildings and ravaged towns just before 7 p.m. (8 p.m. ET) Saturday.
"Thank you to the whole world for solidarity," President Rafael Correa, who cut short a trip to Italy to return home, said on Twitter. "Our infinite love to the families of the dead."
Correa, who toured the coastal city of Manta to get a firsthand look at the damage Sunday, said later: "The immediate priority is to rescue people in the rubble. Everything can be rebuilt, but lives cannot be recovered, and that's what hurts the most."
More than 2,500 people were injured, the government said. At least 370 buildings were destroyed, and 151 more buildings and 26 schools were affected.
"We have buildings at three to four stories high just, you know, pancake effect, and they are all in the basement now," said resident Juan Fernando Rojas.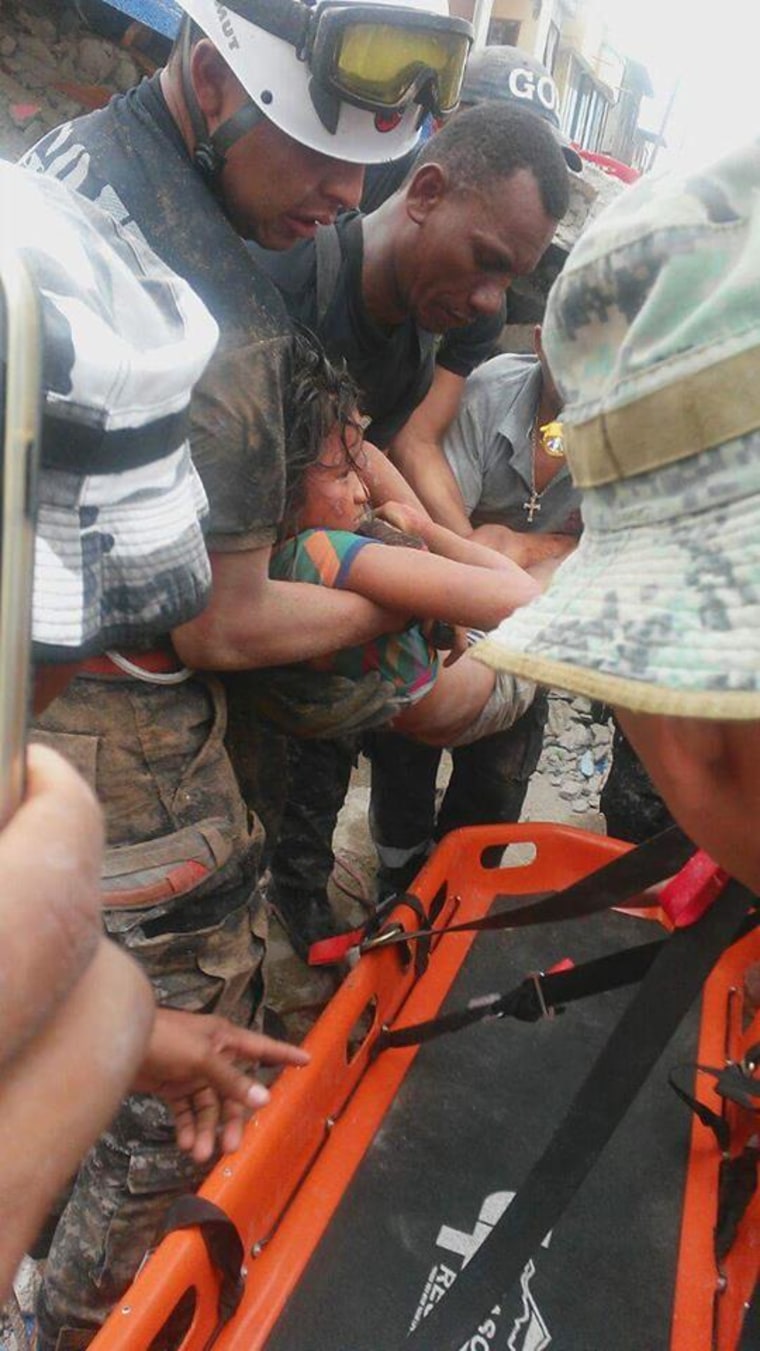 Correa said the temblor was the strongest quake to hit Ecuador since 1979. He said some areas had lost power and warned people to be careful to avoid fallen debris and poles.
States of emergency were declared for the provinces of Esmeraldas, Los Rios, Manabi, Santa Elena, Guayas and Santo Domingo. The quake was strongly felt in country's capital, Quito, about around 100 miles away.
Vice President Jorge Glas said that 10,000 military troops and 3,500 police officers were dispatched to the affected areas and that $600 million in credit was allotted to the emergency. Meanwhile, the Home Ministry said five helicopters and more than 80 buses ferried 4,000 police to the quake zone.
By Sunday night, the government was calling on an additional 2,000 officers to help "reinforce security" in the region, the country's vice minister of internal security, Diego Fuentes Acosta, said at a news conference. He added that the government was at "100 percent of its operational capacity" there.
More than 1,200 Red Cross volunteers were also helping to render first aid and search for an unspecified number of missing people. Glas said. However, the heavy machinery couldn't be used in rescues because such equipment could put wounded people at greater risk. He pleaded with people who flooded into the streets, in the absence of shelter, to "be quiet so rescuers can listen for survivors."
Vanessa Santos said authorities were telling her that her entire family was buried. "I need to find my baby," she said. "It's been five hours since she disappeared."
Authorities said landslides, crumbling bridges and roads were making it difficult for emergency workers to reach the hardest-hit towns.
"We're trying to do the most we can, but there's almost nothing we can do," said Gabriel Alcivar, mayor of Pedernales, a town of 40,000 near the quake's epicenter, according to The Associated Press.
Alcivar pleaded for authorities to send earth-moving machines and emergency rescue workers as dozens of buildings were flattened, trapping residents among the rubble. He said that looting had broken out amid the chaos but that authorities were too busy trying to save lives to re-establish order.
"This wasn't just a house that collapsed. It was an entire town," he said.
In a bulletin, the country's Geophysics Institute described "considerable damage" in the area of the epicenter and in Guayaquil, in the country's largest city, about 200 miles south.
Video posted online showed damage to a shopping mall in Portoviejo and people crowded in the street outside as alarms rang. One hundred inmates escaped from a damaged prison, Justice Minister Ledy Zuniga said. Some voluntarily turned themselves, she later added, and by Sunday afternoon about 30 had been re-captured.
NOAA's Pacific Tsunami Warning Center said a tsunami threat had largely passed.
A smaller 4.5-magnitude quake was recorded along the coast south of Muisne about a half-hour before the magnitude-7.8 quake struck, the USGS said. At least 135 aftershocks followed, one as strong as a magnitude-6, and authorities urged residents to brace for even stronger ones in the coming hours and days.
The U.S. State Department said there were no reports of U.S. citizens killed in the quake, while Canada's Prime Minister Justin Trudeau said two Canadians were killed. In a statement, U.S. Secretary of State John Kerry commended "the courage and skill of the first responders."
"We remain in close contact with Ecuadorian authorities and will continue to monitor the situation closely," the statement added.
The earthquake came just days after the first of a pair of powerful and deadly quakes shook southwestern Japan. At least 41 people were killed Thursday and Saturday, national broadcaster NHK reported.
David Rothery, a professor of planetary geosciences at The Open University, northeast of London, said the total energy released by the magnitude-7.8 quake Saturday in Ecuador was "probably about 20 times greater" than the magnitude-7.0 quake in Japan on Saturday.