A new tremor rattled Ecuador overnight, a 6.1-magnitude jolt that was the strongest aftershock since Saturday's earthquake killed more than 500 people.
The U.S. Geological Survey said the temblor was centered offshore, 15 miles west of Muisne, at 3:33 a.m. local time (4:33 a.m. ET). There were no immediate reports of damage or casualties.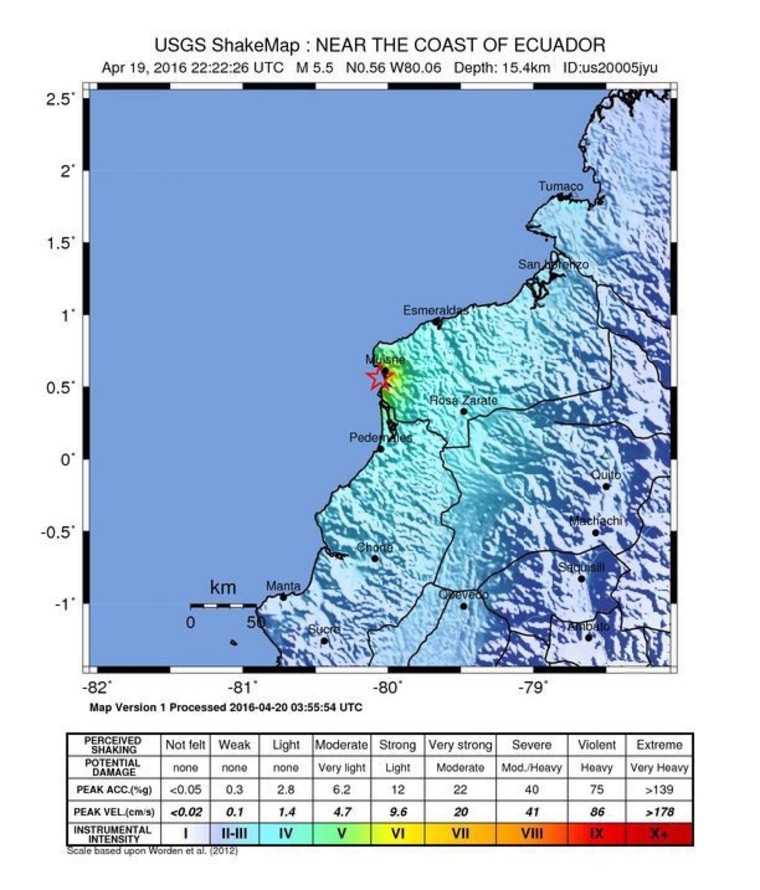 It came hours after Ecuador's government raised the number of dead in Saturday's disastrous quake to 525. At least one U.S. citizen was killed and officials estimate that more than 200 other people are still missing.
Secretary of State John Kerry telephoned the country's foreign minister to express condolences over the "tragic loss of life," State Department spokesman John Kirby said.
Kerry "made clear that the United States stands ready to assist in any way possible in the days and weeks ahead," he added. Earlier, President Barack Obama spoke by phone with Ecuadorean President Rafael Correa.
The quake destroyed or damaged about 1,500 buildings, triggered mudslides and left some 20,000 people homeless, the government said. It was the worst tremor in Ecuador since one in 1949 killed more than 5,000 people.
Wednesday's aftershock came as Ecuadoreans began burying loved ones, while hopes faded that more survivors will be found.
"They were organizing the funeral, but I've been reborn"
In the small town of Montecristi, near the port city of Manta, two children were among those buried Tuesday. They were killed with their mother while buying school supplies when the magnitude-7.8 quake struck Saturday night.
The funeral had to be held outside under a makeshift awning, because the town's Roman Catholic church was unsafe from structural damage.
In several cities Tuesday rescuers with sniffer dogs, hydraulic jacks and special probes that can detect breathing from far away continued to search for survivors among the rubble. At least six were found in Manta early Tuesday.
One of the most-hopeful tales was that of Pablo Cordova, who held out for 36 hours beneath the rubble of the hotel where he worked in Portoviejo, drinking his own urine and praying that cellphone service would be restored before his phone battery died. He was finally able to call his wife Monday afternoon and was pulled from the wreckage soon after by a team of rescuers from Colombia.
Cordova's wife had given up on ever seeing him again and managed to buy a casket.
"They were organizing the funeral, but I've been reborn," Cordova said Tuesday in a provincial hospital. "I will have to give that coffin back because I still have a long way to go before I die."