Masked gunmen killed 28 people on a bus carrying Coptic Christians, Egyptian authorities said.
State TV reported the vehicle was attacked as it traveled on the road to the St. Samuel Monastery in Minya province, which is located about 140 miles south of Cairo.
A spokesman for the interior ministry said the Christians were killed when "unknown persons driving three four-wheel drive vehicles began shooting at random on a bus."
An heath ministry official told state television that the victims included a large number of children.
The Associated Press quoted security officials as saying witnesses saw between eight and 10 attackers, dressed in military uniforms and wearing masks. The vehicle was traveling from the nearby province of Bani Suief.
Security forces launched a hunt for the attackers, setting up dozens of checkpoints and patrols on the desert road.
The U.S. Embassy in Cairo warned Americans of a "potential threat" on Wednesday.
No group immediately claimed responsibility.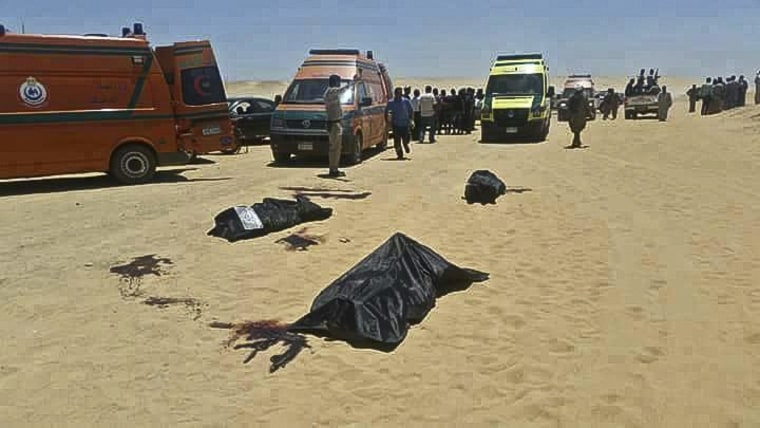 Christians make up around 10 percent of Egypt's mostly Muslim population of 83 million. They have long faced discrimination, but in recent years they have found themselves increasingly targeted by Islamist extremists.
Experts told NBC News last month that the violence leveled against them was "the worst it has ever been."
Steven A. Cook, a senior fellow at the Washington-based Council on Foreign Relations, said: "They have never been targeted in the way that they are now. Egypt is extremely dangerous for Copts in ways it hasn't been dangerous before."
On Palm Sunday, bombers targeted two churches in different cities, killing at least 44 people. ISIS claimed responsibility for both attacks. At the time, officials said one of the bombers belonged the same terrorist cell that killed 30 people in December when it blew up a chapel next to the country's main Coptic Christian cathedral.
Squeezed by a U.S.-backed military effort in Syria and Iraq, ISIS is attempting to establish a foothold in Egypt by destabilizing the country's fragile demographic patchwork.
Pope Francis visited Egypt in April to show solidarity with its persecuted Christians and to try to mend relations with Muslims across the region.
Following the pontiff's trip, ISIS vowed to escalate the attacks against Christians, urging Muslims to steer clear of Christian gatherings and Western embassies.