CAIRO — Three Al Jazeera journalists were sentenced to three years in jail Saturday for broadcasting material harmful to Egypt, triggering an international outcry.
The verdict in a retrial was issued against Mohamed Fahmy, a naturalized Canadian who has given up his Egyptian citizenship, Baher Mohamed, an Egyptian, and Australian Peter Greste, who was deported in February.
Egyptian judge Hassan Farid said he issued his ruling because the three weren't registered with the country's journalist syndicate, Reuters reported.
Farid also said the journalists brought equipment without the approval of security officials into Egypt, as well as spread "false news" and used a hotel as a broadcasting point without permission.
Greste, who had been tried in absentia, described the verdict as "so wrong."
Mostefa Souag, acting director general of Qatar-based Al Jazeera, said in a statement: "Today's verdict defies logic and common sense. Our colleagues Baher Mohamed and Mohamed Fahmy will now have to return to prison, and Peter Greste is sentenced in absentia."
"Today's verdict is yet another deliberate attack on press freedom. It is a dark day for the Egyptian judiciary; rather than defend liberties and a free and fair media they have compromised their independence for political reasons."
The U.S. State Department said "The United States is deeply disappointed and concerned by the verdict."
"The freedom of the press to investigate, report, and comment — even when its perspective is unpopular or disputed — is fundamental to any free society and essential to democratic development," State Department spokesman John Kirby said in a statement.
"We urge the Government of Egypt to take all available measures to redress this verdict, which undermines the very freedom of expression necessary for stability and development," he said.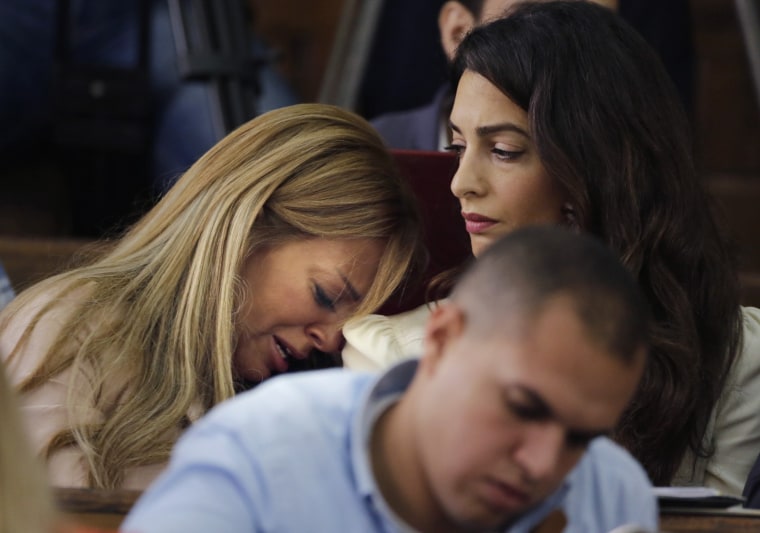 Human rights lawyer Amal Clooney, who represented Fahmy on Saturday, said she would be meeting with Egyptian officials later in the day along with Canadian Ambassador Troy Lulashnyk to press for a presidential pardon.
"The verdict today sends a very dangerous message in Egypt," Clooney said. "It sends a message that journalists can be locked up for simply doing their job, for telling the truth and reporting the news. And it sends a dangerous message that there are judges in Egypt who will allow their courts to become instruments of political repression and propaganda."