CAIRO – The battle lines have been drawn in Egypt's presidential election between two of the major candidates, Muslim Brotherhood Khairat Al-Shater and former intelligence chief Omar Suleiman. 
In his first shot across the bow, financier Al-Shater announced that election fraud would be grounds for a second revolution, a thinly veiled suggestion that a Suleiman victory would imply fraud and that the Muslim Brotherhood would wield their vast power to fill Tahrir Square and topple him.

But it's not only the Muslim Brotherhood that is opposed to the former confidant of toppled dictator Hosni Mubarak. Many secular parties and candidates also are angry about Suleiman's candidacy.
Suleiman, briefly a vice president during Mubarak's last days in office, was the director of the intelligence apparatus that aided in suppressing the opposition from 1993 until the start of the revolution in January 2011. He is widely believed to have the backing of the military, which still wields considerable power.
"Suleiman's Victory is Zero Hour for Civil War," warned a dramatic headline recently on the independent Wafd newspaper.
Many feel the revolution will have failed should the former spymaster triumph. "The sacrifices of the past year and a half will have been in vain," lamented another independent newspaper.
Others have criticized what they consider his past failures. "You … aided Israel, are you coming back to lose it again!?" chided another Wafd headline, referring to his perceived support of the 1979 peace treaty between the two countries.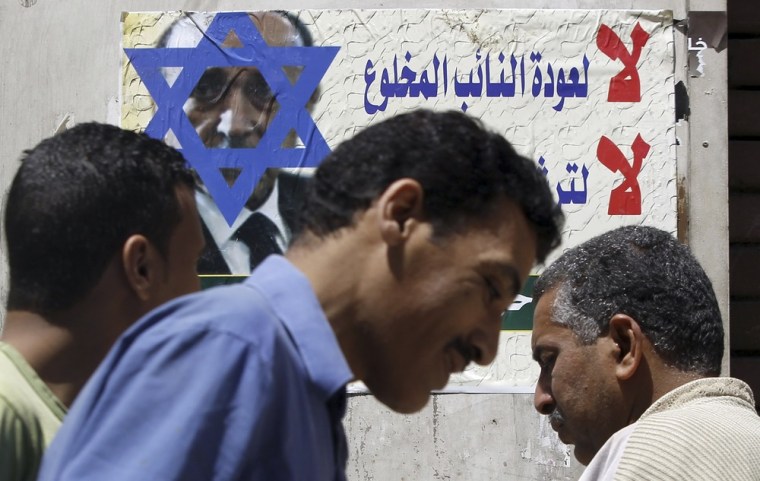 On Thursday, the Muslim Brotherhood took their battle with Suleiman to the halls of parliament and won – sort of. Egypt's parliament passed a bill that bars senior figures from Mubarak's regime from competing in elections for the next 10 years, a move specifically intended to stop Suleiman from running in the next election.
However, the law will only come into effect if the military council that took over from Mubarak last year ratifies it, which is unlikely to happen before the election commission issues its final list of presidential candidates later this month. 
In light of this, the Muslim Brotherhood will take their case to the street Friday with more than 40 other revolutionary movements, calling for a million people to fill Cairo's Tahrir Square under the slogan "Protecting the Revolution."
Security candidate
None of this would matter, of course, if the secretive ex-spy chief did not have demonstrable support.  However, he had no difficulty in raising more than three times the 30,000 signatures needed in order to qualify as a candidate. 
He also has buzz.  In the past week, you could hear little else discussed in shops, restaurants and taxis.  With rare exception, people I have asked on the subway, in taxis and on the street support him.
Why?
"When I drive my taxi these days, anybody can hassle me," said one disgruntled cabbie. "I need security and he is the only one who can provide it."
Law and order is the first concern on many minds.  The lack of police presence and escape of hardened criminals since the revolution has led to a crime spree in what was once an oasis of safety.  Now, previously unknown threats such as kidnapping, carjacking and house invasions have become commonplace.  Many feel that Suleiman, relic of the old regime though he is, can restore security and with it tourism and investment.
The Associated Press contributed to this story.