Two blasts targeting Egyptian churches on Palm Sunday killed at least 38 people and wounded more than 100, according to Health Ministry officials.
Egyptian President Abdel Fattah el-Sissi on Sunday evening declared a three-month state of emergency after the blasts rocked two churches, killing dozens.
The first attack hit the St. George Church, packed with worshipers in the Nile Delta town of Tanta, north of the Egyptian capital, killing at least 27 people and wounding 78 others, authorities said.
Hours later a second blast went off in front of St Mark's Cathedral in Alexandria, killing some 11 and injuring 35. A local police chief was killed in this explosion in the coastal city, the Ministry of Interior told Egyptian television.
Among the dead were two male members and one female member of the church's security personnel, authorities said.
Global security firm and NBC News consultant Flashpoint Intelligence said that ISIS-affiliated Amaq Media said the terror group carried out the two church attacks. NBC News has not been able to authenticate this claim.
A local ISIS affiliate claimed a suicide bombing at a church in Cairo in December that killed around 30 people, mostly women, as well as a string of killings in the restive Sinai Peninsula that caused hundreds of Christians to flee to safer areas of the country.
Alexandria is the historic seat of the Coptic Orthodox Pope, who currently resides in Cairo. Eyewitnesses of the second bombing said the explosion occurred just after Pope Tawadros II left the cathedral.The state news agency confirmed that the Pope is safe.
Witnesses told NBC News that people were leaving the cathedral when a suicide bomber was stopped at a checkpoint by a police officer. The man then reportedly detonated his explosives, killing the officer who stopped him, as well as others.
El-Sissi said in a statement that he condemned the "heinous explosion" and offered his "deepest condolences and solace" to the victims' families. The Egyptian president also called for an urgent meeting of his National Defense Council, according to the statement.
U.S. President Donald Trump said on twitter it was "so sad to hear of the terrorist attack in Egypt," adding he had confidence that El-Sissi would "handle the situation properly."
The attacks are the latest in a series of assaults on Egypt's Christian minority, which makes up around 10 percent of the population and has been repeatedly targeted by Islamic extremists.
Local TV showed footage from inside the church in Tanta, where a large number of people gathered around what appeared to be lifeless, bloody bodies covered with papers.
NBC News Alerts:Be the first to know about breaking news. Sign up here.
Pope Francis, who is due to travel to Egypt later in April, condemned the killings and appealed to terrorists, arms manufacturers and traffickers to stop.
Grand Sheikh Ahmed el-Tayeb, head of Egypt's Al-Azhar — the leading center of learning in Sunni Islam — also condemned the violence, calling it a "despicable terrorist bombing that targeted the lives of innocents," AP reported.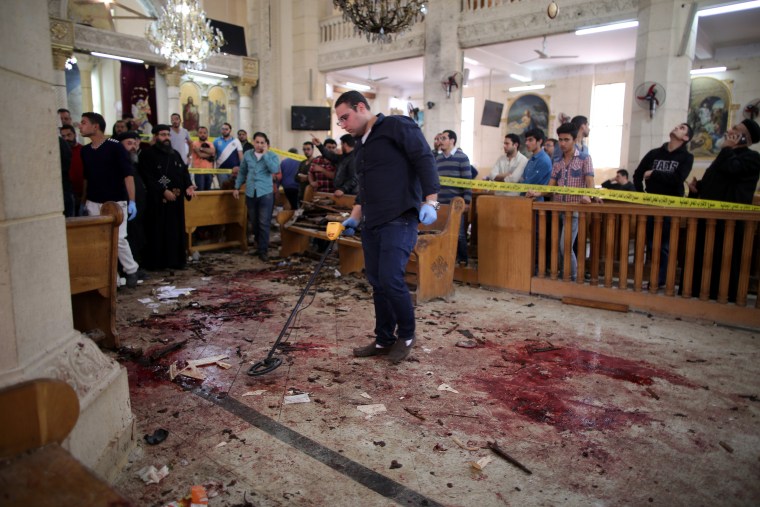 Egypt has struggled to combat a wave of Islamic militancy since the 2013 military overthrow of an elected Islamist president.