CAIRO, Egypt — During the sweaty morning commute through one of Cairo's busiest subway stations, passengers can now find the answers to some of life's thorniest dilemmas.
Al Azhar, the revered 1,000-year-old mosque and college and Egypt's ultimate source of Sunni Islam jurisprudence, has made its scholars available to the masses with a pop-up kiosk next to the turnstiles of Shouhada — "Martyrs" — subway station.
A handful of Muslim clerics huddle with passengers at a table in a windowed kiosk, cooled by a whirring fan, offering religious instructions or "fatwas." Those in a rush grab a quick consultation outside.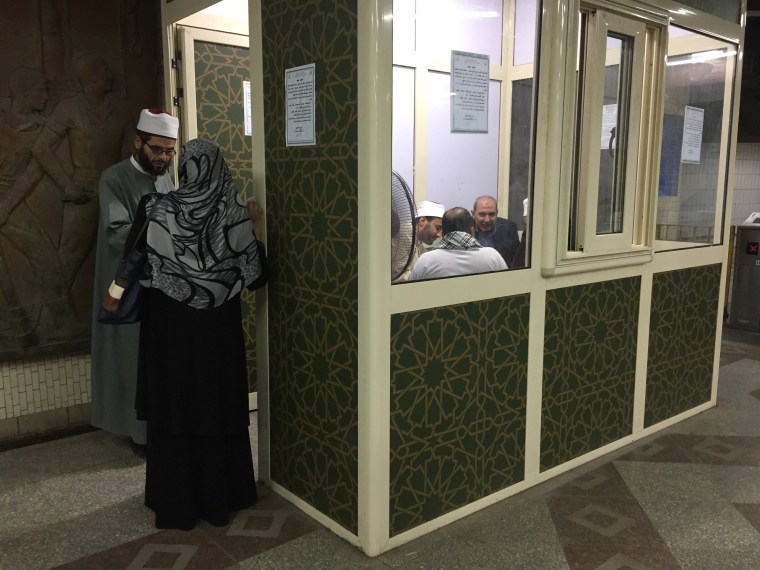 Business is brisk — up from 50 visitors a day when the service began three weeks ago to about 150 a day now — and neighborhood couples even drop by to resolve martial disputes.
The pilot project is part of a growing effort by Egypt's President Abdel Fatah al Sisi to counter extremist ideology with modern, moderate discourse in the mosque and on the street.
In recent years, Egypt has been rocked by large scale terrorist attacks on Christians by an ISIS-linked group and is battling radicals in North Sinai. Many believe moderate Islamic opinion can make a difference.
"Imagine liquor, it is banned by Islamic law … but is acceptable when it belongs to non-Muslims. This is just one of many examples where Islam is building a correct and cohesive society … despite people's differences and background," says Emad Abdel Nabi Mahmoud, an Al Azhar Islamic law professor.
Al Azhar recently initiated an outreach to young men.
"The Grand Sheikh … encouraged scholars and preachers to go out to where the youth are, in coffee shops, forums and institutions," explains Islamic law expert Fahmy Ragab Mohamed. "Young scholars sat with them … and corrected some of their opinions and thoughts and that is a very good thing."
Although Mahmoud credits Al Azhar leadership for the outreach initiative, he says the most important thing is "not the motive but the result."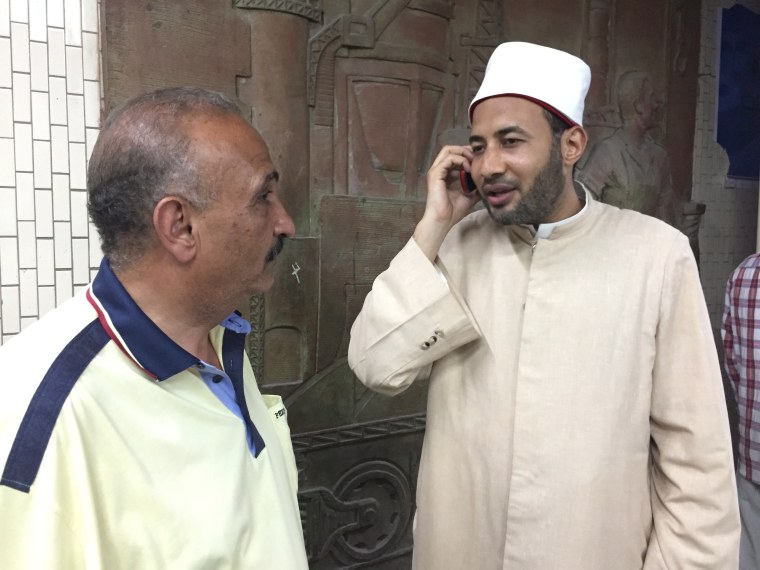 In the subway, the clerics have not heard any extremist views from visitors. "They would be afraid of saying anything", acknowledges Sheikh Ali Mostafa, 35, a kind-faced cleric. "The aim is to get closer to the people … gaining confidence, gaining trust."
He added: "We try to mend the problem by coming to where the people are, to correct their understanding. Our offices are far away [but] here we are accessible to people. We reached the people."
Subway riders largely agree.
"It's a beautiful project, I got an answer in five minutes," says Gamal Al Din, a former director of a contracting company.
Fatma, 21, smiles: "I can do it on my way to university."
Visitors are reluctant to provide names because of the personal nature of their inquiries but most are happy to share their meetings. They ask about marriage, divorce, inheritance and commerce - and one even broaches the taboo subject of atheism.
Yasmin Minutallah, 26, brings a nervous 23-year-old friend who works with her in a customer service job. "She doesn't know whether to believe in god or not," Minutallah explains. "She is asking god for things and some happen and some don't, even though god is supposed to answer prayers."
A 32-year-old engineer wants to divorce his new wife, complaining that her parents expect too much from his modest government salary. "They are greedy, although she is good," he tells the clerics.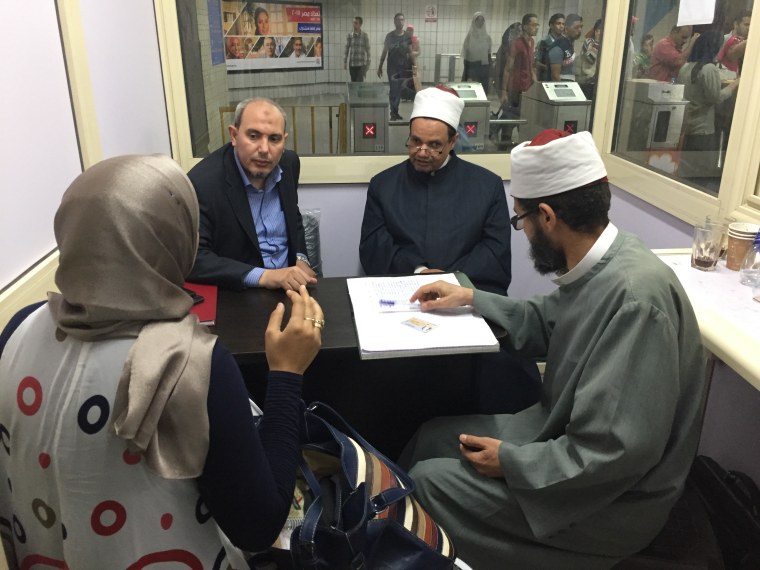 He needs to know how much to pay for the divorce since they hadn't lived together or consummated the marriage. The clerics urge him to reconcile first, and if that fails, to leave her half of the money and any jewelry he had already given. He privately admitted he agreed with the financial advice but would press ahead with the divorce.
A 45-year-old woman is seeking advice for her husband. Her mother-in-law threatened to cut ties with the husband if he claimed his legal inheritance from his deceased father.
Preacher Sheikh Gamal Abdel 'Al, 39, advises her husband to regain his mother's affection but to claim what is legally his.
Although passengers seem pleased with the on-the-go religious guidance, some analysts feel it will do little to reform religious thought.
"It is a matter of enlightened interpretation rather than opening up a new religious outlet," says American University of Cairo political science professor, Gamal Abdel Gawad.
"People of religion must be respected. They should be in the proper place and the proper place is not the metro. It is not like selling fast food."